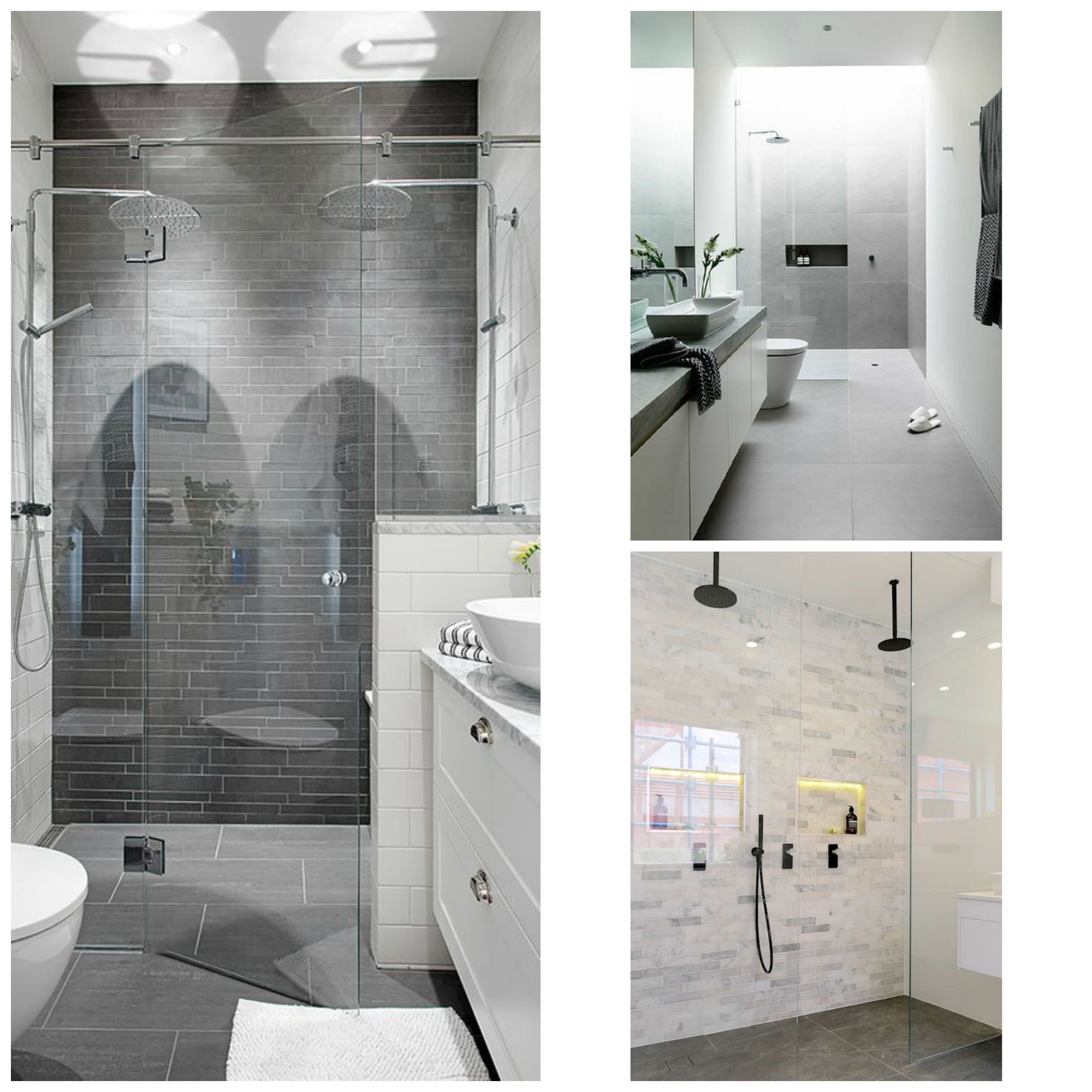 Kylpyhuoneen uudistus ei ole täällä meidän vuokraluukussa ajankohtainen asia (thank god), mutta vanhempieni uudessa kodissa se on. Taloa remontoidaan niin ulkopuolelta, kuin sisältäkin ja vaikka se oli ostohetkellä suhteellisen hyvässä kunnossa muuten, niin kylpyhuone oli aivan kauhistus. Kylpyhuone on onneksi alimmassa kerroksessa (eli pois näköpiiristä) ja oikeastaan koko kerrosta uusitaan parhaillaan. Kylpyhuonetta aletaan remontoida seuraavaksi ja olemme miettineet mm. laattavalintoja, sekä toiminnallisuutta.
Tällä hetkellä kylpyhuoneessa on massiivinen poreamme, sekä erillinen suihku. Vieressä on myös käynti saunaan. Poreamme on aivan liian suuri siihen tilaan, joten se lähtee ensimmäisenä. Siihen tilalle ajattelin kahta suihkua joko vierekkäin tai vastapäätä toisistaan. Tilan tulisi jakamaan lasiseinä kuvien lailla ja mielestäni on kaunista kun lasi jatkuisi ihan kattoon saakka.
Laatoista sen verran, että tykkään tuollaisesta suuremmasta laatasta (kuten tuossa kuvassa oikealla ylhäällä).  Tila saisi muuten olla valkoinen, mutta yksi seinä voisi olla kauniin vaalean harmaa. Jos kyse olisi omasta kodistani, niin vetäisi  varmaan yhden seinän mustalla marmorilla. Olisi niin hieno! Vanhempani tosin tykkäävät hieman harmonisemmasta tyylistä, joten harmaa olisi kaunis ja ajaton valinta. Seuraavan kerran kun olen Espoossa niin pitääkin suunnata laattaostoksille! Saa nähdä kuinka monta ideaani saan läpi, heh…
This week I've been struggling with a decision – should I just write in Finnish and forget the translations. It just takes so much time to write in both languages and especially now that I'm also working full time. I know I have international readers, but majority of my readers are Finnish. I still need to think about this for a while, but I wanted to give you a heads up! Oh and this post talks about bathroom decisions for my parents new apartment, which is being renovated. A double shower and large tiles are something I would love in there!
Save
Save
Save
Save
Save
Save
Save
Save
Save
Save