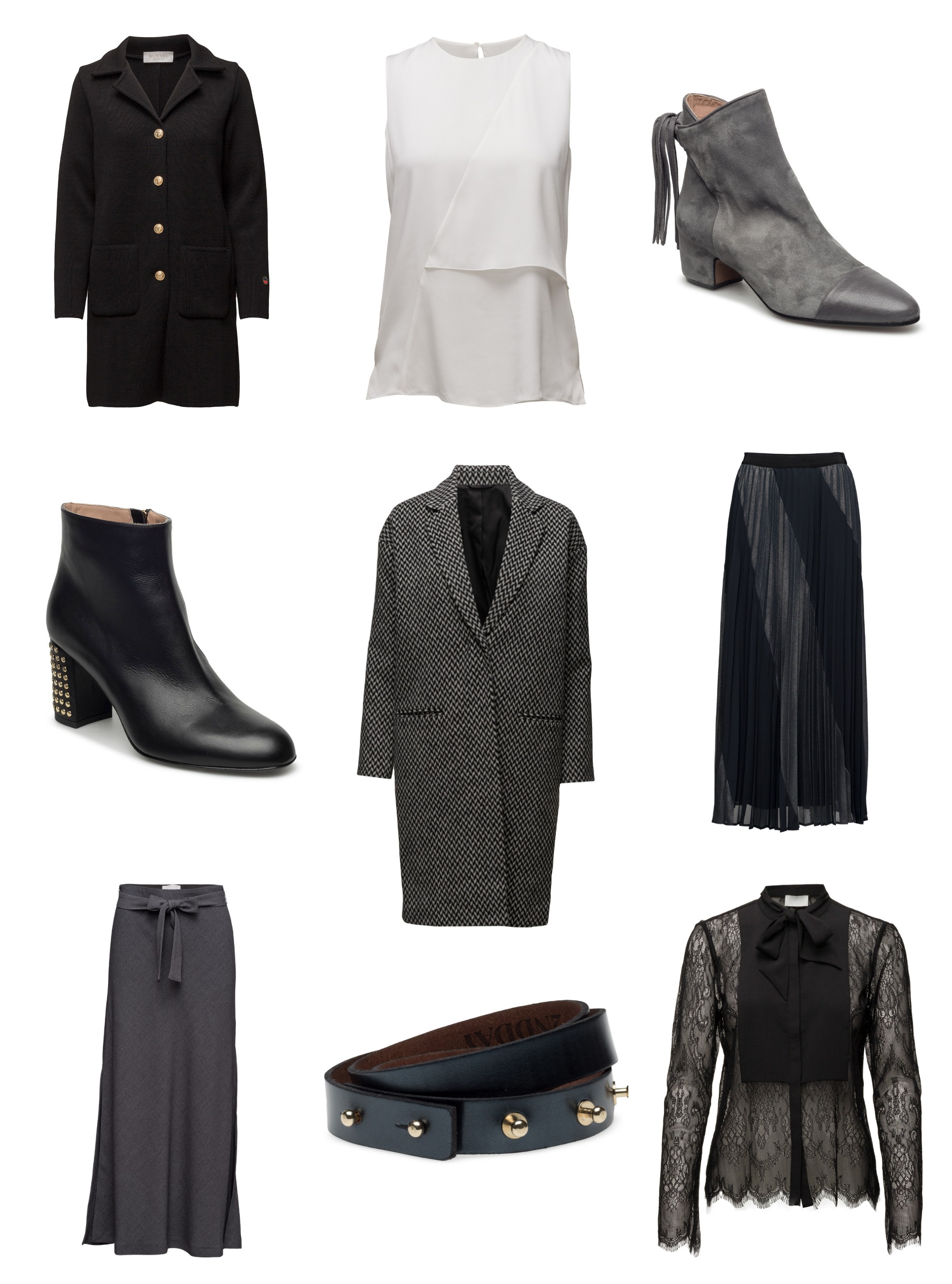 Blazer / Busnel   Silk top / Boss   Boots / Day Birger et Mikkelsen
Boots / Day Birger et Mikkelsen   Coat / 2ndDay   Skirt / Max & Co.
Skirt / InWear   Belt / 2ndDay   Shirt / Day Birger et Mikkelsen
Miten odotankaan jo kevättä! Sitä, että valon määrä lisääntyy ja pukeutumisessa voi unohtaa ne kaikista paksummat talvitakit. Kevät on vuodenajoista suosikkini, mutta pukeutumisen kannalta se on se syksy. On hassua miten kevät mallistot eivät oikein ikinä sytytä samalla tavalla, kuin ne syksyn valikoimat, mutta silti kevät itsessään on jotenkin niin ylivoimainen vuodenaika. Olen myös erityisen innoissani siitä, että pystyn nyt kokemaan sen tällä Suomessa, jossa jokainen vuodenaika on niin vahvasti läsnä. Toki täällä sitä kunnon kevättä saa odottaa huomattavasti kauemmin, kuin Ranskassa, mutta se odotus on kyllä sen arvoista. Kun luonto alkaa hiljalleen heräämään talven jälkeen…se on aina yhtä maagista!
Omalla kohdallani kevät puketuminen ei tarkoita pastellisävyjä tai räiskyviä värejä, vaan enemmänkin murrettuja ruskeita, harmaata ja valkoista piristämään niitä tuttuja "kokomusta" asuja. Löysin muuten Andiatalta aivan täydelliset nahkahousut, jotka esittelen teille ensi viikolla. Tulen yhdistelemään niitä keväällä rentojen neuleiden ja ylisuurien kauluspaitojen kanssa.
Tämä sunnuntai menee rennoissa tunnelmissa ja suunnitelmissa on olla kotona tekemättä mitään. Illalla saunaan ja Bates Motel-sarjan katsomista. Akkujen lataamista uutta työviikkoa varten!
I can't wait for Spring! The lighter days and not having to wear thick winter coats are worth the wait. Spring is my favorite season in general, but when it comes to fashion, it's Fall. It's funny how the Spring collections don't really attract me that much, but Fall…that's another story. Spring in Finland is extra beautiful, because all four seasons are so strong and different from each other. It's always so magical to see the nature come back to life after winter.
You won't be seeing any pastel tones on me or bright colors for the next weeks, but I'll be mixing white, light grey and beige items with my usual darker looks. By the way, I found the perfect leather pants from Andiata. I'll be wearing them this Spring with grey knits and white oversized shirts. I'll show them to you next week.
Today is all about relaxing until the next work week. Enjoy everyone!
*Commercial links/Mainoslinkkejä.
Save
Save
Save
Save