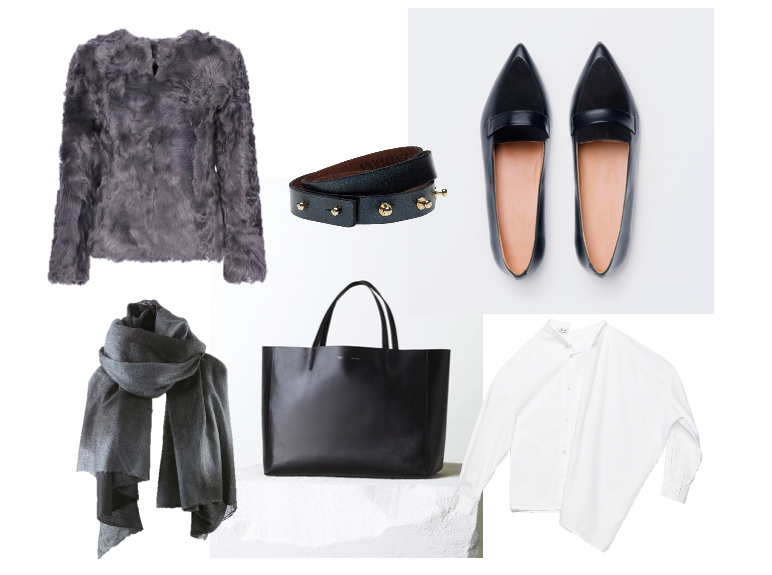 Löysin todella kauniin harmaan lampaankarvatakin alesta, mutta mietin sen ostamista liian pitkään ja sehän oli jo mennyt siinä vaiheessa, kun olin tehnyt ostopäätökseni. Toisaalta mietin, että jos se olisi ollut aivan täydellinen, niin olisin varmasti ostanut sen heti, vaikka periaatteeni onkin miettiä ostoksiani yön yli. Ehkä oli siis tarkoitettu, että takki ei päätynytkään kaappiini. Kevääksi olen taas miettinyt hankkivani rennomman työlaukun ja Célineltä löytyy muutama hyvä vaihtoehto. Balmuirin Oslo-huivia olen käynyt hipelöimässä Stockalla ja se on niin pehmeä ja ylellinen, että siihen kietoutuisin mielelläni keväällä. Valkoinen kauluspaita on taas yksi vaatekaapin kulmakivistä ja tämä Totêmen kaunis leikkaus ihastuttaa. Flattered-merkin kenkiä olen kuolannut ties kuinka kauan ja kaapistani löytyykin heidän ballerinat. Nyt ihastuin näihin ylläoleviin…olisivat niin upeat vajaamittaisten farkkujen kanssa kesäkaduilla!
Tämä kulunut viikko on mennyt itseltäni vähän ohi, sillä huomaan olevani todella väsynyt kaikesta tapahtuneesta. Nyt muuttostressi, uuden työn aloittaminen ja kaikki muu tuntuu purkautuvan ja jäljellä on vain todella väsynyt olo. Onneksi viikonloppu on taas täällä, niin voin nukkua univelkoja pois ja työstää blogia. Yritän saada uusia asukuvia kasaan, jotta ensi viikolla saisin taas kopin bloggaamisesta. Tällä viikolla kun inspiraatio on ollut pyöreät nolla ja yhden postauksen tekeminen on tuntunut ylivoimaiselta. Nyt siis kerään voimia ja ensi viikolla päästään toivottavasti aktiivisempaan postausrytmiin! Ihanaa viikonloppua!
I found a beautiful grey lamb fur coat on sale, but I didn't buy it and then it was too late. I always tend to think about all my purchases over night, but then there's the risk of the items being sold out if you wait too long. But maybe it was meant to be and this coat was never meant to end up in my closet! Besides that coat, I've had my eyes on a scarf from Balmuir, a work bag from Céline, this white shirt from Totême and these perfect loafers from Flattered. Maybe something to think about for spring?
This past week has been quite tough and now I start being exhausted of everything that's been happening these past weeks. The stress of moving, looking for an apartment, starting a new job, working on this blog…it all seems to hit me at once. I guess I don't need to tell you how happy I am weekend is here! I'm going to catch up on my sleeping and relax…What are your plans? Have a great weekend everyone!
Save
Save
Save
Save
Save
Save
Save
Save
Save
Save
Save