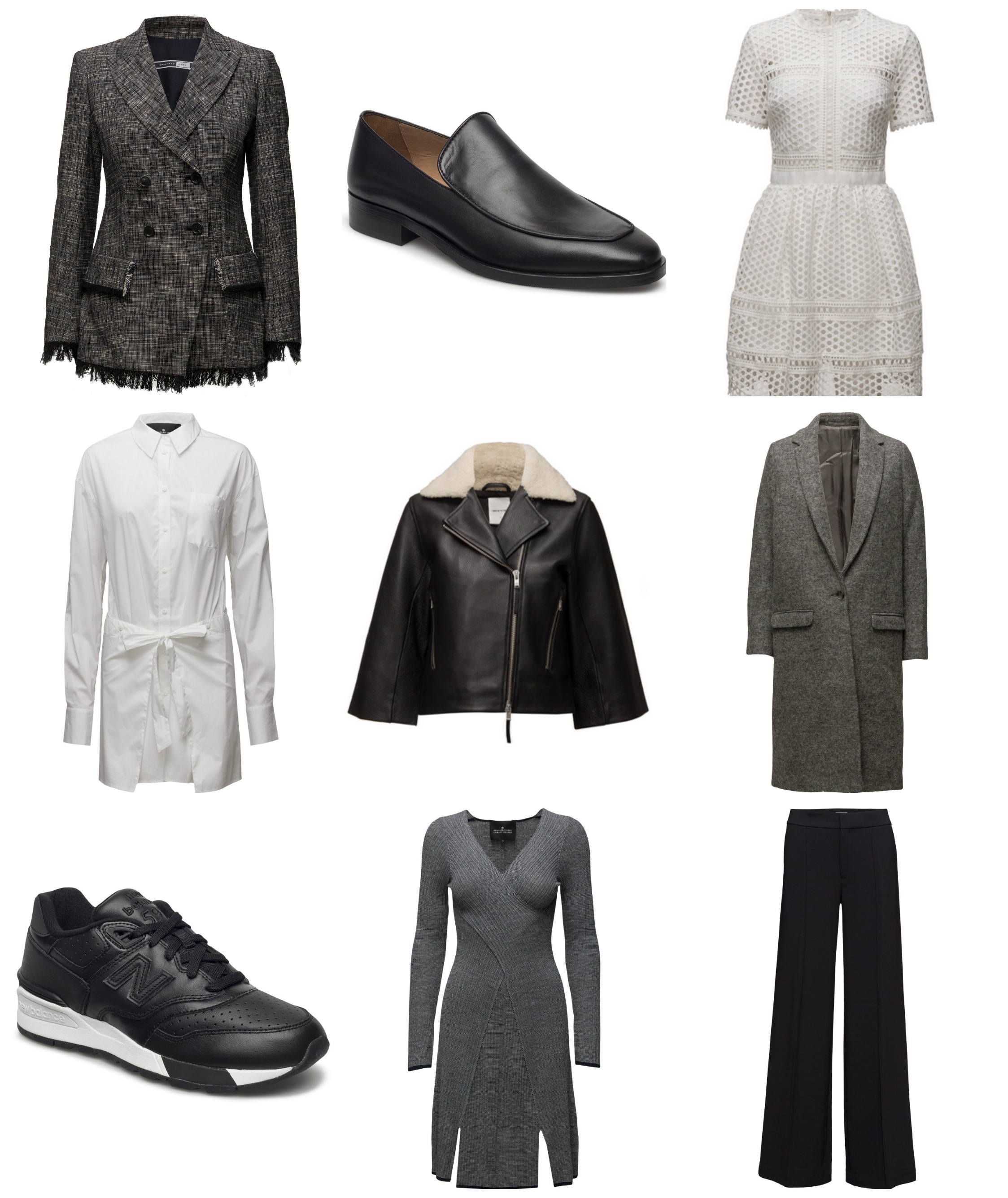 Blazer / Sportmax Code   Loafers / Filippa K   Dress / By Malina
Shirt / Designer's Remix   Jacket / Wood Wood   Coat / Samsoe & Samsoe
Sneakers / New Balance   Dress / Designer's Remix   Pants / Filippa K
Aurinkoista sunnuntaita kaikille! Istun tässä olohuoneen sohvalla ja tuo valon määrä on jotain niin ihanaa. Ensi viikko näyttää muutenkin ilmojen puolesta lupaavalta, joten kevättä kohti! Tänään on suunnitelmissa käydä vähän kuvailemassa, työstää blogia, käydä katsomassa kylpyhuoneeseen kalusteita, onnittelemassa kummityttöäni syntymäpäivän johdosta ja auttamassa isoäitiäni myymään muutamia huonekaluja. Saa nähdä ehdinkö tekemään kaiken, mutta ainakin yritys tulee olemaan kova, heh. Kuvia lupaan kuitenkin saada purkkiin, jotta blogikin heräisi taas henkiin. Nyt elämässä on sen verran kiireinen vaihe, että blogi pakostakin jää vähemmälle huomiolle, mutta kyllä se tästä!
Rentouttavaa päivää sinne kaikille!
I'm sitting in our living room and the sun is hitting me straight in the face.  The amount of light feels so good and next week should be sunny as well…and some plus degrees even! Today I have a long "to do"-list, which includes shooting some looks for the blog, working on posts, checking out new shower doors for the bathroom, going to congratulate my goddaughter for her birthday and helping my grandmother sell some old furniture online. Let's see if I can get all this done today, but at least I'll give it my best shot, heh. Hopefully in the evening I'll have time to relax a bit and take a long sauna. I'm also hoping I can breath some life back to this blog, as last week I didn't have time to work on it that much. So fingers crossed and enjoy your Sunday!
*Commercial links/Mainoslinkkejä.
Save