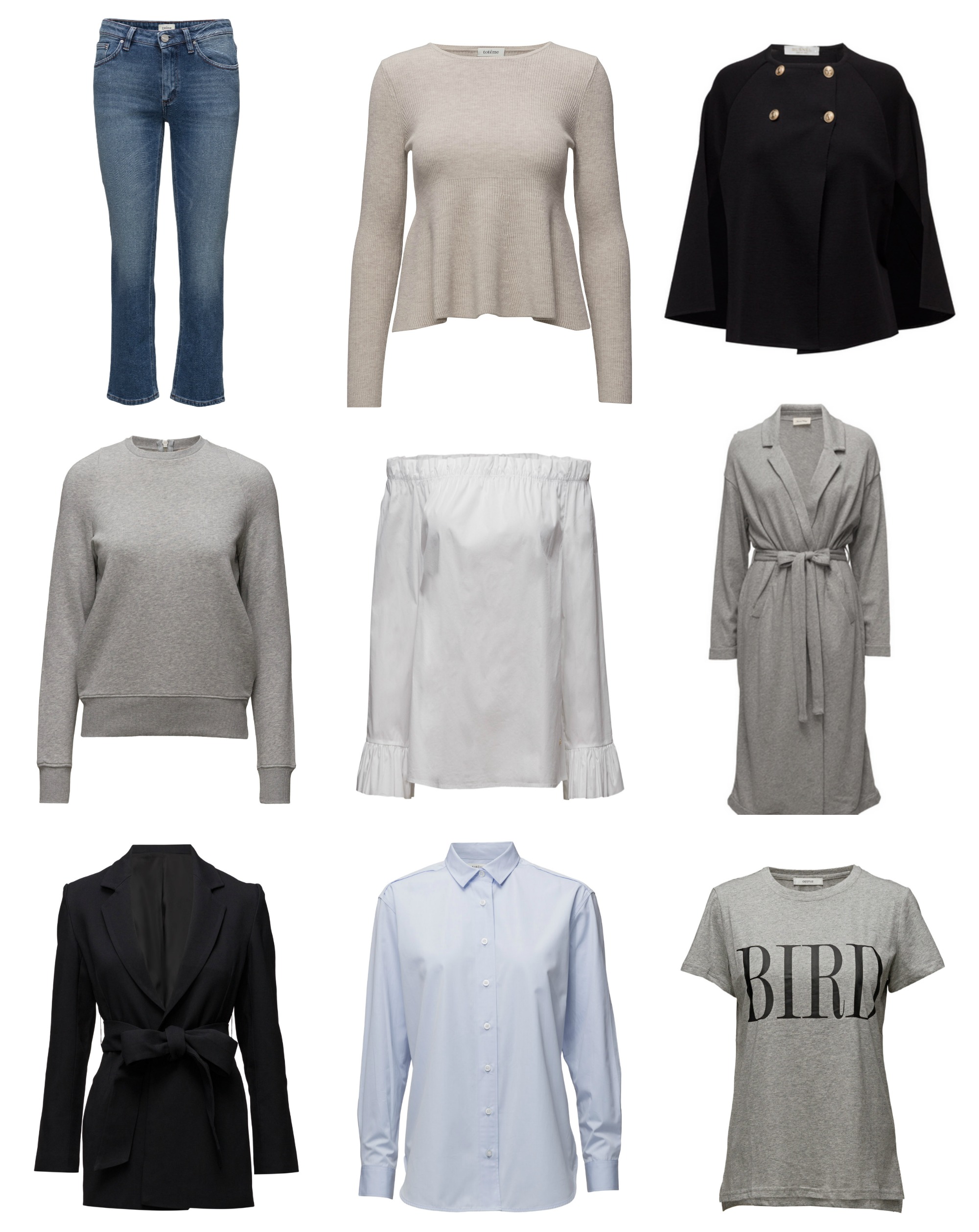 Jeans / Totême   Knit / Totême   Cape / Busnel
Sweatshirt / Whyred   Shirt / Mos Mosh   Trench / American Vintage
Blazer / Totême   Shirt / Totême   T-shirt / Bird
Eilisen perusteella voi jo sanoa, että kevät on nyt täällä! Miten paljon energiaa yksi lämmin ja aurinkoinen päivä voikaan antaa. Ilmassa oikein tuoksui kevät ja kuiva asfaltti on aina oikea suunta (hello loafer weather)! Tänään täytyy hieman järjestellä paikkoja, sillä poikaystäväni paras ystävä saapuu Helsinkiin. Olemme täällä vanhempieni remontin keskellä, mutta kundeilla on kivoja suunnitelmia ensi viikolle, joten onneksi ei tarvitse neljän seinän sisällä kuitenkaan nököttää. Täällä odotellaan remontin valmistumista innolla, sillä sen jälkeen alkaa sisustaminen, eli paras osuus. Ja niin, kolmen viikon päästä muutamme jo sitten omaan kotiin, eli sitäkin pitäisi sitten laittaa…Olisi pitänyt opiskella sisustussuunnittelijaksi, heh.
Iloitsin viime viikolla siitä, että Iro on rantautunut Booztin valikoimaan ja nyt huomasin, että toinen ihana merkki, Totême, on otettu osaksi tätä verkkokauppaa. Olen himoinnut ties kuinka kauan näitä farkkuja, joten ehkä nyt uskallan laittaa ne tilaukseen, koska palauttaminen on niin helppoa. Ihanaa sunnuntaita kaikille!
Based on yesterdays weather, I can say that spring is finally here! How much lighter can a person feel after such a day, which was filled with sun and warm(er) temperatures. There was a also the scent of spring in the air…can't get enough of it! Today I need to organize around the house, as my boyfriends best friend is arriving here from Luxembourg. This house is still under renovations, but the guys have nice plans ahead, so they won't be staying here all week. I just can't wait for everything to be ready, so I can start decorating…
Have a great Sunday everyone!
*Commercial links/Mainoslinkkejä.
Save
Save
Save
Save
Save
Save
Save
Save
Save
Save
Save