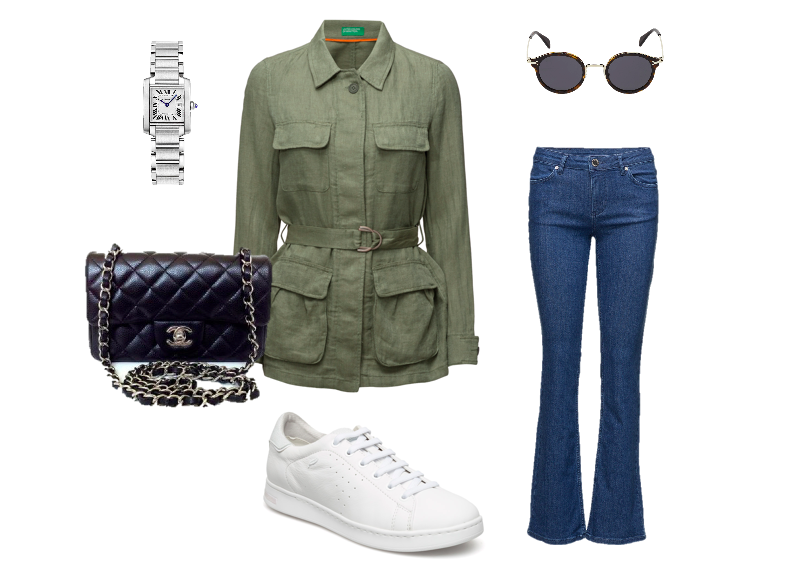 Watch / Cartier   Jacket / Benetton   Sunnies / Céline
Bag / Chanel   Sneakers / Geox   Jeans / 2ndDay
Jos kevät olisi jo pidemmällä, niin pukeutuisin tähän asuun. Viime viikolla lähdin ulos lähes vastaavassa, mutta eihän siinä kauaa mennyt, kun piti kääntyä takaisin kotiin ja vaihtaa asua. Paljaat nilkat eivät olleet vielä hyvä idea. Vitsit, että odotan sitä hetkeä, kun näin kevyellä asukokonaisuudella pärjäisi! Olen tosin sellainen vilukissa, että siihen vaaditaan varmaan lähemmäs +20 asteen lämpötiloja.
Olen muuten jo pitkään miettinyt, että 30-vuotis lahjaksi hankkisin itselleni kellon. Äidilläni on Cartierin Tank-malli ja sitä olenkin lainannut aina silloin tällöin. Tykkään siitä kovasti, mutta poikaystäväni (joka on kunnon kello-fanaatikko) liputtaa Rolexin puolesta. Itse en taas lämpene tälle merkille ollenkaan ja vaikka poikaystävälläni kello näyttää hyvältä, niin mielestäni itselleni heidän mallit eivät sovi. Tarvitsen jotain aavistuksen naisellisempaa. Siihen Cartier olisi erittäin sopiva. Onneksi kolmekymppiset ovat vasta ensi vuonna, eli tässä ehtii vielä miettiä (ja säästää) tovin!
If spring would be further along, this is what I would wear. Last week I left the house in a similar ensemble just to turn around after five minutes and go change. The bare ankles wasn't a good idea just yet. I can't wait for the weather to be warm enough to survive outside in something like this!
I've been thinking about getting myself a watch for my 30th birthday and the Cartier Tank is high on my list. My mom has this one and I borrow it every now and then. My boyfriend prefers Rolex watches and even if the one he has looks good, I don't think their models would work on me. I need something more feminine and I think Cartier is the perfect option. Luckily my 30th birthday isn't until next year, so I have some time to think about it and save up, heh.
*Commercial links/Mainoslinkkejä.
Save
Save
Save
Save