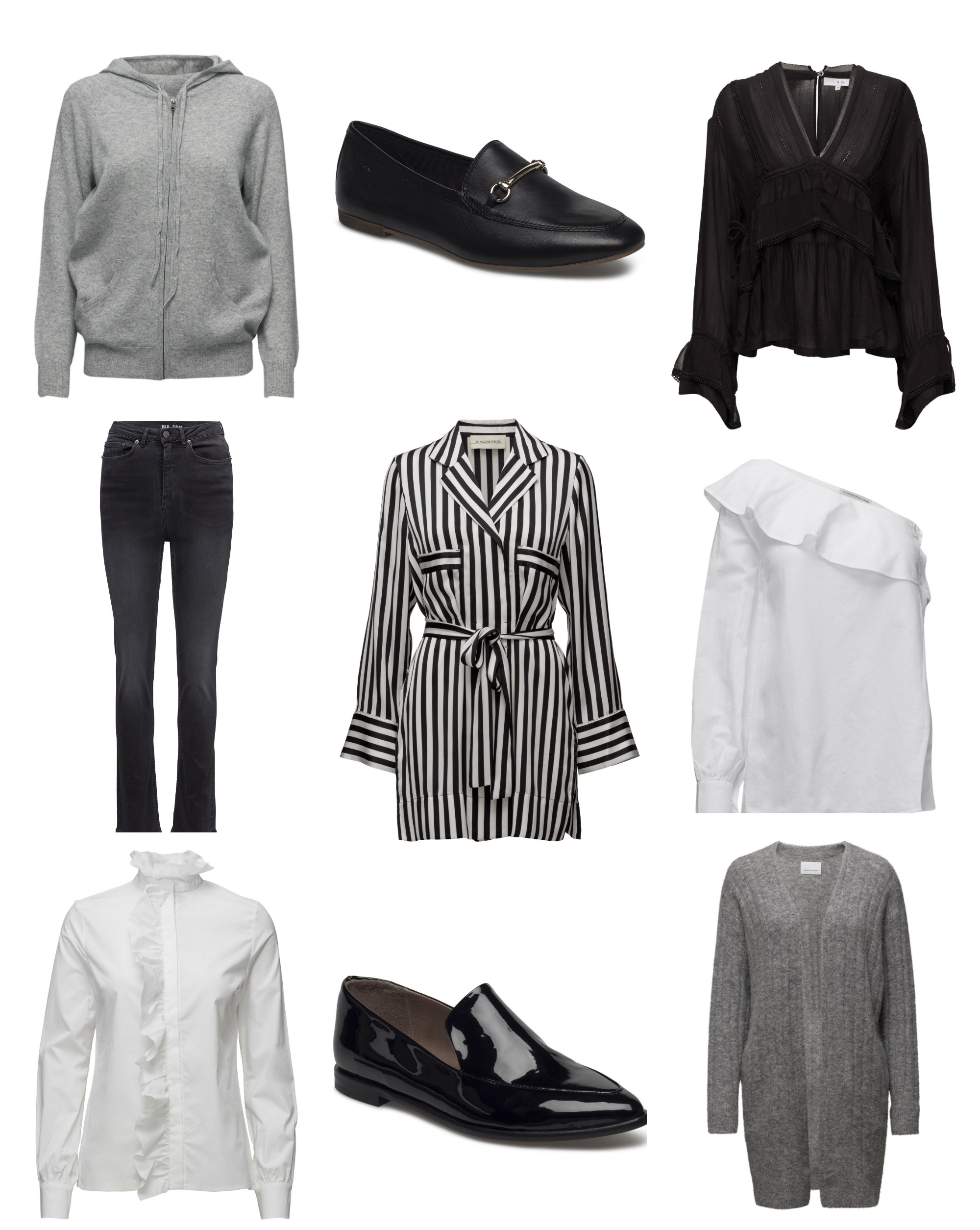 Hoodie /Davida Cashmere   Loafers / Vagabond   Shirt / Iro
Jeans / BLK DNM   Silk shirt / By Malene Birger   Shirt / FWSS
Shirt / 2nd Day   Loafers / Selected Femme   Knit / Samsoe & Samsoe
Poikaystäväni tuli perjantaina Ranskasta ja viime viikolla siellä oli ollut jopa +24 asteen lämpötiloja. Perjantaina täällä vielä satoi lunta, niin ihmettelen, että herra ei siirtänyt lentolippuja myöhemmälle ajankohdalle, heh. Oli kyllä aikamoinen pudotus ilmojen suhteen ja ensimmäistä kertaa aloin kaipaamaan Ranskaan. Etenkin tämä aika vuodesta on siellä niin ihana siinä mielessä, että kevät on jo pitkällä. Täällä on maaliskuussa vielä hyvinkin talvista. Ehkä se kevät sieltä nyt kuitenkin tulisi tämän kuun aikana ja luonto heräisi eloon…
Meillä on viikonloppu mennyt pitkälti järjestellessä tulevaa muuttoa ja ensi viikolla yritämme saada kämpän siihen kuntoon, että voimme siirtyä täältä vanhempieni luota omaan kotiin. Perjantaina olisi suunnitelmissa pitää vapaata ja muuttaa sitten kunnolla. Saa siis nähdä jos ensi viikonlopun vietämme jo uudessa paikassa. Mukavaa sunnuntaita kaikille!
My boyfriend came back from France on Friday and the weather had been amazing there. Of course on Friday it was snowing here, so I'm really surprised he didn't re-book his tickets for a later time, heh. I have to admit that I'm kind of missing the French weather at this point. It's quite depressing when you're waiting for spring and then you wake up to snow fall. So Finland, please step it up…
This weekend we've tried to organize our move and next week we'll try to get our apartement move-in ready. I'll try to take Friday off from work, so we can finalize everything and then perhaps stay there for the first time next weekend. Let's see…Have a great Sunday everyone!
*Commercial links/Mainoslinkkejä.
Save
Save
Save
Save
Save
Save
Save
Save
Save
Save