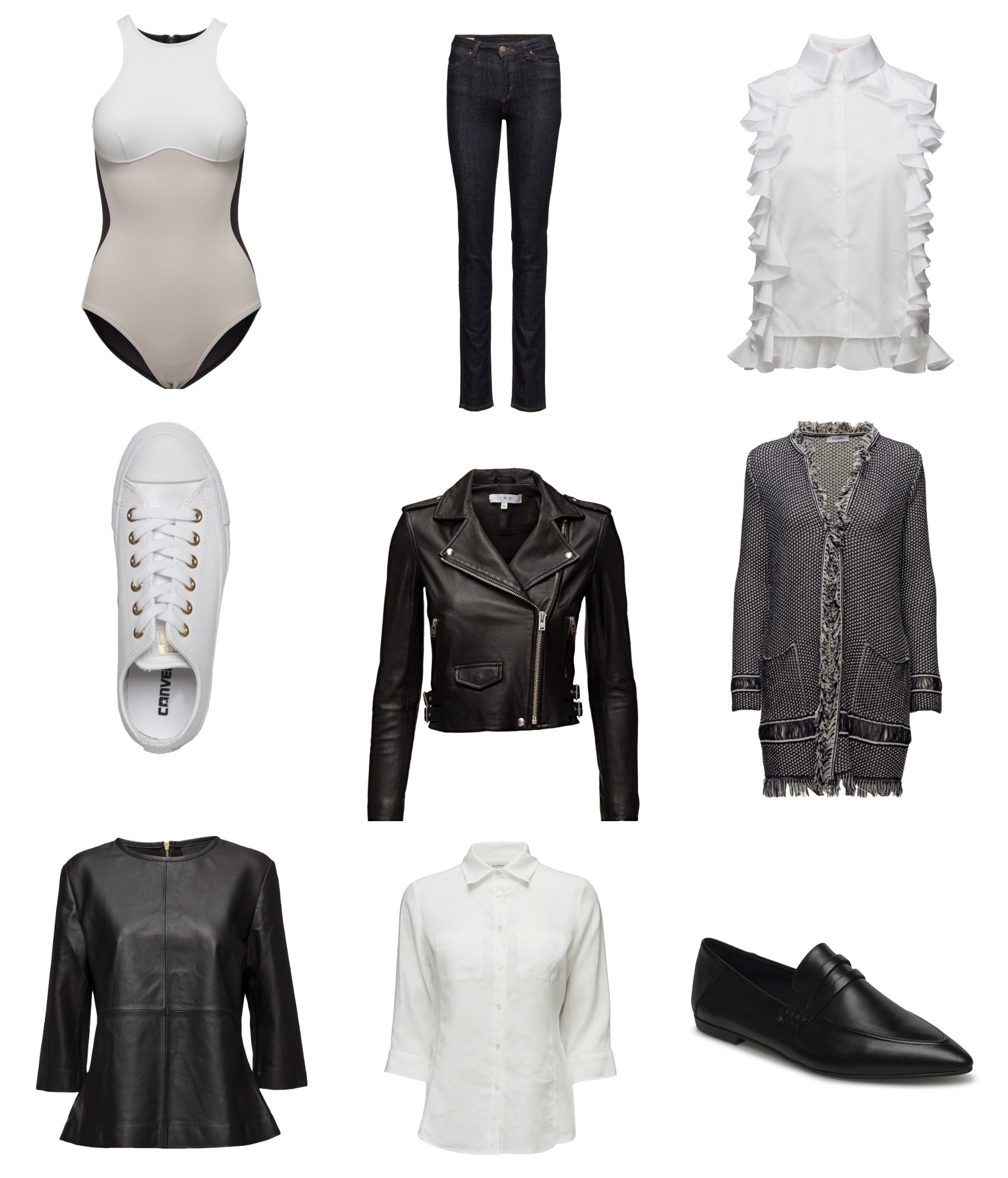 Swimsuit / Stella McCartney   Jeans / InWear   Shirt / YDE
Sneakers / Converse   Leather jacket / IRO   Knit / Max & Co.
Leather shirt / Depeche   Linen shirt / Weekend Max Mara   Loafers / Vagabond
Meillä on takana intensiivinen, mutta todella mukava viikko. Ranskan perhe lentää tänään kotiin, joten pian lähdetään ajamaan täältä landelta vanhempieni kodin kautta lentokentälle. Huomenna alkaa sitten taas uusi työviikko, mutta olen sen verran puhki, että yksi lomaviikkoa tähän perään tekisi terää, heh. Olen kyllä niin iloinen siitä, että viime viikolle sattui mitä upeimmat kevätsäät. Suomi näytti parastaan ja pystyimme olemaan paljon ulkona (mitä helpotti huomattavasti kaikkea). Jos landellakin olisi ollut kylmä ja satanut, niin kolme päivää mökin sisällä nököttäminen olisi varmasti kiristänyt kaikkien hermoja. Nyt pääsimme nauttimaan upeasta luonnosta ja valosta, joka jatkui pitkälle iltaan asti.
Tänään siis vielä viimeinen päivä vieraiden kanssa ja illaksi takaisin kotiin. Mukavaa sunnuntaita kaikille – yritän palata normaaliin postausrytmiin taas ensi viikolla!
We have such a fun, but intense week behind with my boyfriends family! They are flying home tonight, so we are leaving soon from the summerhouse to my parents place and then to the airport. We'll be home later tonight and then it's time to prepare yet again for another work week. I'm so grateful that the weather was amazing this week, as Finland really showed its best sides to our guests. Next week it should almost snow again, so perfect timing for my boyfriends family.
Have a relaxing Sunday everyone!
*Commercial links/Mainoslinkkejä.
Save
Save
Save