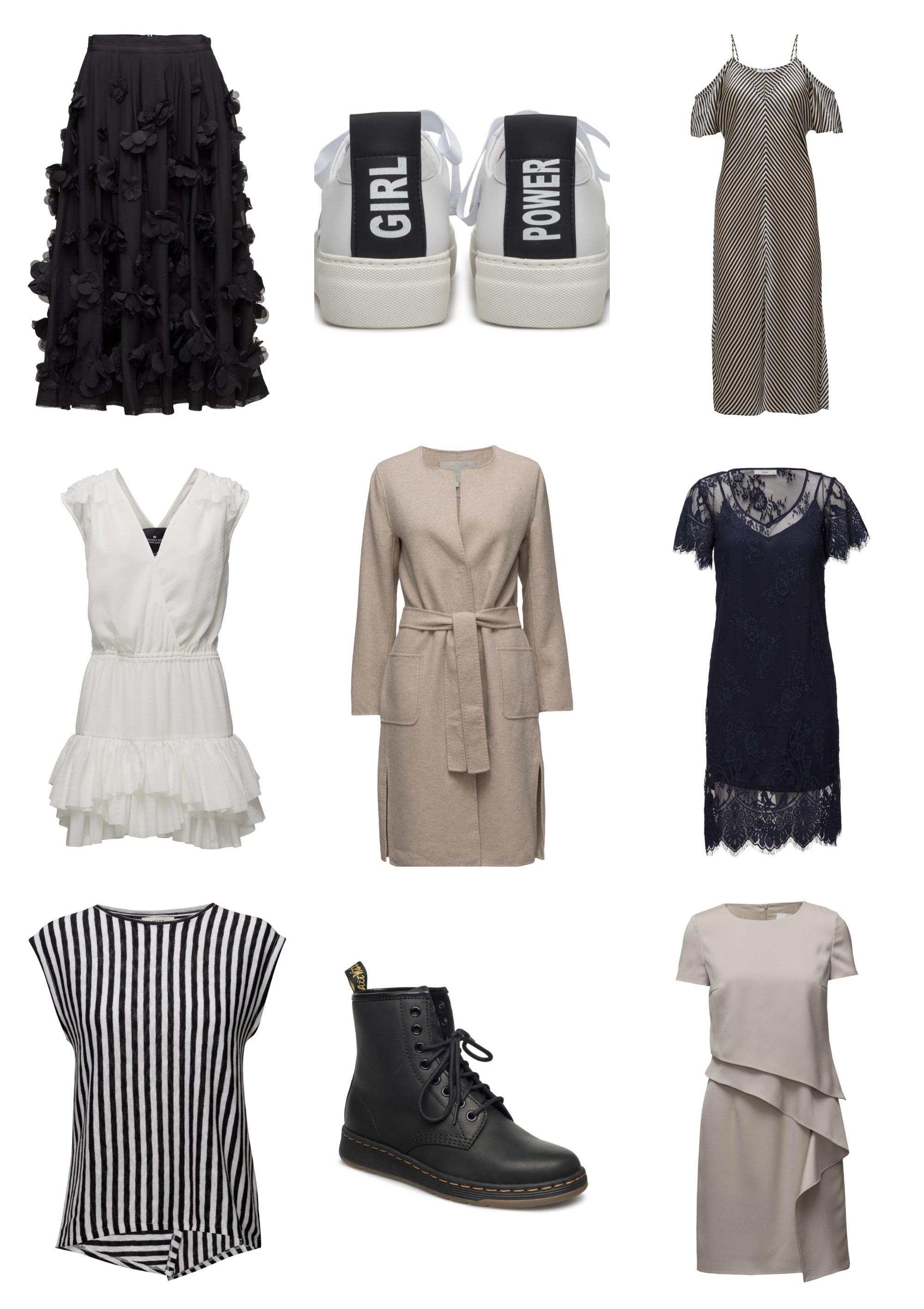 Skirt / French Connection   Sneakers / Billi Bi   Dress / T by Alexander Wang
Dress / Designers Remix   Coat / InWear   Dress / Minimum
Top / Mads Norgaard   Boots / Dr.Martens   Dress / Boss
Viikon valinnat olisivat tässä! Vieläkään ei tiedä, että pitäisikö pukeutua toppatakkiin vai kevyempään vaihtoehtoon, mutta onhan tässä saanut ainakin auringosta nauttia. Niin ihanaa, kun olimme eilen Mattolaiturilla ja kerrankin ei tarvinnut palella. Aurinko lämmitti niin mukavasti eikä merenrannassa edes tuullut. Näitä kelejä on kyllä odotettu ja jos ensi viikon sääennustetta on uskominen niin aina pitäisi vaan mennä paremmaksi. Finally!
Tänään saadaan juhlistaa supernaisia auringon paisteessa ja saan viettää äitini ja isoäitini seurassa tämän päivän. Toinen isoäideistäni on jo lähtenyt landelle odottamaan kesää, mutta hänkin on hengessä mukana. Mieletöntä, että itselläni on ollut kolme vahvaa äitihahmoa vierelläni koko elämäni – niin kiitollinen siitä. Äitienpäivälounas on siis tiedossa koko perheen voimin, joten ei muuta kuin juhlistamaan näitä upeita naisia. Ihanaa äitienpäivää kaikille muillekin äideille – nauttikaa!
My choices for this week! In Finland we still don't know whether to leave the house in a winter coat or a leather jacket, but this weekend we had some sun and slightly warmer temperatures (check this clip, so you understand the absurdity of this situation, heh). But the good news is that it looks like summer is slooooowly approaching!
Today we are celebrating all the superwomen (aka mothers) and I get to spend today with my entire family. I am very grateful to have three strong women, my mom and two grandmothers, in my life and today it's all about them. Happy Mother's Day to everyone!
*Commercial links/Mainoslinkkejä.
Save
Save
Save
Save
Save