Andiatan yksi helmituotteista ovat nämä Rafika-nahkahousut. Nämä ovat ehdottomasti parhaat kokeilemani täysinahkaiset housut ja ne ovat kaikin puolin täydelliset. Materiaali on hyvin joustava, eli housut ovat mielettömän mukavat käytössä, mutta eivät kuitenkaan veny liikaa. Aina kun nämä pakkaa kaappiin odottamaan seuraavaa käyttökertaa, tuntuu kuin nahka olisi vetäytynyt takaisin ns. lähtöasemaan. Nämä eivät siis ole venyneet muodostaan, vaikka käytän niitä paljon. Näihin kannattaa siis satsata jos on ne täydelliset nahkahousut hakusessa!
Täällä heräillään lauantaihin levollisin mielin ja tuntuu niin hyvältä pyhittää viikonloppu täysin vain rentoutumiselle. Poikaystäväni kertoi, että perjantaina heräsin kahdelta yöllä yhtäkkiä, ponnahdin pystyyn, laitoin rillit päähän ja ihan paniikissa sanoin nukkuneeni pommiin. Poikaystäväni siinä vaiheessa rauhoitteli ja sanoi, että ehdin nukkua vielä viisi tuntia ennen herätystä ja olin kuulemma vain heittänyt rillit syrjään ja kaatunut takaisin sänkyyn. Itselläni ei ole tästä mitään muistikuvaa, joten olen ollut aivan unessa. Kertoo kyllä siitä, että käyn ylikierroksilla, sillä nukun normaalisti hievahtamatta aamuun asti. Tämä kaksi päivää menevät siis täysin kropan ja mielen hoitoon.
Ja hei maanantaina on tiedossa Andiata-arvonta, eli pysykää kuulolla. Ihanaa viikonloppua kaikille!
One of my all time favorite products from Andiata are these leather pants (come in black and beige). The fit is just perfect and the quality is amazing. They are also super comfortable as the leather gives in, but they still don't loose the shape or expand to the point where they become too big. I feel that every time I pack them back in the closet, the leather shrinks back to it's regular size, which is why I love them so much. So, if you're looking for perfect leather pants, look no further.
Have a great weekend everyone and I'm going to now relax for the next two days. On Monday I'll have an Andiata give-away on the blog, so stay tuned!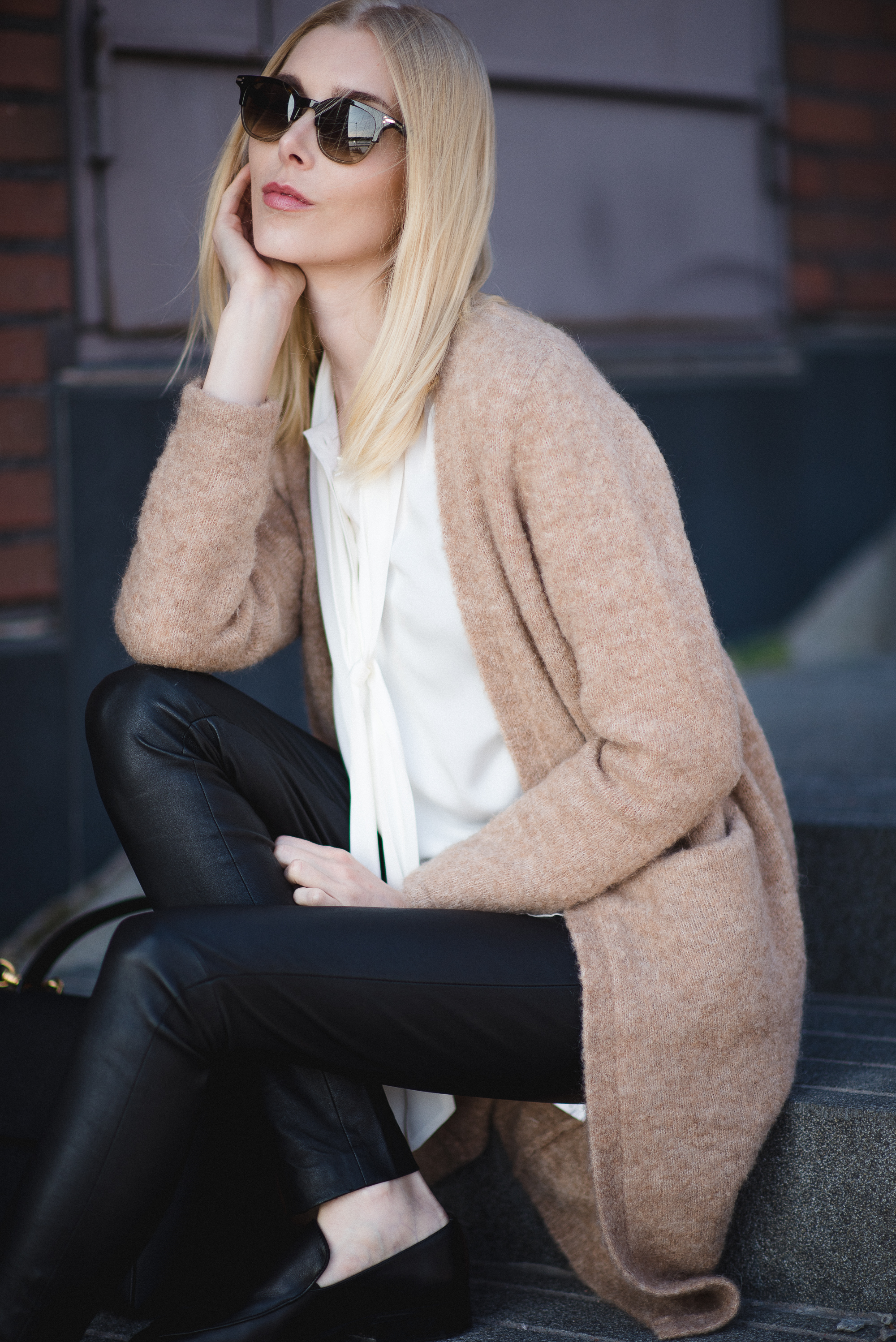 *Yhteistyössä Andiatan kanssa.
Cardigan / here
Silk blouse / here
Leather pants / here in beige
Save
Save
Save
Save
Save
Save
Save
Save
Save
Save
Save
Save
Save
Save
Save