Blogin ulkoasua tuli raikastettua viikonlopun aikana ja nyt kuvakoko on suurempi. Jatkossa lataan enemmän vaakakuvia, jotta koko asu näkyisi kerralla. Tykkään tästä pelkistetymmästä sivusta ja pientä viilausta on varmasti vielä luvassa. Nyt kun ilmat eivät hirveästi houkuttele ulos kuvaamaan, niin voin sentään kehittää blogia tällä tavalla.Yritän muutenkin tarjota jatkossa monipuolisempaa sisältöä. Nyt blogi koostuu pääasiassa muodista ja pääpaino tuleekin pysymään siinä, mutta olisi kiva tarjota myös enemmän lifestyle-aiheista sisältöä. Tilanne on toki haastava, koska teen täysipitkää viikkoa muissa hommissa, niin sanomattakin on selvää, että aika ei yksinkertaisesti riitä kaikkeen. Tähän aikaan vuodesta ei ehkä muutenkaan kannattaisi tehdä tällaisia lupauksia, kun energiataso on jo muutenkin normaalia alempi, mutta katsotaan miten käy.
Eilen tuli muuten kunnon siivousvimma päälle ja kävin kaikki asunnon laatikot ja oman kaappini läpi yksi vaate kerrallaan. Nyt täytyy myöntää, että tuli pieni vauhtisokeus päälle sen COS:in takin kanssa, koska se, että niitä löytyy kaksi samanlaista kaapissa alkoi suoraan sanottuna ahdistamaan. Arvoin pitkään kummasta luopuisin ja tulin siihen päätökseen, että etsin harmaalle uuden kodin. Jos siellä ruudun toisella puolella siis joku on miettinyt sitä, niin laittakaa viestiä sähköpostiini (styleplaza@hotmail.com).
Nyt kohti uutta viikkoa – ihanaa maanantaita kaikille!
We changed the image size this weekend, so now the pictures are even bigger. I personally like the larger images in fashion blogs, but what do you think? We'll still make some small adjustments, but I think removing the side panel makes the blog visually more appealing. Hope you like it!
Yesterday I started cleaning out my closets and sold some old things. Now the other clothes have more air to breathe and everything's better organized. Every now and then I have a urge to clean my closets, as I really dislike having them too full. At the moment I have limited space in my closet, but it's actually a good thing, because it makes the re-think every purchase at least three times.
Have a great new week guys!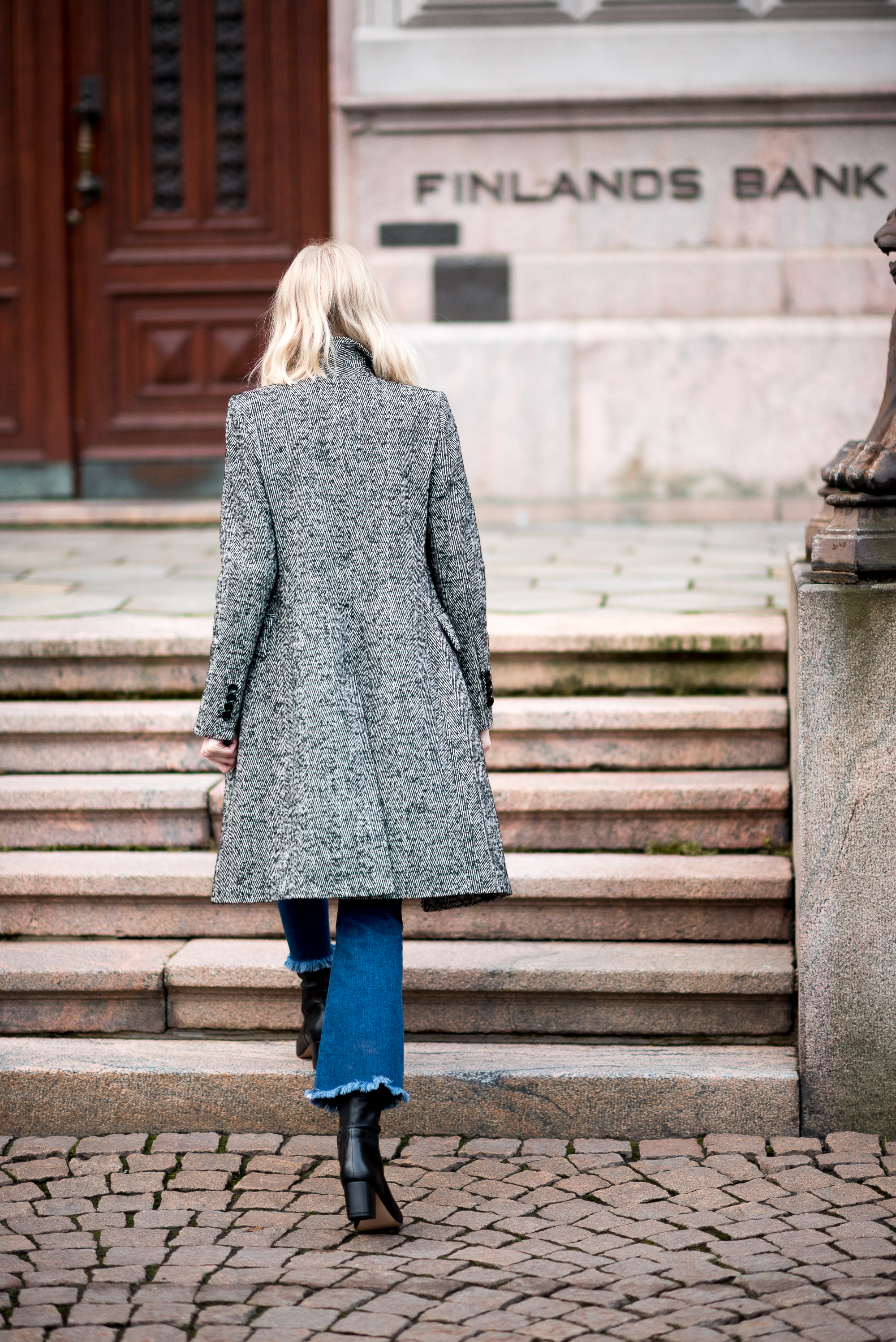 Coat / Andiata (similar here*)
Shirt / Pierre Robert (similar here*)
Jeans / Zara (similar here*)
Boots / H&M (similar here*)
Bag / Chanel
*Commercial links/Mainoslinkkejä.