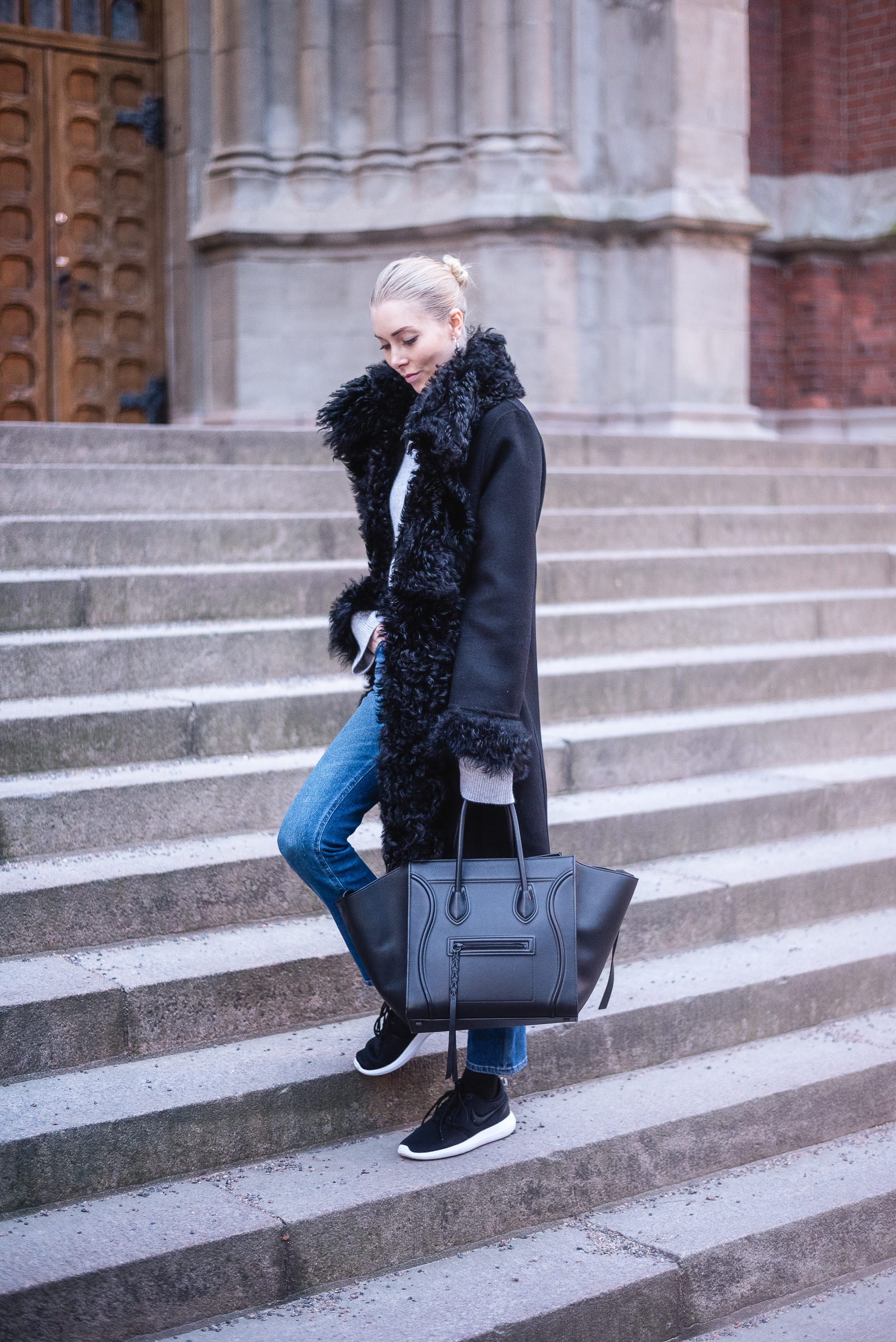 Olen tämän kuluneen Suomi-vuoden aikana ostanut enemmän lenkkareita kuin koskaan aikaisemmin. Huomaan, että täällä tulee käveltyä pitkiäkin matkoja, sillä lähes kaikkialle tässä keskusta-alueella pääsee kätevästi jalan. Kävely sujuu huomattavasti helpommin, kun jalassa on mukavat kengät ja mitkäs sen mukavammat vaihtoehdot kuin lenkkarit. Arkisin yritän tsempata vähän enemmän ja valita jalkaan muutakin, mutta huomaan, että viikonloppuisin valintani osuu usein niihin kaikista mukavimpiin pareihin. Lumettomilla kaduilla lenkkareilla pärjää vielä hyvin kun heittää alle tuplasukat + sukkahousut.
Mukavuuden lisäksi haluan pysyä lämpimänä ja talvella käytän n.70% ajastani neuleita. Kashmirneuleet ovat ehdottomasti suosikkini ja tämä kuvissa näkyvä muhkeahihainen on uusin tulokas. Olen selvästi tehty kylmään ilmastoon, sillä en tiedä mitä tekisin ilman neuleitani, jos asuisin esimerkiksi jossain tropiikin lämmössä ympäri vuoden. Suomen kesäkin vaatii usein neuleen (tai kaksi), joten täällä niille on kyllä käyttöä! Muistan viime kesältä sen, kun amerikkalainen ystäväni oli täällä elokuussa ja menimme saaristoristeilylle. Sinä päivänä oli niin kylmä, että värisimme pipoissa, kunnon takeissa ja vielä tupahuovat päällämme laivan kannella. Sen jälkeen olimme niin uppojäässä, että oli pakko mennä lämmittelemään kaakaon ääreen sisätiloihin. Se muisto jäi siis vahvasti mieleen viime elokuulta! Neuleita siis todellakin kaivataan tässä ilmastossa…Hyvää alkanutta viikkoa kaikille!
I have bought more sneakers during our first year in Helsinki, than ever before. This city is so compact and you can pretty much walk anywhere in the center area. I love walking, but prefer to have comfortable shoes when doing it, which is why I tend to pick sneakers most of the time. During the week I try to select other options as well for work, but when the weekend comes, sneakers are pretty much the first option. Luckily we haven't had snow yet, so I can wear sneakers as long as the streets are dry.
Besides comfort, I also need to be warm and I select my outfits accordingly. I'm that girl who is always cold, so it's cashmere knits for me all year around. This grey beauty is from a Swedish brand called Carls Bernsten and I love the oversized sleeves and of course the material. I guess I'm now living in the right country, as here I can wear my knits through the year. I think I couldn't handle living in a country where knits were out of the question, heh. Have a great new week everyone!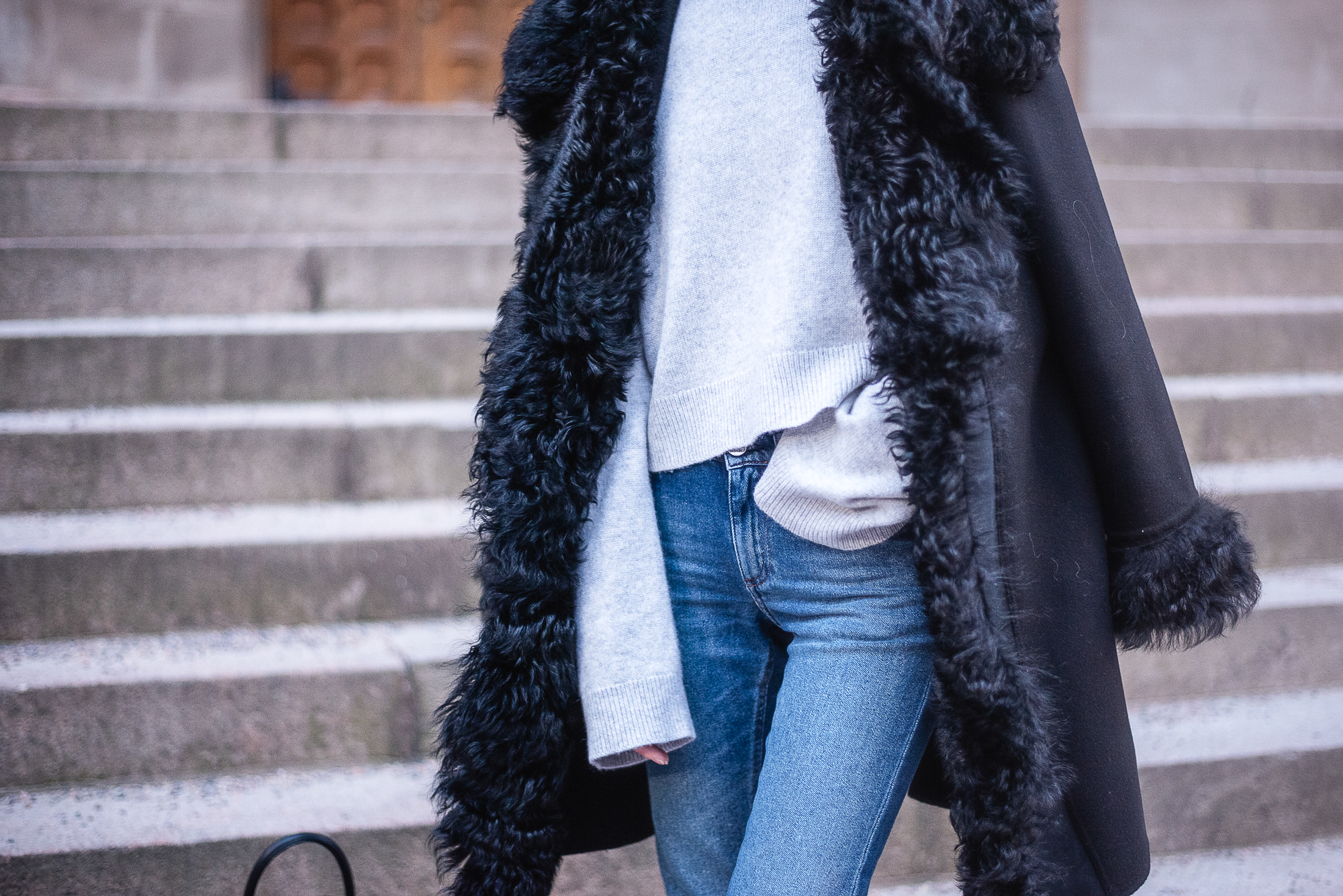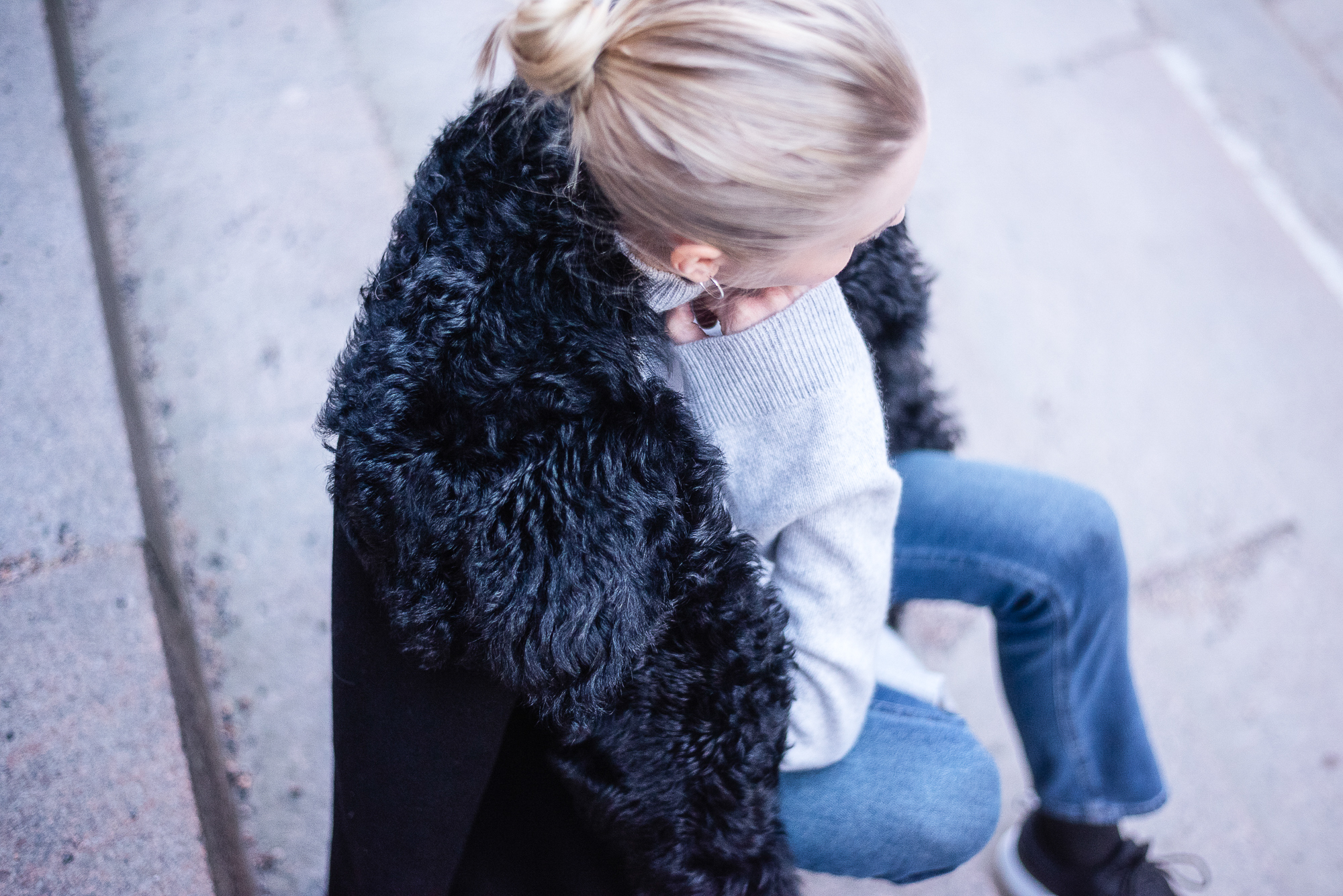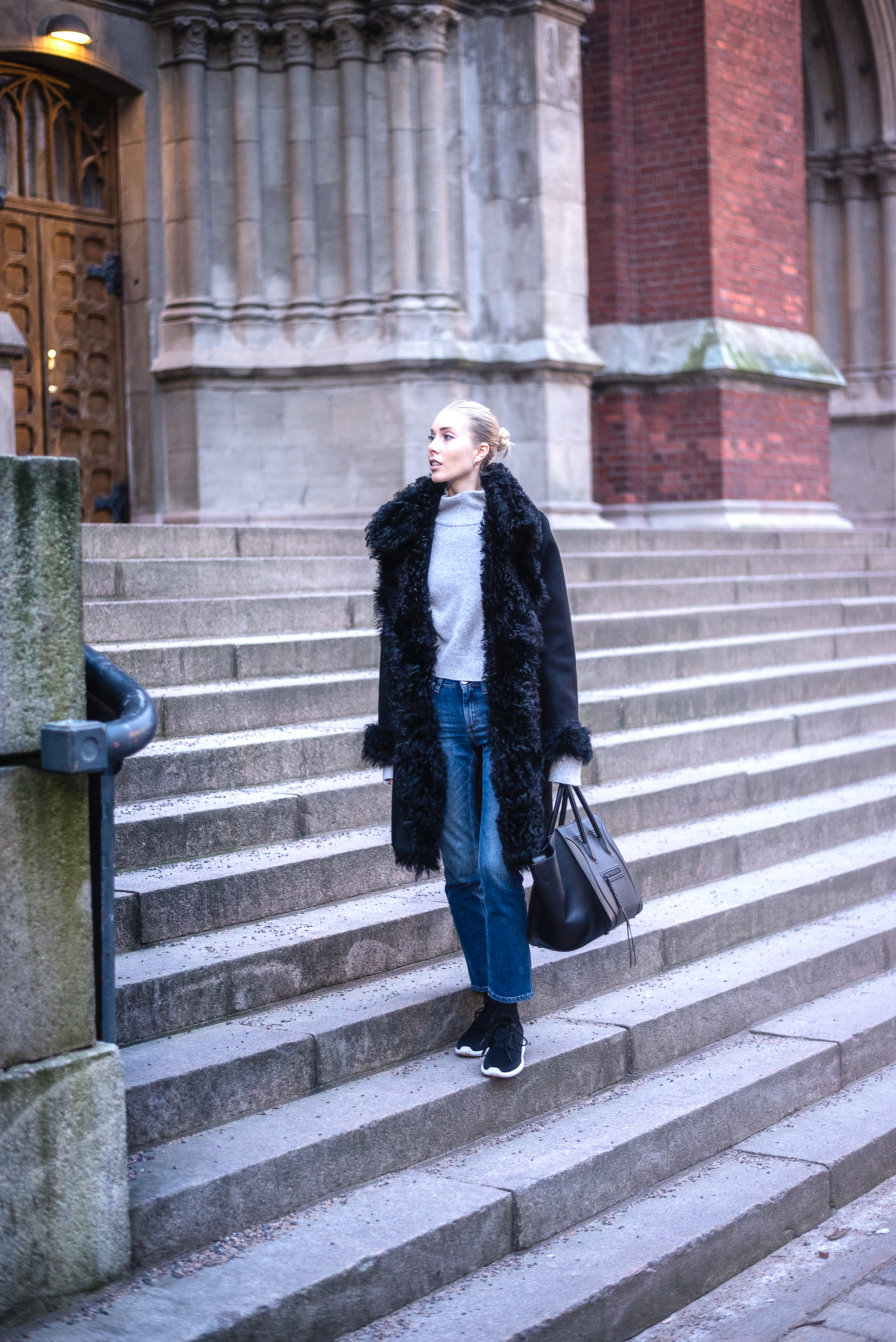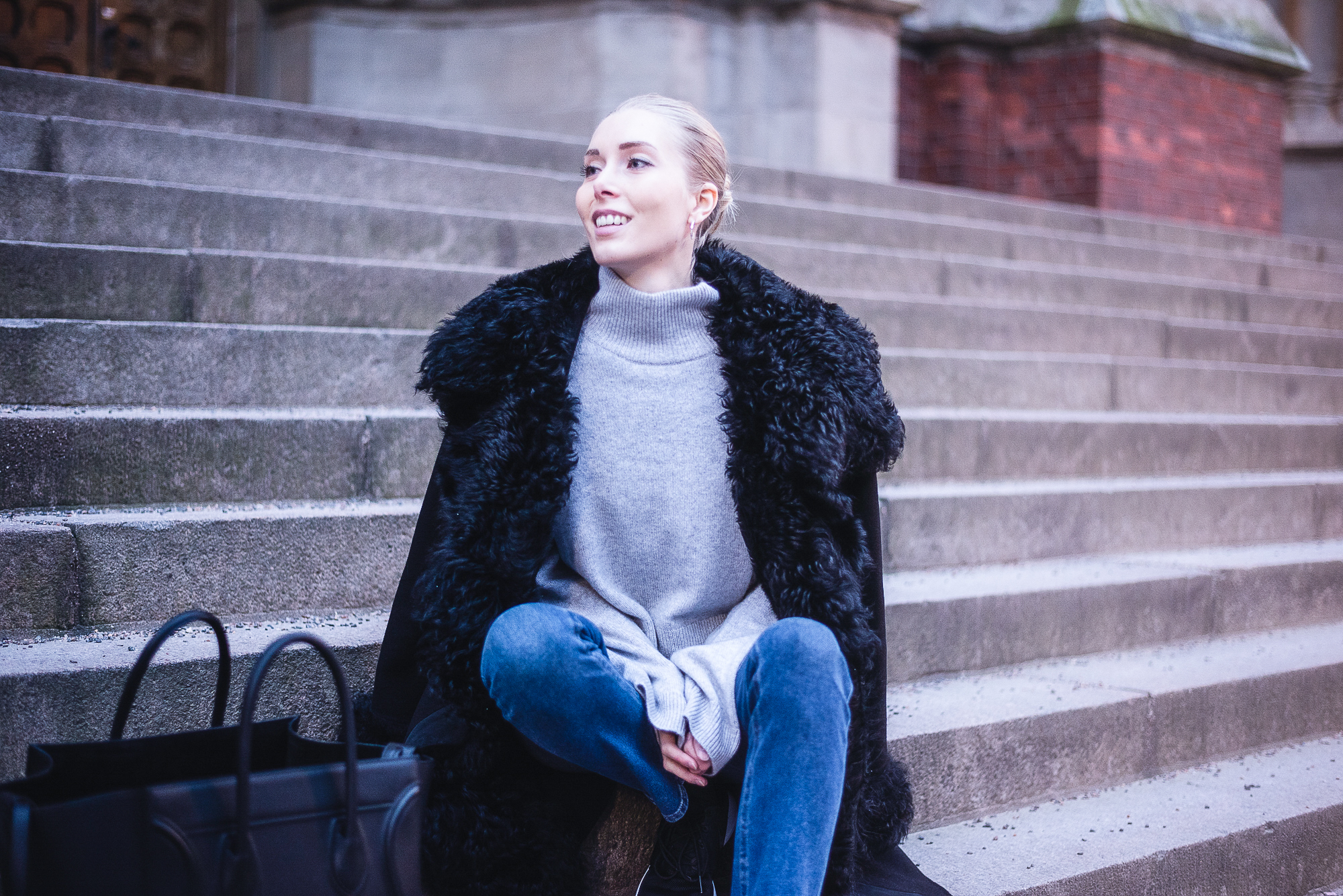 Photos/Thomas D.
Coat / Andiata*
Knit / Carls Bernsten*
Jeans / Totême*
Sneakers / Nike
Bag / Céline
*Commercial links/Gifted.