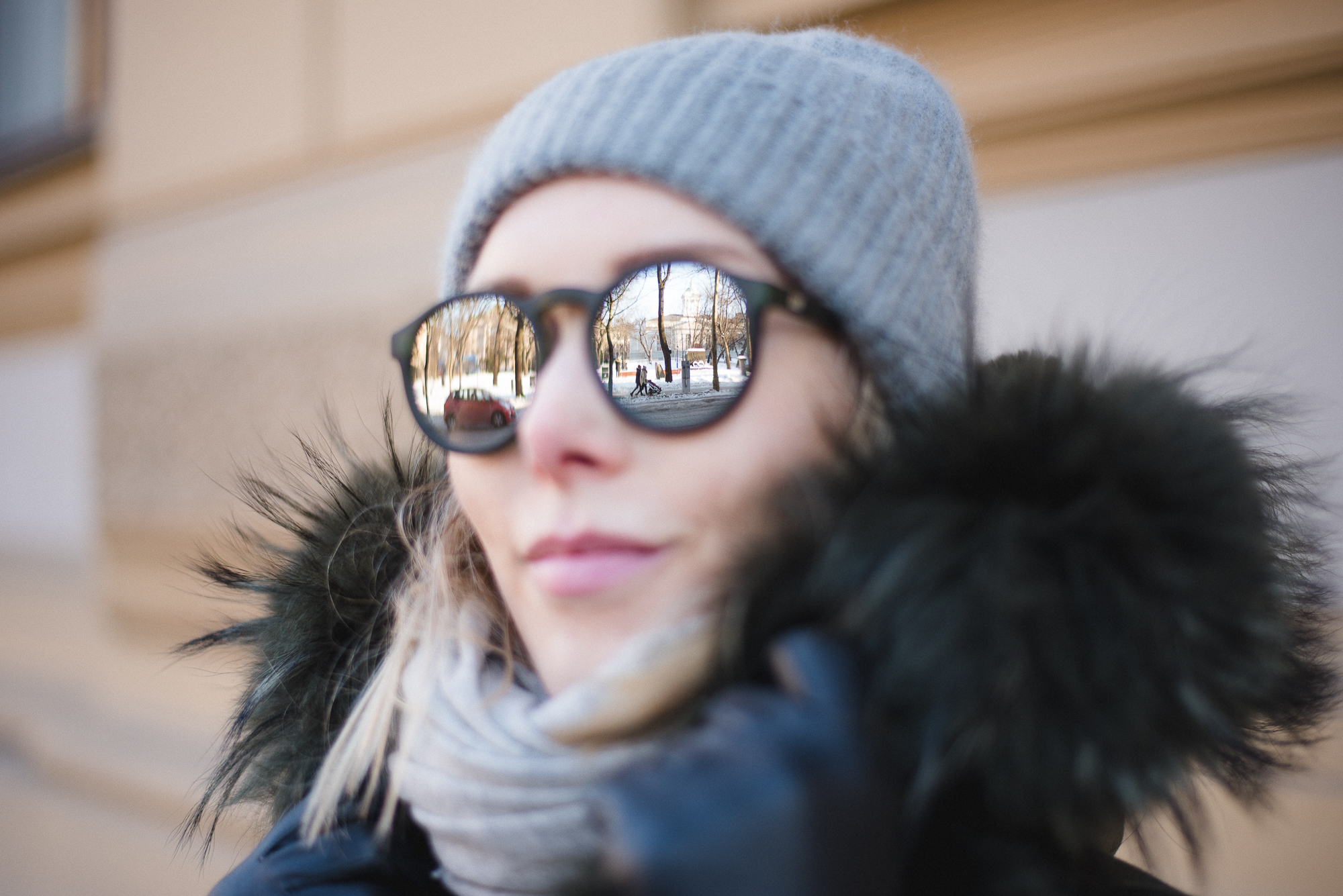 Blogissa ollaan oltu hiihtolomalla vähän huomaamatta, mutta jotenkin tällä viikolla on ollut niin uupunut fiilis, että työpäivän jälkeen olen antanut itselleni luvan levätä ilman mitään stressiä blogista. Tuli ihan tarpeeseen ja siellä ruudun toisella puolella on myös toivottavasti lomailtu, niin tämä tauko tuli ihan hyvään saumaan.
Nyt sain taas itseni tähän koneen ääreen ja ehkä osuutta asiaan on sillä, että kävin tänään ihanassa Sofinah-putiikissa Uuudenmaankadulla. Tämä ihana myymälä tarjoaa kaikkea vaatteista asusteisiin ja sieltä löytyy mm. Le Specsin aurinkolaseja jotka saivat itseni fiilistelemään kevättä. Kyllä se sieltä vielä tulee, vaikka tällä hetkellä ei ehkä tunnu sieltä, kun tuo jäätävä ilma iskee päin kasvoja heti ulos astuttua. Onneksi nämä uudet aurinkolasit auttavat asiaa ja ihanaa, että niitä voi ylipäätänsä käyttää ja nauttia tästä upeasta valosta täysillä!
Tiesittekö muuten, että Le Specs on australialainen merkki? Itse olen aina pitänyt sitä ranskalaisena! Merkin lasit on hauskoja, tyylikkäitä ja mallistosta löytyy jokaiselle jotain. Hinta-laatusuhde on mieletön, eli jos uudet aurinkolasit on hakusessa, niin kannattaa tsekata Sofinah:n valikoima. Itselläni on kuvissa Cubanos-malli jossa sanka on mattapintainen ja varustettu peililinssillä. Tykkään! Ihanaa, että asusteilla saa vähän räväkkyyttä peliin ja kun ei tarvitse koko omaisuutta laittaa likoon, niin voi hauskuutella juurikin aurinkolaseilla. Valikoimassa oli myös ihania kissamaisia laseja (kova trendi tänä keväänä) ja pyöreitä ysärimalleja, mutta nämä iski heti. Olin silmäillyt verkosta LUXE-malliston Bazaar ja  Last Lolita-malleja (tämän hetken IT lasit), mutta ne oli harmikseni liian coolit omaan naamaan. Poikaystäväkin oli samaa mieltä, heh. Ensi viikolla näette nämä lasit vielä paremmin, kun saan työstettyä asukuvat. Ihanaa viikonloppua kaikille!
I have been taking a ski holiday from the blog, as I haven't been posting this week much. This break wasn't intentional, but it kind of just happened, as I've been super tired this week. I've allowed myself to relax after work and not even open the computer and to be honest, I really needed that. I don't know if it's the freezing temperatures that have been over Helsinki for the past two weeks (-15 to -20 isn't that fun anymore) or what, but I've been so exhausted and I have many friends saying the same thing. Or perhaps it's just the exhaustion of surviving the darkest winter months.
Today I was out and about and did some shopping. The first stop was at a boutique called Sofinah and I got these mirrored lens sunnies from Le Specs. They are so fun and now I have one more reason to wait for Spring (not that I needed any other reasons, heh)! I'll show you more pictures with these sunnies, as soon as I finish working on the pics. Have a great weekend everyone!