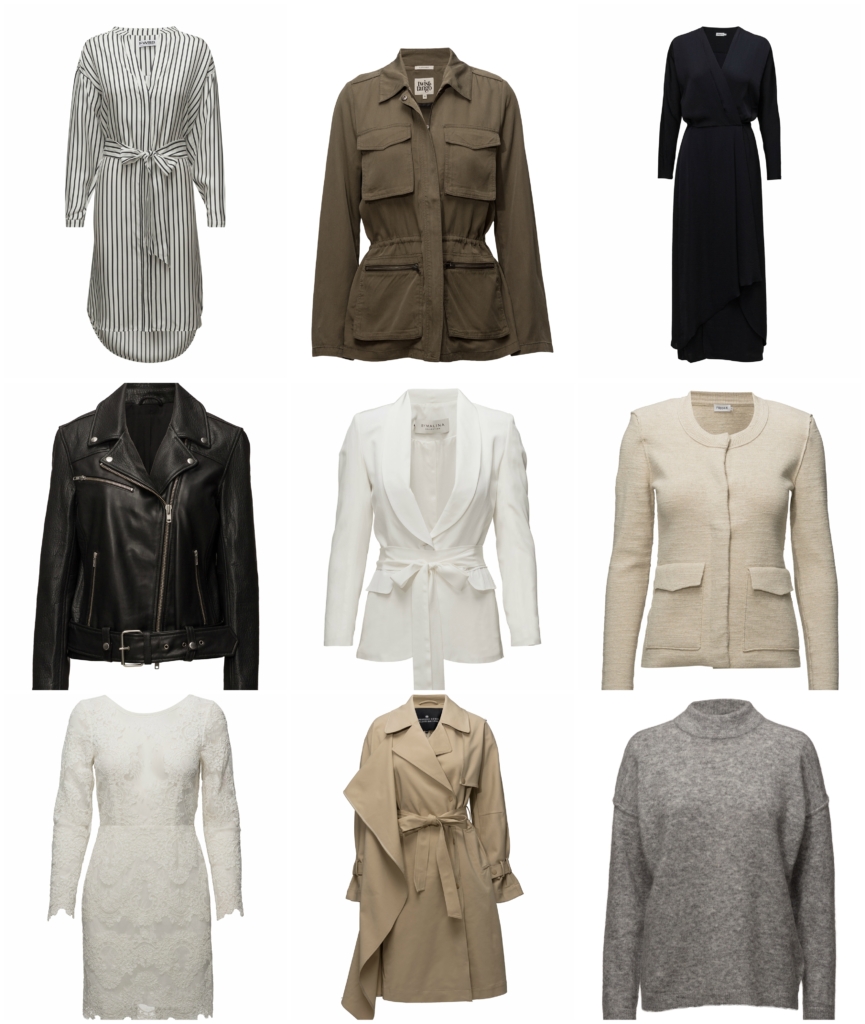 Dress / FWSS   Jacket / Twist & Tango   Dress / Filippa K
Leather jacket / J. Lindeberg   Silk blazer / By Malina   Cardigan / Filippa K
Lace dress / Ida Sjöstedt   Trench / Designers Remix   Knit / Selected Femme
Saavuimme eilen aamulla Helsinkiin ja vaikka yölennolla sain nukuttua muutaman tunnin, niin eilinen menikin sitten hieman väsyneissä tunnelmissa. Kaikki reissukamat tuli sentään pestyä ja nyt neljäntoista tunnin yöunien jälkeen (huh!) tuntuu, että on taas jotenkin balanssissa. Matkustaminen on maailman parasta, mutta kotiinkin on ihana tulla ja etenkin nyt kun kevät pitäisi olla ihan kulman takana. Olin kyllä vähän toivonut, että lunta ei olisi ollut enää näköpiirissä, mutta lentokoneen ikkunoista avautua ihan yhtä luminen Helsinki kuin meidän lähtiessä. Meidän oli tarkoitus mennä landella pääsiäiseksi, mutta voi olla, että siirrämme suunnitelmia ja menemme Espooseen sen sijaan. Landella on ihanaa mihin aikaan tahansa vuodesta, mutta jos siellä on vielä paljon lunta, niin kaikki on hankalampaa (jo autolla pääseminen pihaan saakka). Saa siis nähdä mihin päädymme. Ihanaa sunnuntaita kaikille ja ensi viikolla on sitten luvassa reissupostauksia!
P.S. Booztilla saa tänään kevään valikoiduista kevään uutuuksista -20% alennusta koodilla WOW20!
We arrived back to Helsinki yesterday morning and after a night flight, we were both quite out of it. I managed to stay up all day, but then slept fourteen hours straight last night, heh. Traveling is the best thing in life, but so is coming home. I had wished that spring was here by now, but hopefully it will arrive soon, and then it's almost time for summer – the best time of the year! Next week I'll be posting from our trip, so I can relive our vacation a little longer. Have a great Sunday!
P.S. Check out Boozt's spring sale here!
*Commercial links/Mainoslinkkejä.