Kerrospukeutuminen on tähän aikaan vuodesta ihan parasta ja saa taas kaivaa lempihuivit kaapista. Tämä Highland on Helsinki-huivin rinnalla suuri suosikkini. Niin täydellinen materiaalin, koon ja laadun puolesta. Kashmir voi olla herkkä materiaali, mutta tämä on kyllä kestänyt hyvin kovaa käyttöä. Samoin Helsinki-huivini, jota kohtelen aika rajustikin välillä. Raukka on milloin missäkin mytyssä laukkuni pohjalla ja silti kunto on edelleen lähes uudenveroinen. Jos mietit siis huiviin satsaamista tänä syksynä, niin tässä on kaksi mallia joita ilman en pärjäisi. Asun neule on myös sellainen lohtuvaate, josta en tule ikinä luopumaan. Muistan hankkineeni sen alesta nelisen vuotta sitten ja ale tai ei, niin  hinta oli silti aivan liian kova, mutta en ole kyllä katunut hetkeäkään tätä ostosta.
Ihanaa keskiviikkoa kaikille ja hei muistakaa osallistua Andiatan 200€:n lahjakortiin täällä! Moni teistä on jo osallistunut ja kiitos siitä. On ollut niin kiva lukea teidän mielipiteitä ja suurin osa teistä tykkää eniten viimeisestä asusta nahkahousujen kanssa ja Zofia-takista.
Layering is the best way to dress in fall. You can adjust to different temperatures easily by peeling or putting on another layer. Knits, scarfs and coats are my favorites. I have two scarves that I can't live without and this Highland scarf from Balmuir is one of them. It's 100% cashmere, huge in size and just too beautiful. Every fall I take it out from its box and each time I'm as happy. The same happens with this Joseph cashmere turtleneck. The best purchase ever…
I wish you all a great Wednesday and don't forget to participate in the Andiata 200€ gift-card give away here!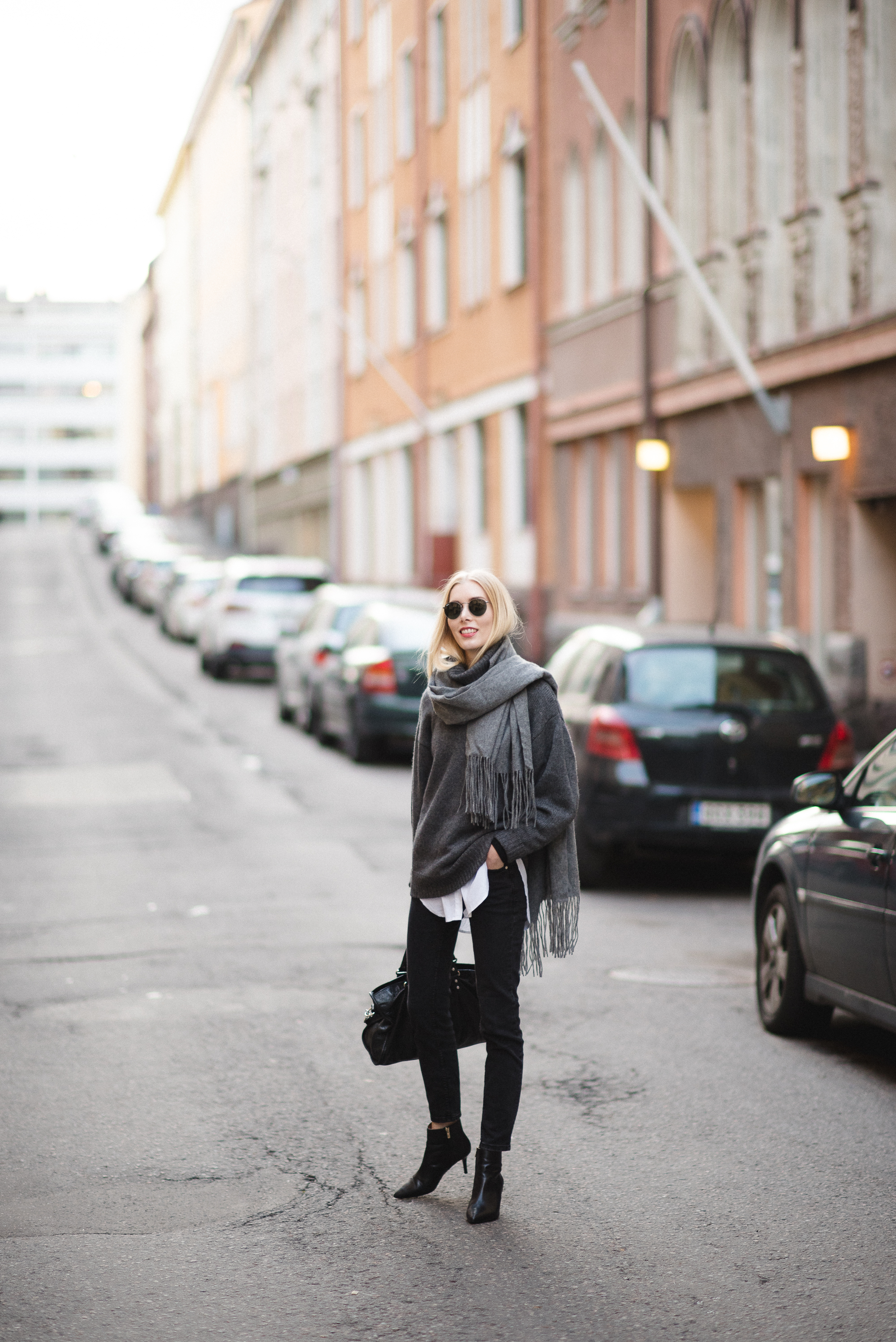 Cashmere knit / Joseph (similar here*)
Jeans / Mango (similar here*)
Shirt / Andiata*
Scarf / Balmuir*
Boots / & Other Stories
Bag / Balenciaga
*Commercial links/Gifted.
Save
Save
Save
Save
Save
Save
Save
Save
Save
Save
Save
Save
Save
Save
Save
Save
Save
Save
Save
Save
Save
Save
Save
Save
Save
Save