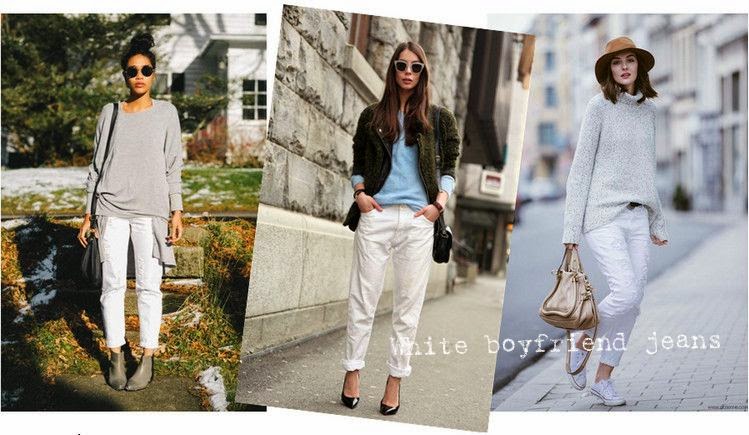 (Images: Pinterest)
Salut à tous! How are you? Hope you had a good weekend! I spent mine inside four walls and I'm finally getting rid of this flue. I just want to play it safe just in case and hold on for a few days before doing any crazy activities. Not that I probably would in any case, but still! 😉
I've kept my mind busy at least and what better way to do that then think about fashion. I have been dreaming of white boyfriend jeans. They will look so good this summer! I actually found the pefect pair from Zara and ordered them, but unfortunately the pair was faulty. Now I'm hoping I can find them in store….Let the hunt begin!
Kukkuu, miten teidän viikonloppu sujui? Toivottavasti paremmin kuin täällä, hih! Nyt on viides päivä menossa neljän seinän sisällä ja flunssa alkaa pikkuhiljaa helpottaa. Ehkä tänään uskaltaudun jo pienelle ulkoilulle. Se tekisi varmaan ihan hyvää tälle pääkopalle. Just saying…! 🙂

Olen yrittänyt pitää mielen virkeenä miten muutenkaan kuin muotia ajatellen ja yksi must have – hankinta keväälle on valkoiset boyfriend-malliset farkut. Ne ei saa olla liian lököt, mutta kuitenkin tarpeeksi rennot. Löysinkin itseasiassa täydellisen parin Zarasta, jonka tilasin kotiin. Huonoa tuuria oli matkassa sillä farkkuista löytyi useampi lika tahra. Tällä viikolla lähden etsimään niitä liikkeestä ja toivon, että tärppää!