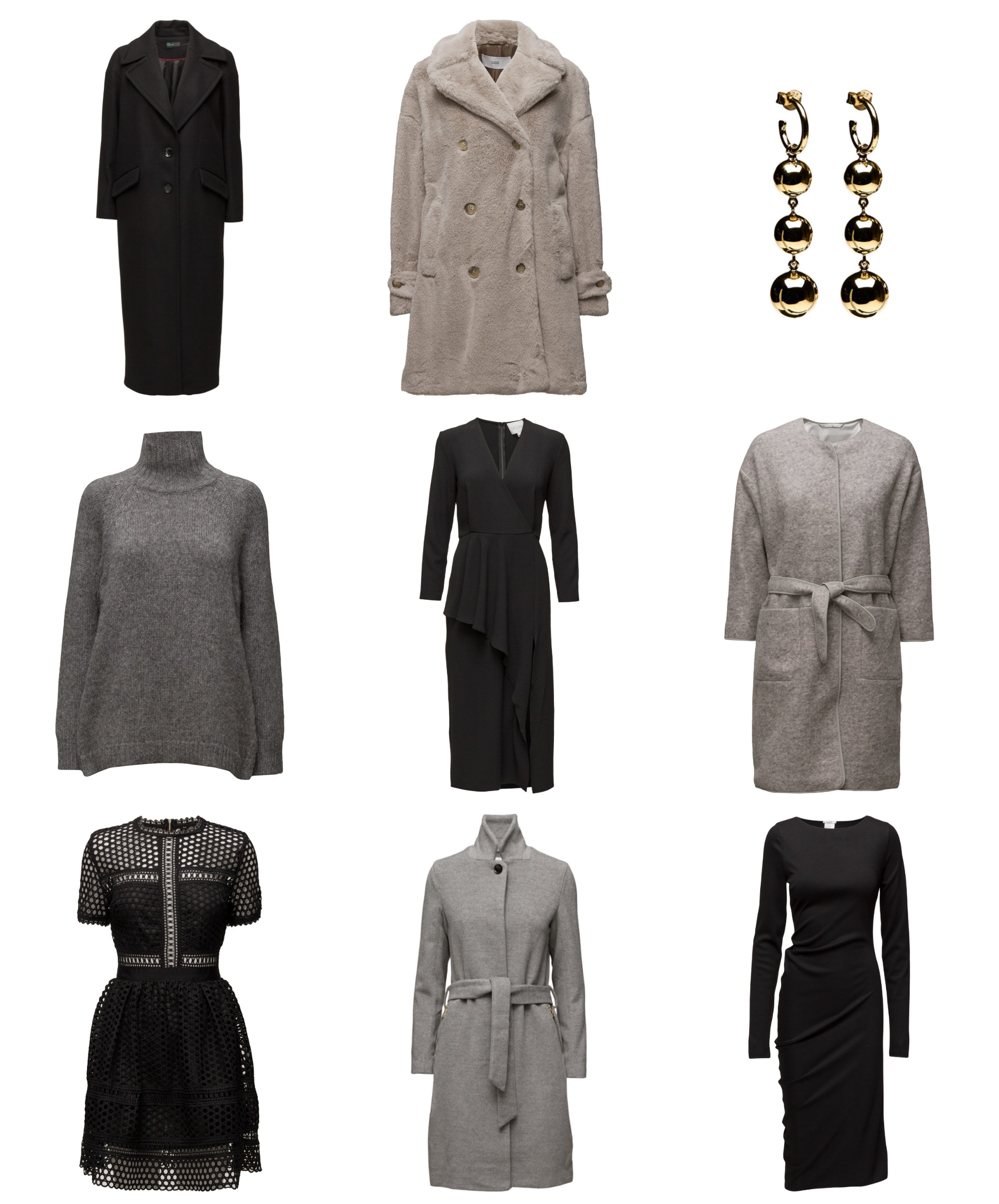 Coat / Benetton   Coat /Closed   Earrings / Lola's Love
Knit / Filippa K   Dress / Dagmar   Coat / Peak Performance
Dress / By Malina   Coat / Day Birger et Mikkelsen   Wool dress / Wolford
Sanat Black Friday ei herätä mitään myönteisiä mielikuvia. Itselleni piirtyy mieleeni ne kaikki järkyttävät videot Jenkeistä missä ihmiset rynnivät toisista piittaamatta myymälöihin alennusten perässä. Meno on sellaista, että luulisi myymälöissä jaettavan ilmaista rahaa, mutta ei. Ihmiset jonottavat tuntitolkulla, että pääsevät kuluttamaan. Ehkä tätä päivää pitäisi kutsua "Crazy Friday"-nimellä. BF on nyt tehnyt tuloaan Eurooppaan jo muutaman vuoden ajan ja onneksi täällä meno ei ole vielä yltynyt noin hurjaksi. Joulumyynti lähtee kivasti käyntiin alennusten saattelemana ja netistä on helppo tehdä löytöjä ilman, että joutuu ryysiksen keskelle.
Nuoruudessani muistan aina odottaneeni joulun jälkeisiä alennusmyyntejä alkavaksi ja sitten joulurahalla mentiin ostamaan se kauan haaveiltu juttu. Nyt merkit kilpailevat asiakkaista entistä kovempaa, joten alennusmyynnit alkavat jo reilusti ennen aattoa. Kuluttajillehan  se on mieluinen asia, eli nyt on hyvä hetki miettiä, että löytyisikö sinne pukinkonttiin jotain ihanaa.
Kannattaa ainakin kurkata Booztin,  Elloksen ja NA-KD:n (25% alennusta koodilla blackweekend) valikoimat. Ihanaa viikonloppua kaikille!
To be honest, the words Black Friday makes me think of all those videos where people are waiting outside a store and when the doors open they rush in and run over the slowest ones. It looks as if people are queuing for free money, but no.  They are just queuing to spend money, heh. BF has made it's way to Europe in the last two years and now local stores have promotions as well. I like when the websites start their sales early on, which means you can do shopping from your own couch and avoid the craziness in stores (well, in Europe it's not that bad actually). Anyway, now is a good time to start doing some Christmas shopping!
My favorite online stores are Boozt, Ellos and NA-KD. Are you plannig to get something this weekend? Enjoy everyone!
*Commercial links/Mainoslinkkejä.
Save
Save
Save
Save
Save
Save
Save
Save
Save