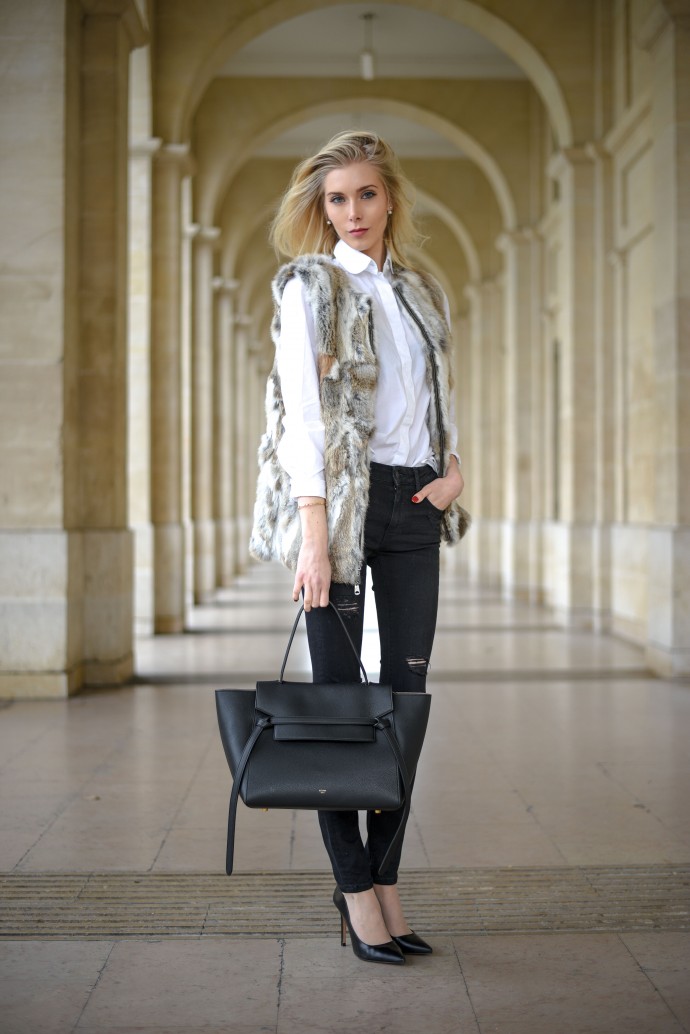 Täällä jouluvalmistelut on jo loppusuoralla ja kuusikin on jo haettu ja koristeltu. Ihanin tuoksu jouluna taitaakin olla juuri se kuusen tuoksu! Mä olen täpinöissäni paketoinut lahjoja ja vaikka lahjat ei ole joulussa se pääasia niin niiden antaminen on mun mielestä ihanaa.Ilman lahjojakin hyvin pärjäisi, mutta mä nautin siitä kun voi edes vähän ilahduttaa toista.  Joulufiilis on täällä oikeastaan vasta noussut parin viimeisen päivän aikana sillä ilmojen puolesta on ollut jotenkin niin syksyinen fiilis. Onneksi eilen saatiin pieni lumipeite ja kuusen hankkiminen auttoi asiaa paljon. Miten siellä? Joko joulufiilis on huipussaan?
Tässä asua taas Ranskasta. Hankin nuo revityt mustat farkut Zarasta muutama kuukausi sitten ja ne on ollut kyllä malliltaan (hyvä vyötärön korkeus) ihan loistavat. Myös kulumat ei ole liian revityt omaan makuuni. Tämä liivi on muuten sen Max Mara parkan sisäosa ja sitä voi hyvin käyttää myös erikseen. Hehkutin Max Maran takkeja ja tässä taas yksi syy siihen. Kaikki on viimeisen päälle mietitty!
Tänään mun pitäisi vielä hankkia vihoviimeiset paketit ja toivon, että keskustassa ei olisi liian kova hässäkkä. Mikään ei ehkä tapa joulufiilistä paremmin kuin täpötäydet kaupat joissa kaikilla on hirveä stressi, heh. Yritänkin selviytyä mahdollisimman nopeasti takaisin kotiin ja sitten voi jo rauhoittua joulun viettoon.
Hyviä jouluvalmisteluita kaikille!
I'm almost done with all the Christmas planning and I even got the Christmas tree and decorated it already. The smell of a spruce inside the house is amazing! I have also been packing some gifts and even though presents are not the most important thing about Christmas, it's still something I enjoy doing. Giving a little something to a loved one and seeing their face when they open a gift is part of the Christmas charm.
And let's go back to France for a little bit as this outfit was shot there. These ripped jeans from Zara have been a great purchase, because I love the fit and especially the higher waist.  And do you recognize the vest? It's actually the inside of my Max Mara parka coat, but it can also be worn on it's own.
Today I should still visit the stores (one last time I hope) and see my goddaughter. I'll pretend to be Santa's helper so that I can pass on my gift to her.
Enjoy the last days before Christmas Eve everyone!
Vest / Max Mara
Shirt / Stella McCartney
Jeans / Zara
Bag / Céline
Bracelet / Saint Laurent
Earrings / Zara
Heels / Zara