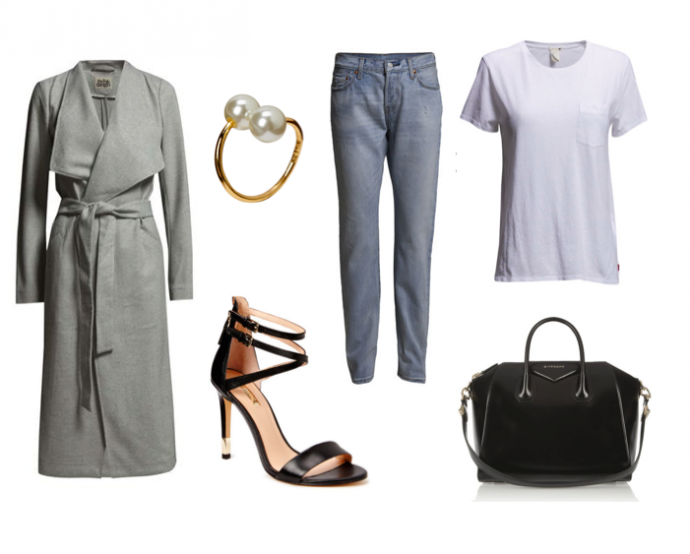 Jacket / Twist & Tango     Ring / Pilgrim     Jeans / Levis
T-shirt / Levis     Heels / Guess     Bag / Givenchy
[dropcap custom_class="normal"]Kevääseen kuuluu vaaleat farkut ja etenkin rennon malliset sellaiset. Nämä Levikset näyttää hyviltä ja tarpeeksi pitkiltä, jotta lahkeet saa käärittyä kivasti. Yhdet toiset täydelliset löysin Monkin valikoimasta ja niistä lisää ensi viikolla! Takki-hullu kun olen niin tuo Twist & Tangon vyöllinen malli kiinnitti heti huomioni. Oma takki valikoima alkaa vaan olla niin täynnä, että nyt on ihan pakko jatkaa sen ihailemista kauempaa.[/dropcap]
Ihailemisesta puheenollen, Givenchyn Antigona on edelleen sellainen laukku mikä tulee ensimmäisenä mieleen kun mietin mahdollista uutta laukkuhankintaa. Toki Célineltä, Fendiltä ja Chanelilta löytyy myös monia varteenotettavia vaihtoehtoja, mutta tämä tuntuu olevan käytännöllisin ja muutenkin vähän erilainen muihin laukkuihini verrattuna olkahihnan ansioista.
Olen myös kuullut siitä ja sen laadusta pelkkää hyvää mikä onkin tärkeä asia kun puhutaan tämän hintaluokan tuotteesta. Onko sielä ruudun toisella puolella ketään onnellista Antigonan omistajaa? Suosittelisitteko kyseistä laukkua?
A must have piece for Spring is light jeans in a loose cut. These ones from Levis look great and long enough so you can fold them up a little! I also found a great cropped boyfriend jean from Monki, which I'll tell you more about next week. As I'm addicted to coats, this one from Twist & Tango caught my eye, but as my coat closet is packed as it is, I'll just have to admire this from afar.
Givenchy's Antigona is also something I've been admiring for a long time. When I think of the "next bag purchase" this comes to mind. Of course I love many models from Hermès, Fendi, Chanel and Céline, but this one is the most realistic and practical option. Are any of you lucky Antigona owners? Would you recommend this bag to your friends?