Viime vikolla kerroin täällä, että muutan takaisin Ranskaan kesäkuussa. Me olemme olleet poikaystäväni kanssa nyt kauan erossa, enkä ihan rehellisesti edes muista milloin me viimeksi näimme toisiamme (mikä tarkoittaa, että siitä on ihan liian kauan). Onneksi hän löysi hyvät lennot ja tulee tänne nyt parin viikon kuluttua. Me pääsemme vihdoin viettämään aikaa yhdessä – mitä luksusta! Valitettavasti hän on täällä ainoastaan viikonlopun yli, mutta sekin on parempi kuin ei mitään. En tiedä teistä muista kaukosuhteessa olevista, mutta itselläni se ikävä ainakin kasvaa paljon enemmän kun tietää, että pian näkee sen toisen. Mitä lähemmäs se päivä tulee niin sitä kovemmaksi ikävä kasvaa. Ei ehkä ihan loogista, mutta niin se vain omalla kohdallani menee!
Nämä kuvat on muuten otettu Orléansin ulkopuolella olevan viinialueen läheisyydessä ja se alue kuuluu suosikkehini. Täydellinen paikka kävellä tai pyöräillä viikonloppuna. Onneksi tuleva kotimme on lähellä, joten pääsen tuonne milloin tahansa tuulettumaan. Ne ketkä tuntevat minut tietävät, että tarvitsen paljon omaa aikaa ja hiljaisuutta. Tuolta sitä onneksi löytyy!
Last week I told you that I'm moving back to France in June. Me and my boyfriend have now been forever (or that's how it seems) apart and I honestly don't even remember when was the last time we saw each other. This means it's been way too long. Luckily he's coming here in a less than two weeks for a weekend, so we can finally spend some quality time together.
These outfit pictures were taken outside of Orléans and I love this place. It's so calm and quiet. The perfect place to walk during the weekend and get away from the city. Not that Orléans is the most busiest city in the world, but you get my point, heh.
Enjoy your week everyone!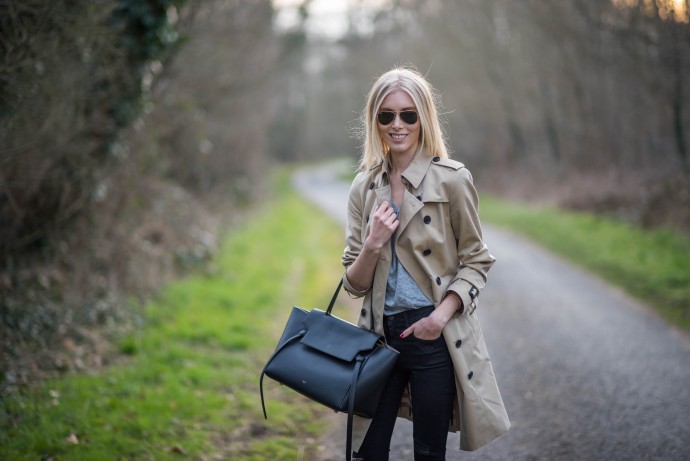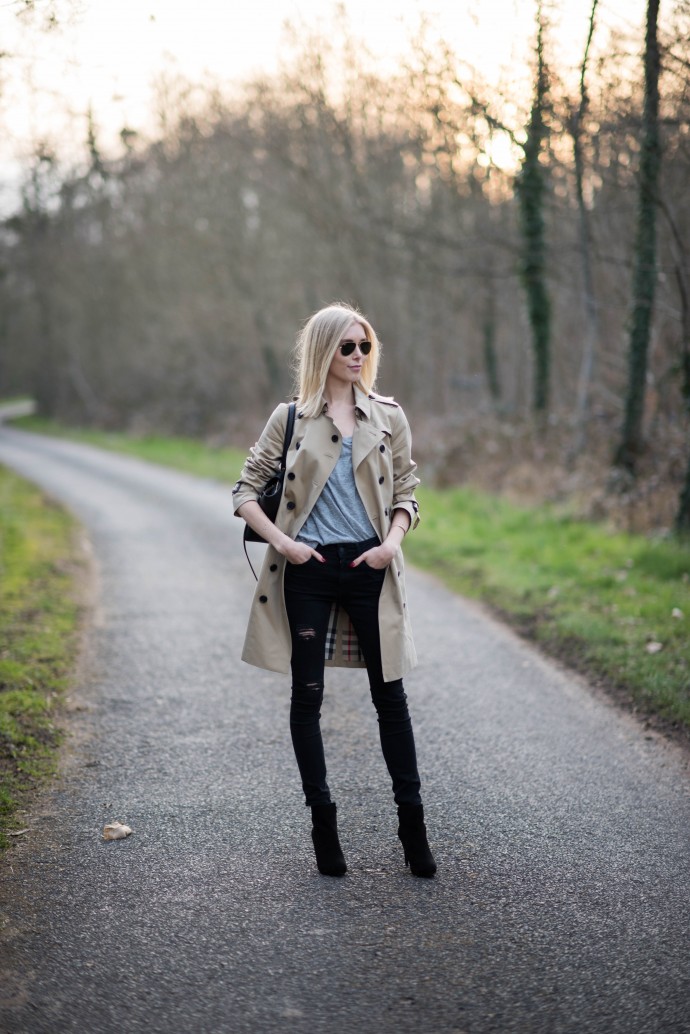 Trench / Burberry (similar here)*
T-shirt / H&M (similar here)*
Jeans / Zara (similar here)*
Boots / Zara (similar here)*
Bag / Céline
Sunnies / Ray Ban
Bracelet / & Other Stories
*Mainoslinkkejä.