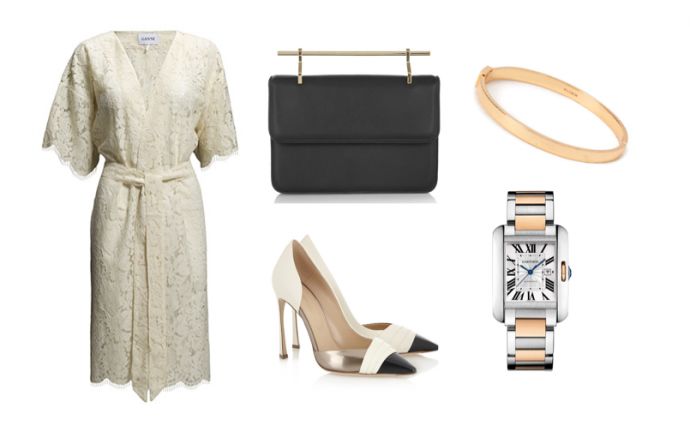 Kimono dress / Ganni*     Clutch / M2Malletier     Bracelet / Pilgrim*
Heels / Sergio Rossi     Watch / Cartier Tank
Touko- ja kesäkuu ovat varmasti yhdet vilkkaimmat kuukaudet juhlien kannalta. Näin on myös omalla kohdallani. Mitä enemmän fiinimpiä tilaisuuksia, sitä enemmän korostuu se kuinka rento tyylini onkaan. Kaapista löytyy vino pino housuja, mutta hameet ja mekot jäävät laskettavaksi yhden käden sormilla. Ei siinä mitään, mutta se tarkoittaa sitä, että liikun samoissa juhlatamineissa tilaisuudesta toiseen.
Seuraavat juhlat ovat parin viikon päästä ja sinne ajattelin laittaa tämän vanhan asukokonaisuuden tai sitten pikkumustan. Tämä Gannin valkoinen pitsikimono olisi täydellinen vaihtoehto jos niitä juhlallisempia tilaisuuksia olisi useammin omassa kalenterissani. Jos kyse olisi omista juhlistani niin silloin varmasti satsaisin enemmän ja tämä on sellainen asu mihin voisin panostaa. Naisellinen pitsimekko on kaunis, mutta tyylilleni uskollisena, asusteiden täytyisi rikkoa tätä hempeää vaikutelmaa.
P.S. Mitä piditte muuten Met-gaalan asuista? Itse en oikein löytänyt ainuttakaan asua, joka olisi täysin kolahtanut. Lempiartistehihini kuuluvan Beyoncénkin asu meni omasta mielestäni metsään mauttomuudellaan. Hän on näyttävä nainen, joka omistaa upean kropan, mutta asu olisi sopinut mielestäni enemmänkin makuhuoneen puolelle.
This time of the year is the "party" season. There are graduation parties, summer parties and everything in between. This is also my reality this month. The more parties I have, the more I realize how casual my style is. My closet is full of trousers, but the section for dresses and skirts is ridiculously small. this means that I rotate my party clothes often.
The next party I have is in two weeks time and I think I'm going to wear this older outfit of mine (here) or then a simple black dress. This white lace dress from Ganni is beautiful and something I would love to wear. Lace is such a feminine material that it needs some sturdy accessories to balance it out. At least for the outfit to work on me.
P.S. What was your favorite Met Gala outfit? I actually didn't find a single look that I absolutely loved this year. I also think Beyoncés outfit was a big fail. I love her as a singer, but this time her look was just too cheap. I felt like the outfit would have been more appropriate for the bedroom.
*Commercial links/Mainoslinkejä.