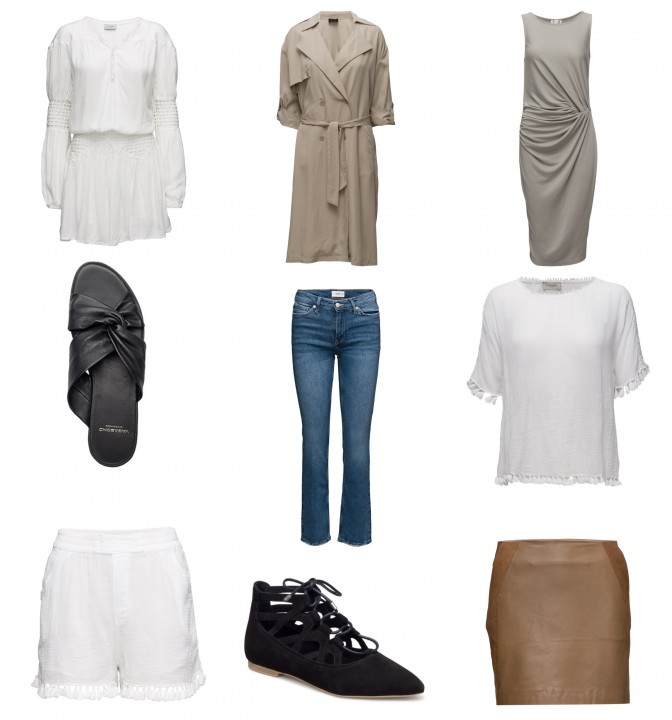 Dress / Hunkydory     Trench / Sand     Dress / Selected Femme
Sandals / Vagabond     Jeans / Mango    Shirt / Hunkydory
Short / Hunkydory     Flats / Pavement     Skirt / 2ndDay
Ihanaa, että on jo huhtikuu! Nyt voi sanoa, että on oikeasti kevät. Täällä lämpötilat ovat kohonnut lähes +20 asteeseen, eli talvitakit voi nyt vihdoin laittaa varastoon. Täällä oli vielä maaliskuussa yllättävän viileitä päiviä, joten korkeammat lämpötilat tuntuvat nyt ihan luksukselta. Ensi viikolle on tosin taas povattu hieman epävakaisempaa säätä, mutta kyllä se tästä…Saa nähdä millainen ilma Helsingissä ottaa minut vastaan loppuviikosta. Kunhan ei sataisi lunta, niin olisin enemmän kuin tyytyväinen, heh!
Valo on yksi tämän vuodenajan parhaista puolista (heittämällä) ja se saa tämänkin naisen haaveilemaan valkoisesta, hiekasta ja kulutetusta denimistä. Yksi takuuvarma kevään asu on siniset farkut ja pellavapaita. Tämä asu onkin tullut jo puettua päälle ja siitä asukuvia ensi viikolla! Koko viime kevään ja kesän kuljin Uniqlon pellavapaidoissa ja niitä täytyy hamstrata yksi lisää. Käytin niitä Seychelleillä nimittäin paljon ja aurinkovoide (plus hikinen iho) ei tehnyt niille kovinkaan hyvää. Ne taitavat siis jäädä hyllylle "lomapaidoiksi". Onneksi ne eivät ole hinnalla pilattu, joten yksi sellainen täytyy tilata kotiin!
Tässä omia suosikkejani Booztin* valikoimasta ja tänään koodilla 15SURPRISE saatte 15% alennusta uutuuksista, sekä alennetuista tuotteista. Omat suosikkini ovat tuo Selected Femmen mekko, sekä nuo Mangon farkut. Jostain syystä Mangon farkut istuvat itselleni niin hyvin, että sieltä on tullut tehtyjä todellisia löytöjä.
Hyvää sunnuntain jatkoa kaikille!
April, I love you! Now the temperatures are slowly increasing, the amount of light is amazing and the nature starts blooming. Beautiful. I'm keeping my fingers crossed that the weather in Helsinki will be as nice next week…as I would prefer it not to snow, heh. April in Helsinki, you'll never know.
These days filled with light make me want to wear white, beige and denim. One one my favorite looks for this period is denim combined with a linen shirt. I have actually already worn this look and I'll post it here next week.
Here are some of my favorites from Boozt.com and today with the code 15SURPRISE you can get -15% off most items. My favorites are the Selected Femme dress and the Mango jeans. What are yours?
Enjoy the last day of the week!
*Commercial links/Mainoslinkkejä.