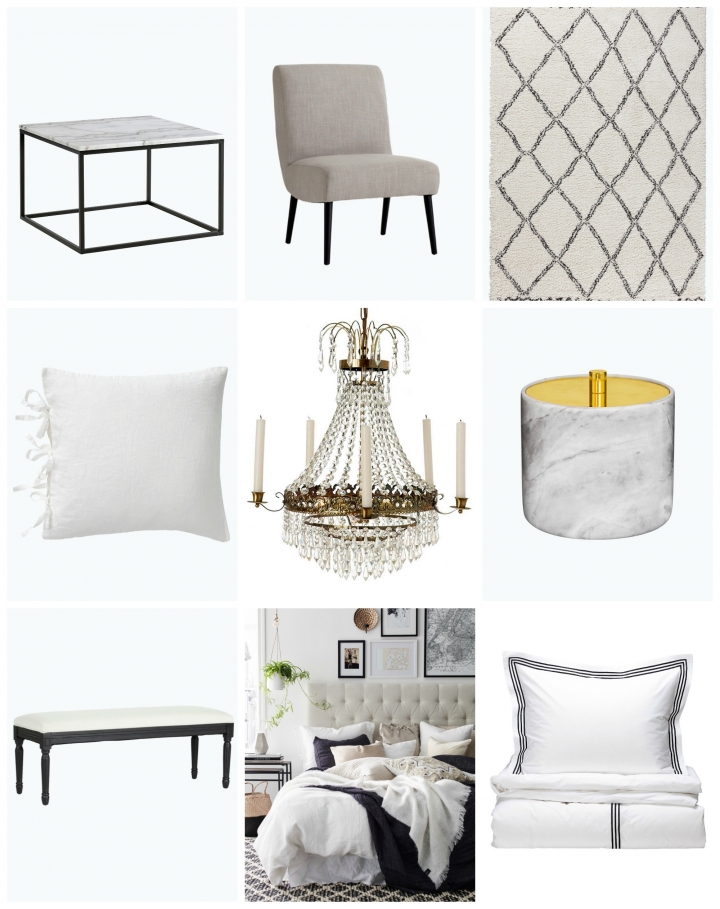 Marble table   /   Chair   /   Carpet
Pillow cover   /   Lamp   / Marble jar
Bench   /   Bed  headboard   /   Sheets
Elloksella* on menossa tällä hetkellä hyvä kamppis, josta halusin vinkata teille. Kaikista kotituotteista (myös huonekaluista) saa nyt -20% alennusta aina 21. elokuuta asti koodilla 345415 . Itse käytinkin tämän edun jo ostamalla tuon penkin sängynpäätyyn ja toivon, että se olisi sopiva siihen mihin sitä kaavailen. Tästä aikaisemmasta kollaasista tilaamani musta lamppu saapuikin jo perille ja se sai makuuhuoneesta hyvän paikan.
Tässä samalla vinkkaan, että NA-KD* nettikauppa tarjoaa -20% alennuksen kaikista tuotteistaan (paitsi jo valmiiksi alennetuista) 21. elokuuta asti koodilla Augusti20. Kannattaa tarkistaa etenkin Filippa K:n ja Hunkydoryn valikoima!
Täällä aletaan hiljalleen valmistautumaan Flow-festareille ja tulkaa ihmeessä vetämässä hihasta jos satutte bongaamaan meikäläisen! Rentouttavaa sunnuntaita kaikille!
Ellos* has a good sales offer at the moment and with the code 345415 you can get a 20% discount from the home collection (including furniture). Above you can see my favorites and I actually ordered the bench for the new guesthouse!
NA-KD* also has a similar offer and with the code Augusti20, you can get -20% off from all items (except ones that are already on sale). My favorite brand from their offer are Filippa K and Hunkydory.
We are getting ready for the Flow Festival and if any of you are there, come say hi! Have a great Sunday!
*Commercial links/Mainoslinkkejä.