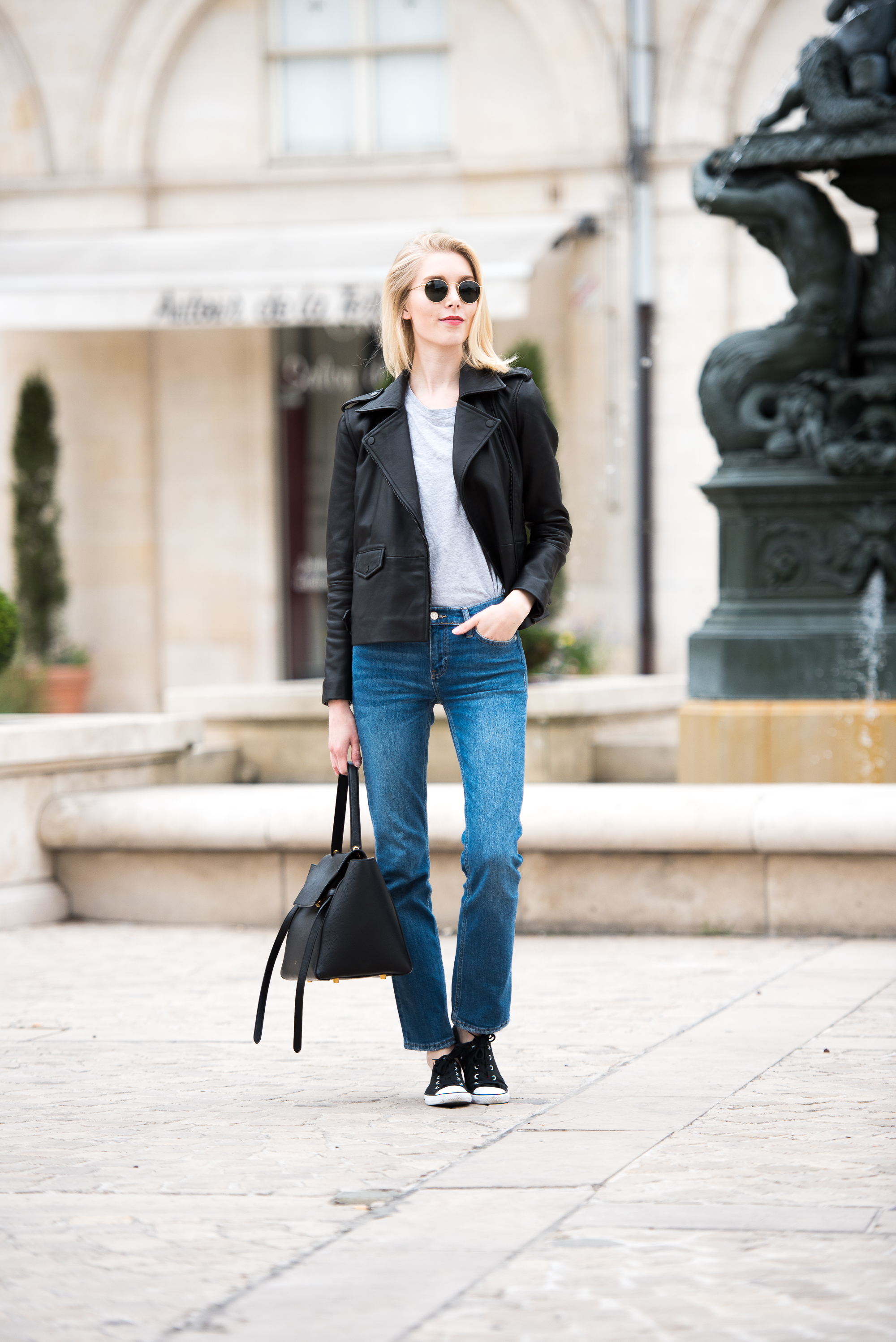 Löysin koneeltani nämä vanhemmat asukuvat, jotka otettiin jo heinäkuussa Ranskassa. Käytin oikeastaan koko kesän näitä suoralahkeisia farkkuja ja Conversen tennareita. Jo pelkästään sen takia Suomesta ei montaa asukuvaa herunut, koska päälläni oli lähestulkoon sama asu päivittäin  Onneksi nyt on taas koko vaatekaapin sisältö käytössäni, eli tuoreita asukuvia on taas luvassa normaaliin tapaan. Haluan myös näyttää teille muutamia syksyn ihanuuksia, jotka ovat muuttaneet kaappini. Myös muita Andiatan malliston helmiä on vielä tulossa tänne blogin puolelle, eli jos Andiata-viikko kiinnosti, niin pysykää kuulolla!
Me palasimme eilen illalla kotiin ja miten makealta unet maistuivatkaan omassa sängyssä. Meillä oli ihana loma Suomessa, mutta kuten jo sanoinkin, niin on kiva taas saada arjesta kiinni. Täällä tosin kesä jatkuu ilmojen puolesta ja vähän kadehdin Suomen aurinkoisia ja raikkaita syyspäiviä. Täällä kun syysfiilistä on vaikeampi saavuttaa. No mutta, pian se syksy tulee tännekin!
Oikein ihanaa tiistaita kaikille!
I found these older pics on my computer and this is basically what I've been wearing for the entire summer. Especially those jeans and Converse sneakers were the most used pieces this season. Thanks to the cold and rainy summer that we had in Finland. Living out of a suitcase for a month also meant that I didn't have too many options for outfits, but luckily now I have my closet back. So I'm looking forward to taking fresh outfit pictures and sharing them with you!
As you know, we got back home yesterday after a great summer in Finland. But I also love getting back to the normal rhythm, so it was a good time to come back here and get back on track. I do have to admit, that I wish the weather was a bit more Fall-like, so that I could wear appropriate outfits, but here it's still almost +30 degrees during the day. So I guess I need to forget about my cashmere knits and heavy boots for now, heh.
Have a great day everyone!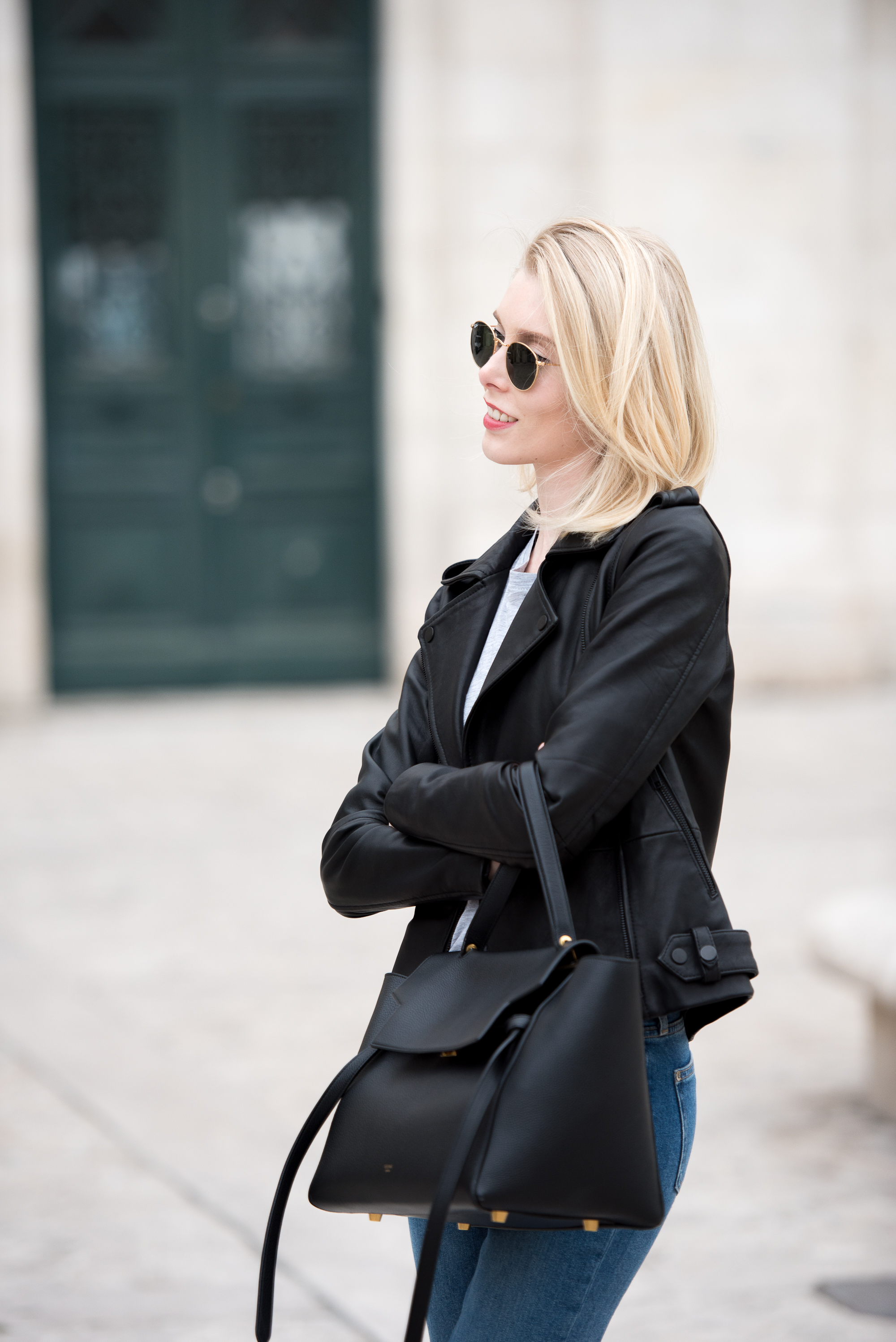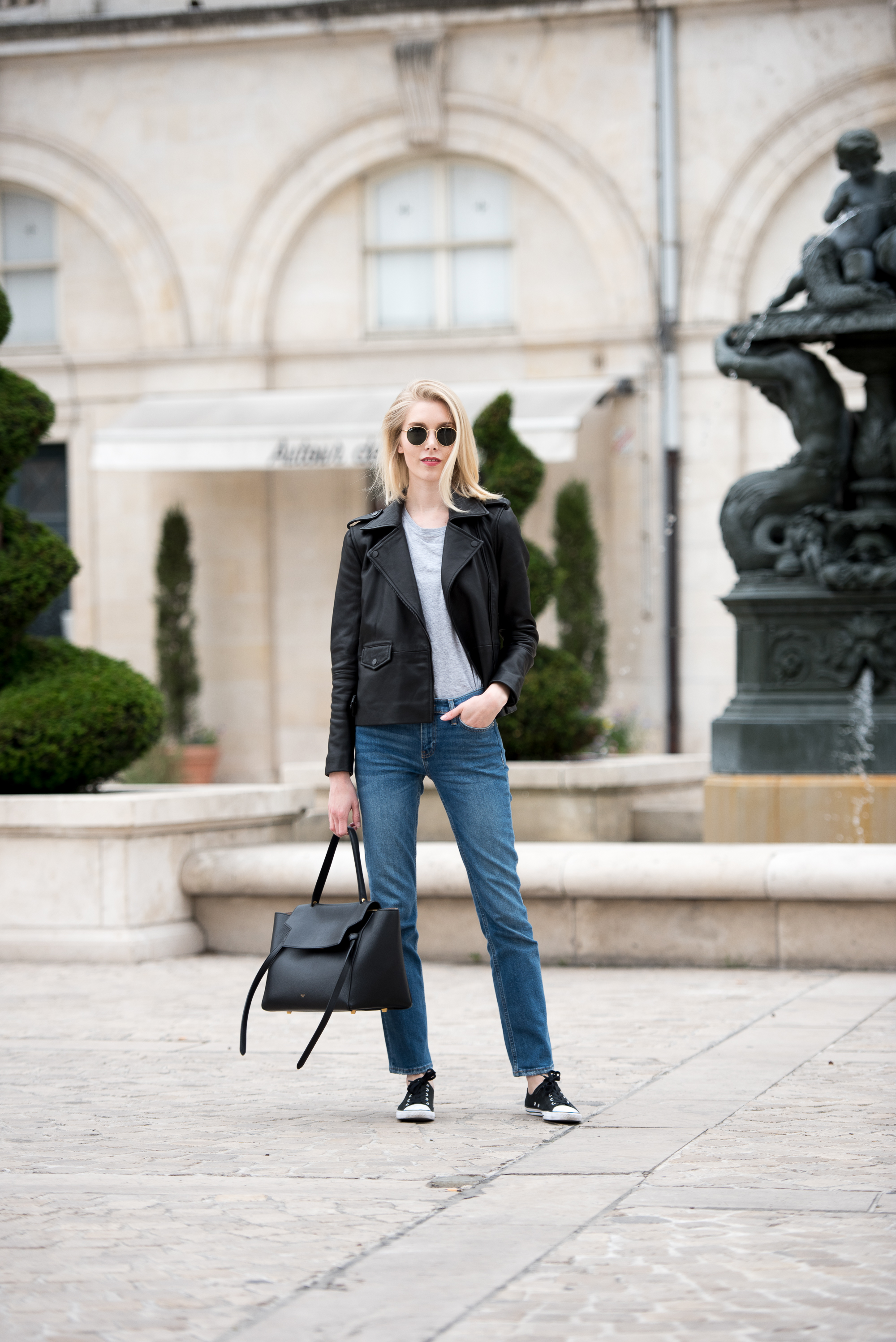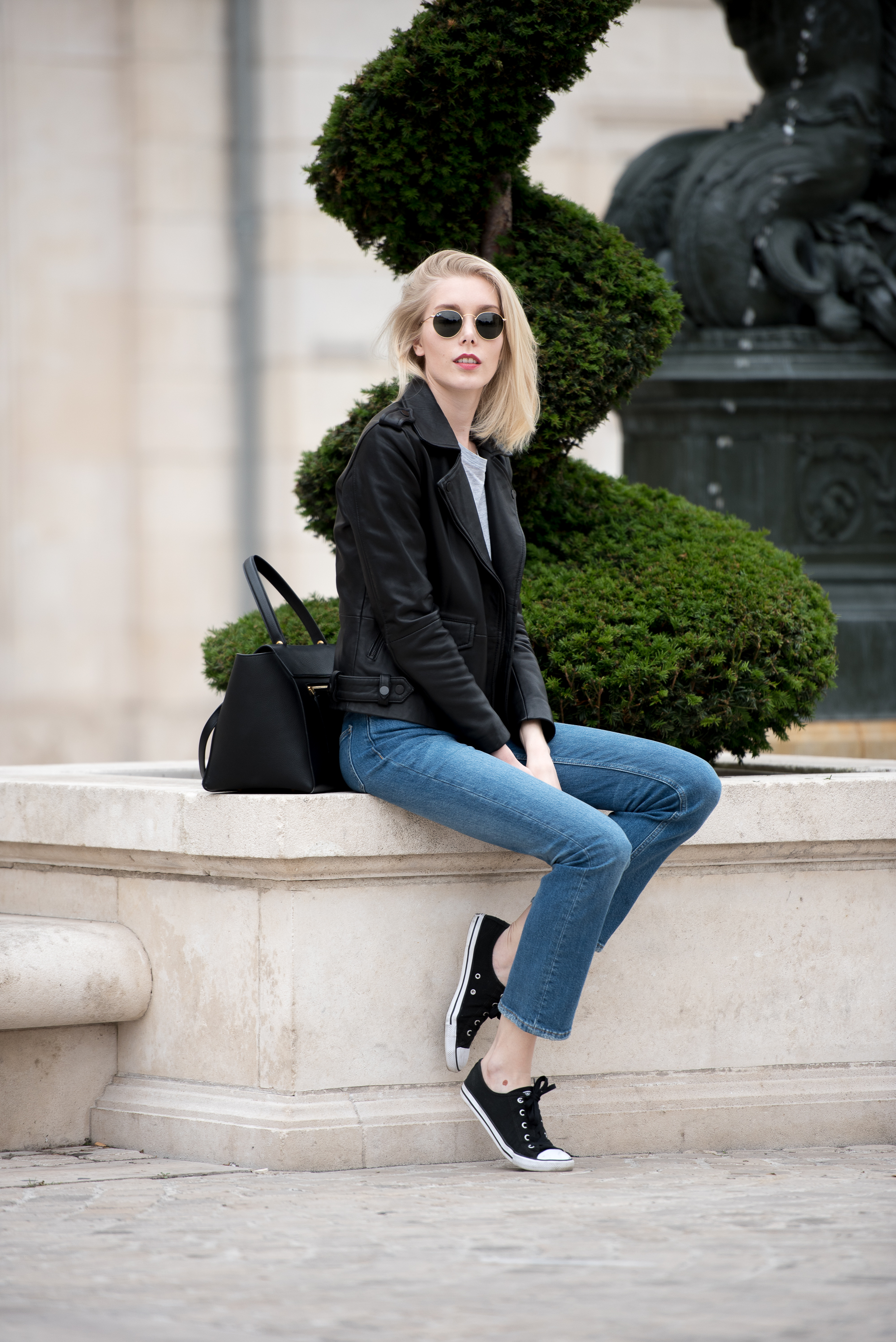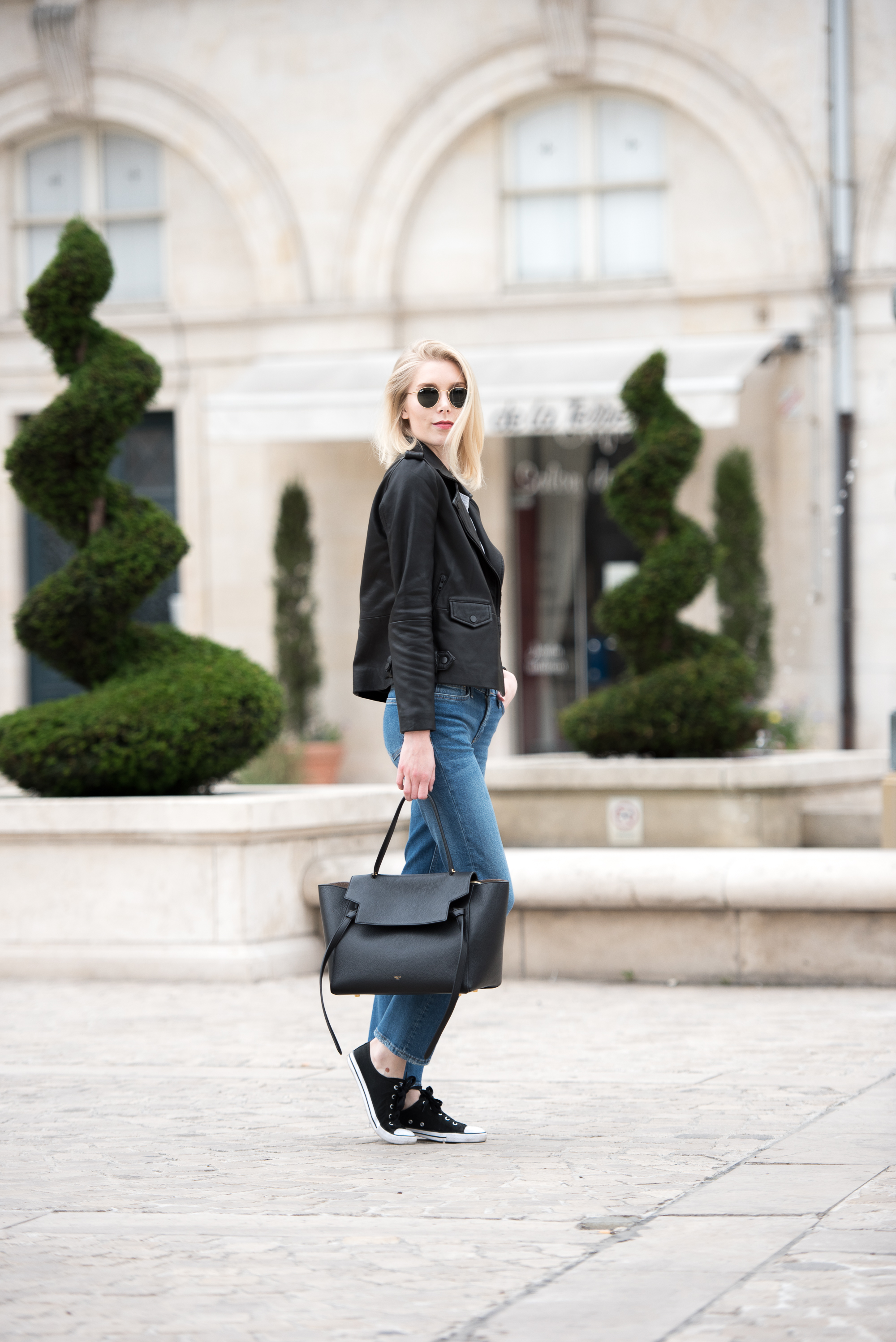 Leather jacket / Selected Femme (similar here*)
Jeans / Mango (similar here*)
T-shirt / H&M (similar here*)
Sneakers / Converse (similar here*)
Sunnies / Ray Ban (grey here*)
Bag / Céline
*Commercial links / Gifted.