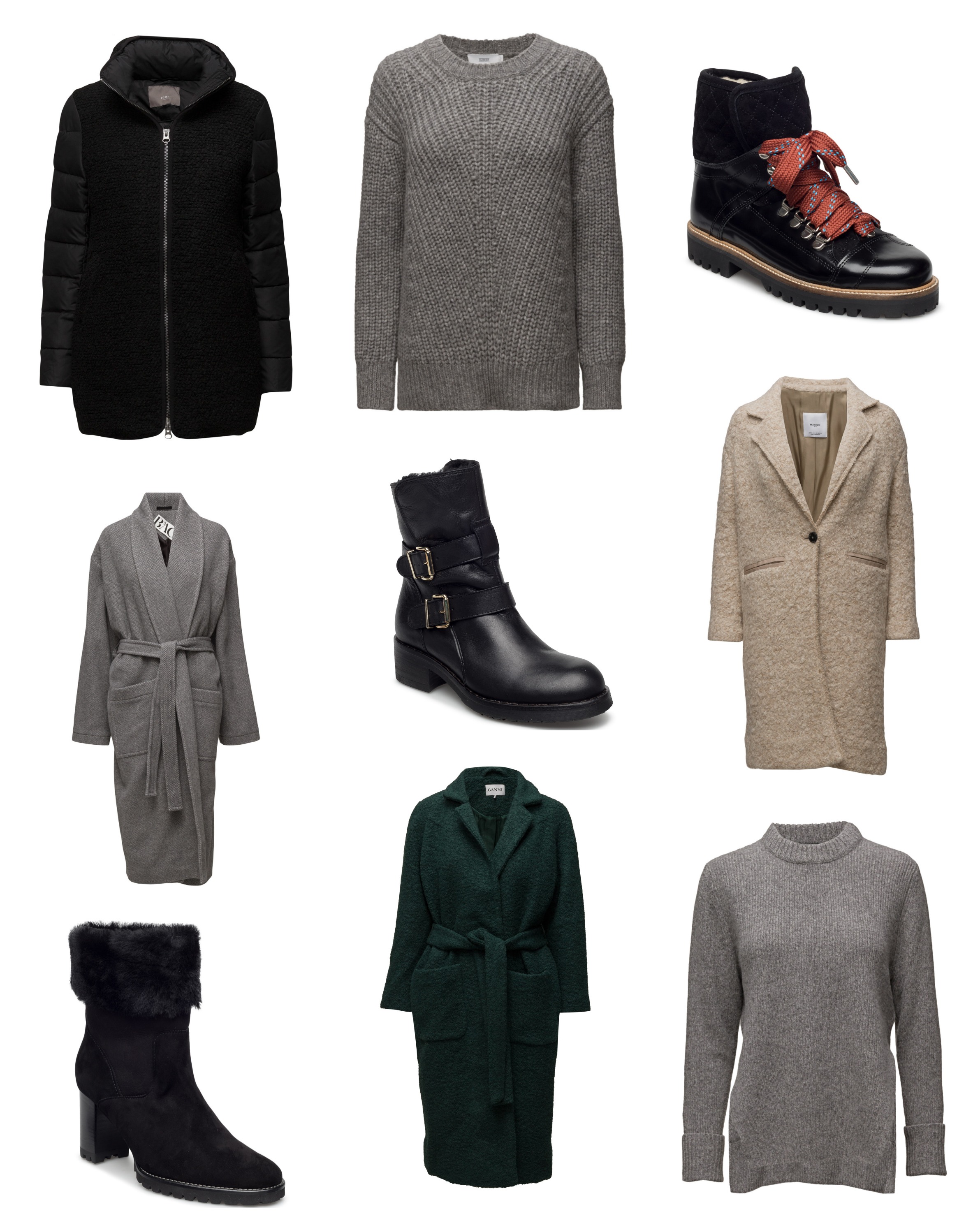 Coat / ICHI   Knit / Closed   Boots / Ganni
Coat / Back   Boots / Kurt Geiger London   Coat / Mango
Boots / Peter Kaiser   Coat / Ganni   Knit / Tiger of Sweden
Vaikka täällä Ranskassa sade on tullut vetenä ja lämpötilat ovat lähellä +10 astetta, niin kosteus ja tuuli tekevät ilmasta paljon viileämmän tuntuisen. Paksuimpia talvitakkeja täällä ei vielä tarvita (omani jätinkin Suomeen), mutta kunnon huivit ja paksut neuleet ovat välttämättömiä. Ilman niitä kunnon talvikenkiäkin täällä pärjää, mutta etsintä on silti käynnissä, sillä joulun tulen viettämään Suomessa. Saa tosin nähdä onko silloin lumesta ja jäästä enää tietoakaan, sillä ilma näyttää sielläkin lämpenevän.
Perjantaina kävin hakemassa Ikeasta minikuusen ja se näyttää niin kivalta. Vielä en ole virittänyt siihen valoja, mutta eiköhän sekin tapahdu pian. Sytytän kynttilät aina heti, kun päivä alkaa hämärtymään ja ne luovat ihanasti tunnelmaan. Yksi asia mitä kaipaan aina tähän aikaan vuodesta on kyllä takka, mutta ilman sitäkin pärjää kynttilämeren keskellä.
Rauhallista sunnuntaita sinne kaikille täältä Orléansin vesisateesta!
Even if the it's been rainy and quite warm in France (+9 degrees), the humidity makes the air seem so much colder. I mean you can't compare it to -10, but still you need knits and scarves to keep you warm. It might not be cold enough to be wearing your heaviest winter coats and boots, but I'm still thinking about them for my visit to Finland next month. It's been an cold start to the winter in Helsinki, but let's see if there's any snow left when I go back. Apparently the weather is warming up over there…
On Friday I went to Ikea and got a mini Christmas tree. It looks so nice and serves as a reminder of the upcoming season. I haven't put any other decorations up yet, but I will soon…I'm also obsessed with candles and burn them every night. I just love to have a little extra light around the house during the darkest months of the year.
Have a relaxing Sunday!
*Commercial links/Mainoslinkkejä.
Save
Save
Save
Save
Save
Save
Save
Save
Save
Save
Save
Save
Save
Save