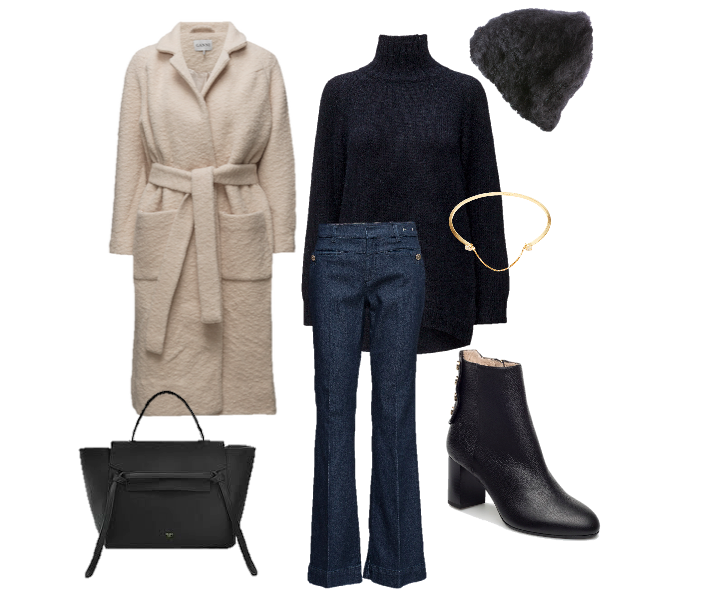 Coat / Ganni   Knit / Filippa K   Beanie / Balmuir   Bag / Céline
Jeans / Marella   Bracelet / Zabel Jewellery   Boots / Hugo
Upea Anne myi vähän aikaan sitten omaa Gannin takkiaan ja ehdin napata sen ensimmäisenä. Takki on aivan ihana malliltaan ja rakastan sitä pehmeää tekstuuria. Jätin takin suosiolla Suomeen, jotta saan sen sitten jouluna taas käyttöön ilman, että joudun raahaamaan sitä edestakaisin. Siellä se siis odottaa minua kiltisti kaapissa!  Äitini ihastui myös tähän takkiin ja toivoi sitä löytyvän vaaleammassa sävyssä (omani on musta) ja nyt sitä olisikin saatavilla juurikin tässä luonnonvalkoisessa värissä (äidille vinkkinä!).
Kävimme eilen poikaystäväni kanssa Pariisissa ja teimme muutamia jouluostoksia. Hän inhoaa Pariisia ja suostuu lähtemään sinne vain jos "emme jää sinne norkoilemaan", heh. Kävimme pikaisesti Chanelilta hakemassa korjauksessa olleen laukkuni ja hän kävi noutamassa oman lahjansa. Siitä sitten Bon Marchén herkkuun ja suoraan takaisin Orléansiin. Lounaan söimme leivän muodossa autossa samalla kun istuimme Pariisin ruuhkassa, heh. Hohdokasta, eikö? Olisin jopa saanut hänet istumaan hetkeksi kahville Mandarin Oriental hotelliin, mutta ovella kävi ilmi, että koko hotelli oli yksityistetty Victorias Secretille (heidän tämän vuotinen muotinäytös oli Pariisissa). Eli sekin meni sitten pieleen, heh. Pakko kyllä myöntää, että siellä saastepilvien keskellä en olisi kauaa itsekään viihtynyt. Kun saavumme moottoritietä pitkin Pariisiin, niin näemme kaupungin aina ylempää ja tällä kertaa saastepilvet huomasi selkeästi keskustan yllä, kun taivas oli muuten niin sininen ja pilvetön. Moottoritien ilmoituskyltitkin vielä varoittivat saasteista, joten se kieltämättä vei fiiliksiä…
Mutta hei ihanaa joulukuun ensimmäistä kaikille – tästä se lähtee!
I recently bought this Ganni coat second hand (and in black – surprise, surprise), but I think this natural white is also beautiful and so fresh for this time of the year. I left mine at my parents house, so that it will be waiting for me there this Christmas.  And talking about Christmas, happy December 1st everyone! Only few weeks left until Christmas Eve…
We drove to Paris yesterday to do some shopping and even if our visit was super short (my boyfriend hates Paris), we got everything we went there to find. We also did some grocery shopping at Le Bon Marché and their grocery section is my all time favorite. It's full of amazing treats and I could spent hours just checking everything out.
Enjoy the start to December!
*Commercial links/Mainoslinkkejä.
Save
Save
Save
Save
Save
Save
Save