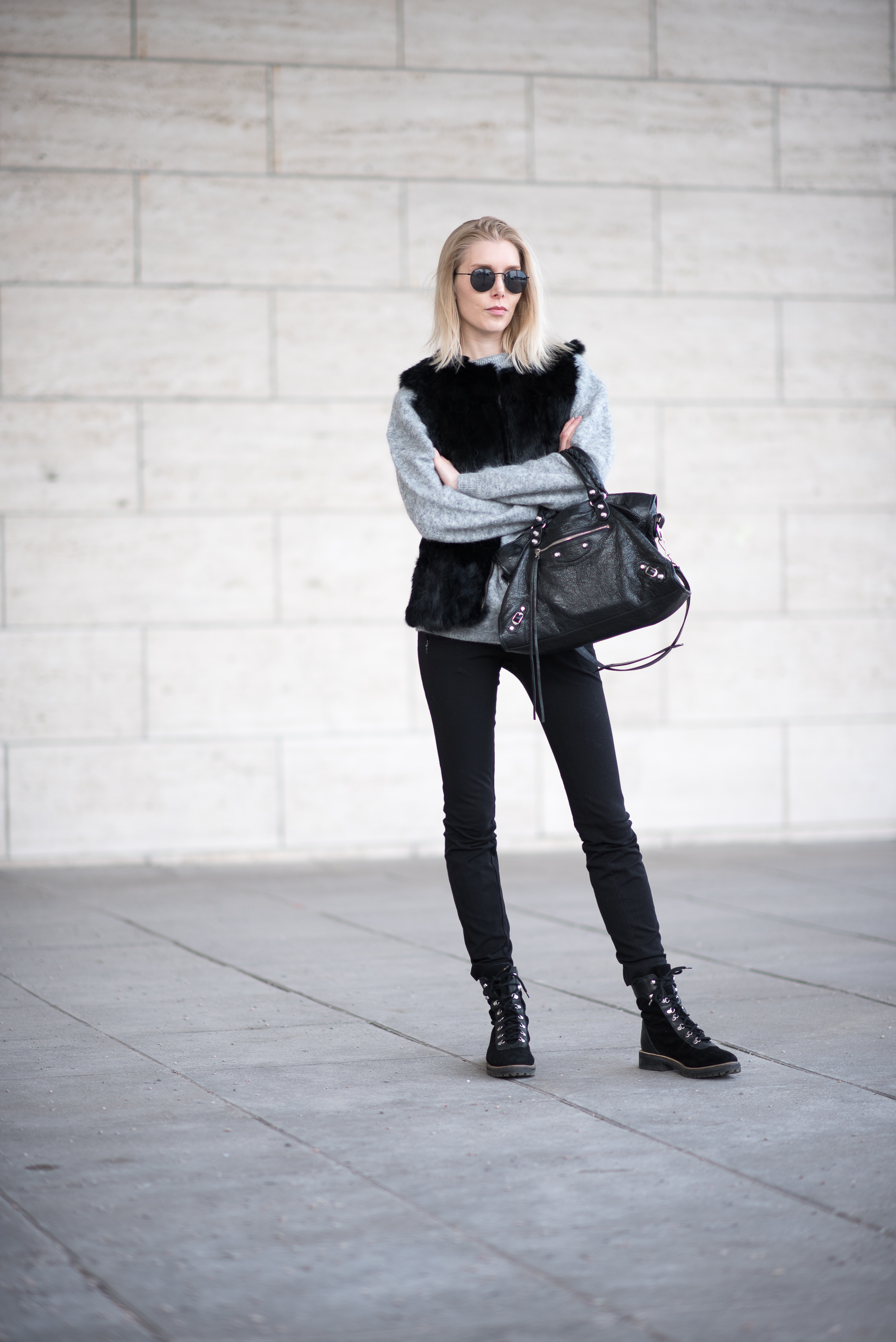 Käytän piilareita päivittäin ja eilen aamulla jouduin vaihtamaan niitä jo kertaalleen, sillä niissä oli jotain outoa. Heitin siis yhdet roskiin ja uudet silmään. Huomasin, että tilanne ei siitä hirveästi muuttunut, mutta oli jo niin kova kiire ovesta ulos, että lähdin liikenteeseen. Autossa ihmettelin, että miten näkökenttä oli niin sumea ja mietin, että onko näölleni tapahtunut jotain näin dramaattista yön aikana. Mietin jo, että olenko pilannut silmäni kaikesta tietokoneruutuun tuijottamisesta. Illalla menin sitten vielä Löylyyn, jossa COS oli järjestänyt ihanan illallisen. Siellä pärjäsin ihan hyvin puolisokeana, mutta hieman jännitti ajaa pimeällä kotiin. Onneksi olin kotona kymmenessä minuutissa ja kävin heti ottamassa piilarit pois. No arvatkaa vaan…olin kulkenut tuplalinsseillä koko päivän. Pakkaukseen on siis jostain syystä tullut kaksi linssiä yhteen koteloon, eli ei ihme, että näkökenttä oli sumea. Taitaa olla joku valmistusvirhe, mutta hyvä uutinen on se, että en ole sokeutumassa, heh. Eilinen meni siis aika sumussa (kirjaimellisesti), mutta tänään uusi yritys!
Niin ja tässä näkyy uusi (vanha) laukkuni käytössä. Tämä rento malli sopii niin kivasti asuihini ja ne skarpimmatkin saavat kivaa rentoutta tämän laukun myötä (kontrasti on aina hyvästä). Célinen belt bag ja Phantom ovat esimerkiksi huomattavasti muodollisempia (Flap Bagista puhumattakaan), joten tämä City on tervetullut tulokas.
I use contact lenses on a daily basis and this morning something felt strange. I changed the lenses, but something was still off. I was in a rush, so I had to leave. In the car I noticed that my vision was really blurry and I thought something drastic had happened over night. Well I continued my day half blind and in the evening I had a beautiful dinner organized by COS in Löyly (thank you girls for having me!). The views were amazing from this restaurant and luckily I saw enough to enjoy it.  I then drove home and couldn't wait to get my contacts out. I realized that I had worn double contacts the entire day, so no wonder my vision was blurry. For some reason there was two contacts in one package, so tomorrow I have to check if all of them have the same problem. But you can imagine how relieved I was to notice that the problem was the lenses and not my eyes, heh. So yesterday was a bit blurry for me (literally), but today hopefully with better luck!
Oh and here is my new bag in action! This edgy model works well with my style and I love how it works well even with my preppier looks. Contrast is always a good thing!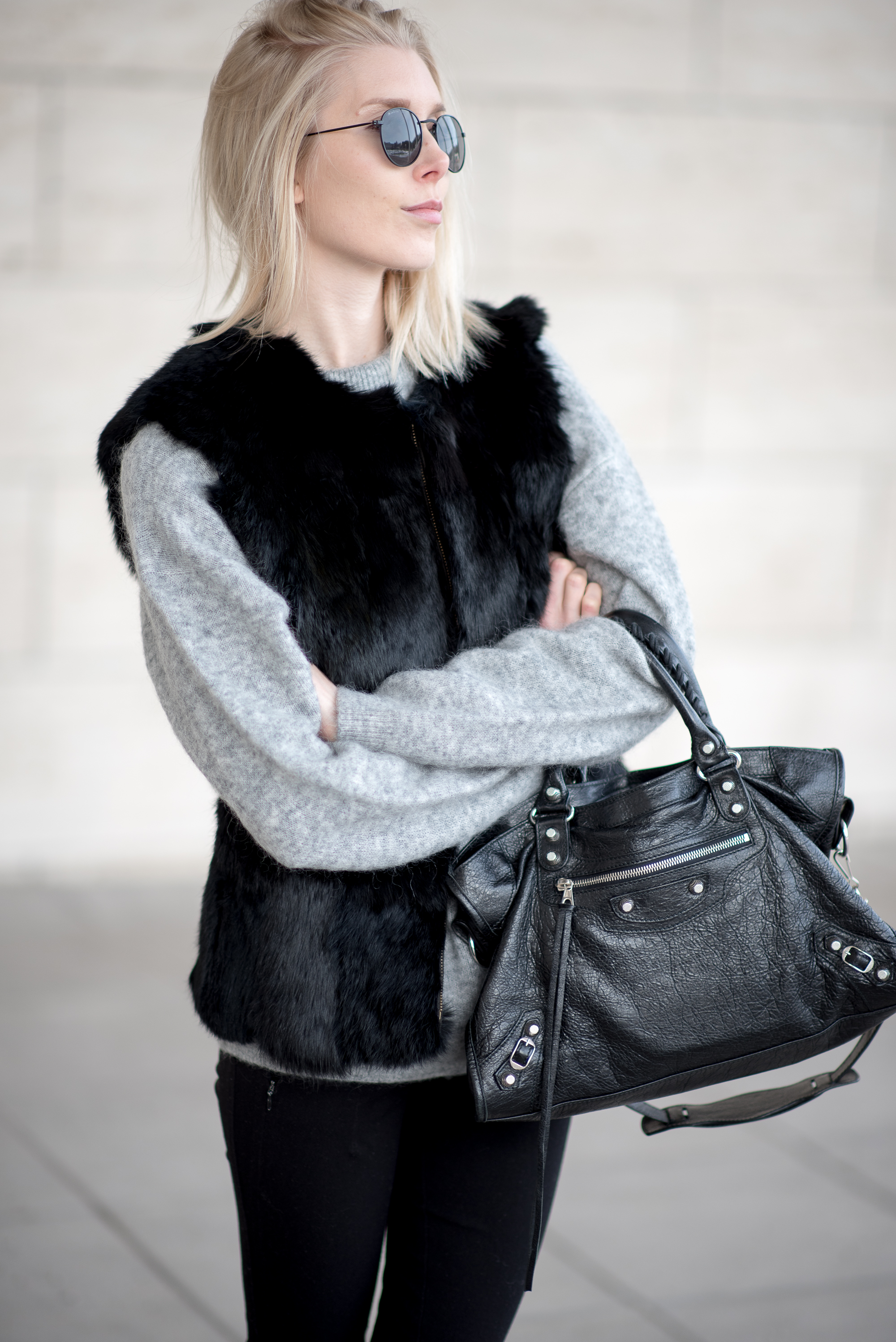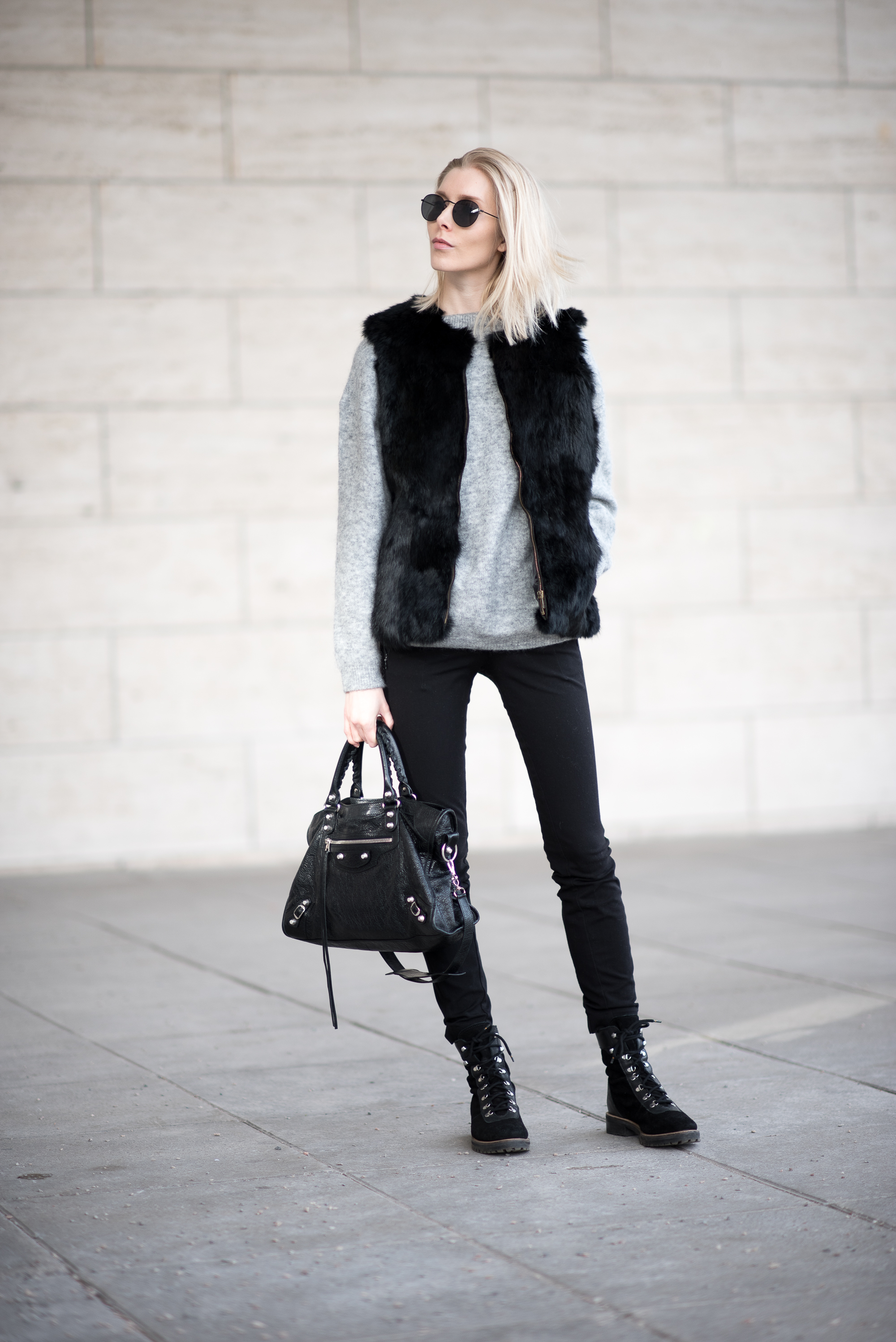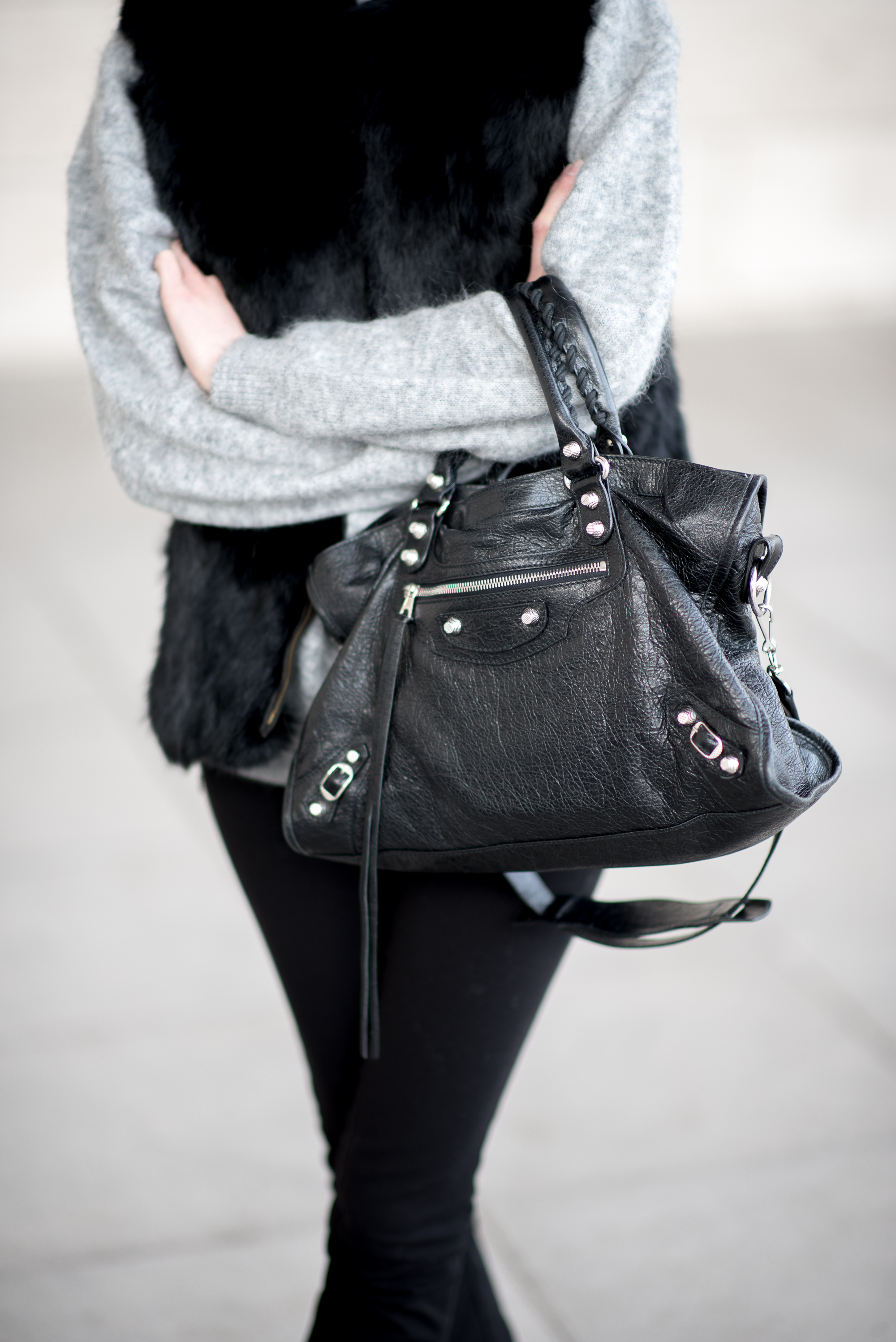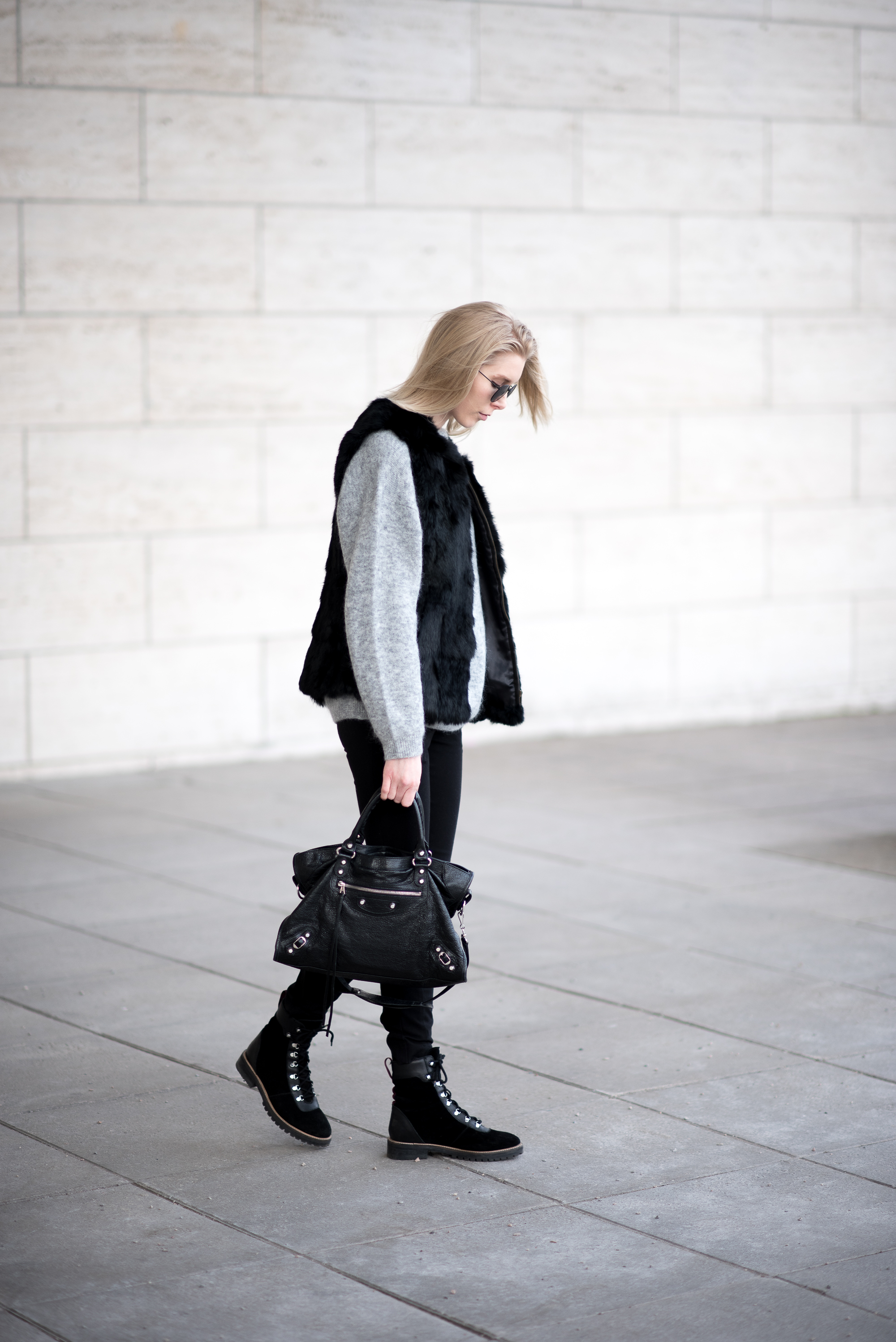 Photos/ Thomas D.
Vest / MJM
Knit / Acne (similar here*)
Pants / Zara (similar here*)
Boots / H&M (similar here*)
Bag / Balenciaga
*Commercial links.
Save
Save
Save
Save
Save
Save
Save
Save
Save
Save
Save
Save
Save
Save