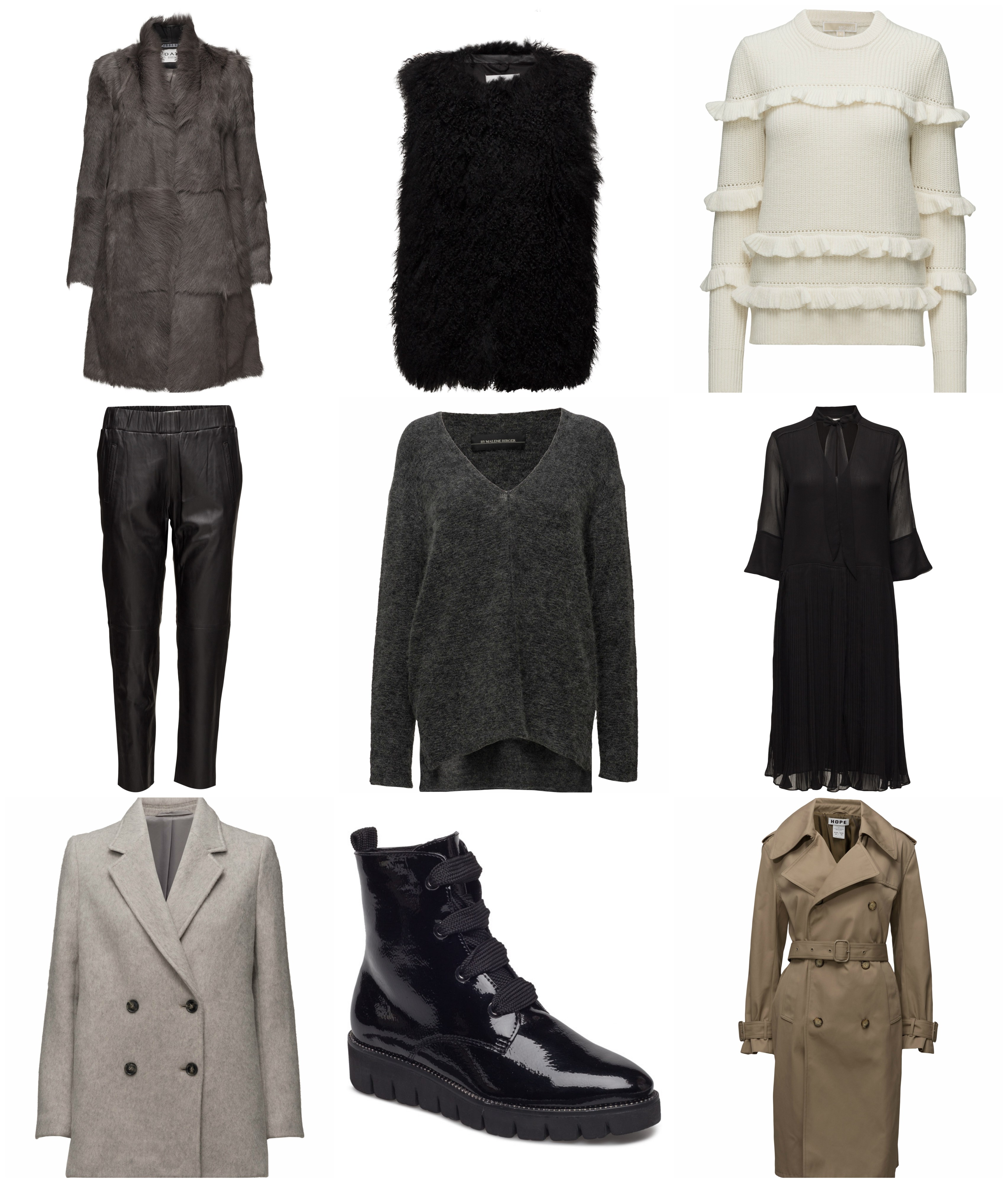 Lamb fur coat / Day Birget et Mikkelsen   Vest / Stand   Knit / Michael Kors
Leather pants / Stand   Knit / By Malene Birger   Dress / Day Birger et Mikkelsen
Coat / Filippa K   Boots / Tamaris   Trench / Hope
Vein tänään ystäväni kentälle ja hän nappasi lennon takaisin rapakon toiselle puolelle. Ihana intensiivinen viikko on nyt siis takana ja tämän viikon myötä voin taputella kesän 2017 päättyneeksi ja siirtyä tyytyväisenä syksyyn! Olin ihan unohtanut, että tänään juhlitaan taiteiden yötä ja ulkona onkin ihan kunnon meininki. Jos en olisi näin puhki, niin olisin ehdottomasti tehnyt pienen kierroksen! Toisaalta tunnelmaan pääsee hyvin mukaan jo pelkästään avaamalla ikkunan kotona, joten ehkä tämä fiilistely riittää tällä kertaa.  Kahden viimeisen päivän ajan syksyn tulon on tuntenut viileämmän ilman myötä ja nyt niitä takkejakin voi jo alkaa kaivamaan kaapeista. Vielä kun sateet pysyisivät poissa, niin viileämpi syyssää ei haittaa yhtään. Mukavaa iltaa kaikille!
I took my friend to the airport today and she is now on her way back to the States. We had so much fun this week and it was the perfect ending to this summer. Now I'll welcome fall with open arms. The weather has actually already started cooling down and now we can even take out some heavier coats (especially after the sunsets). Enjoy your evening everyone!
*Commercial links/Mainoslinkkejä.
Save
Save
Save
Save
Save
Save