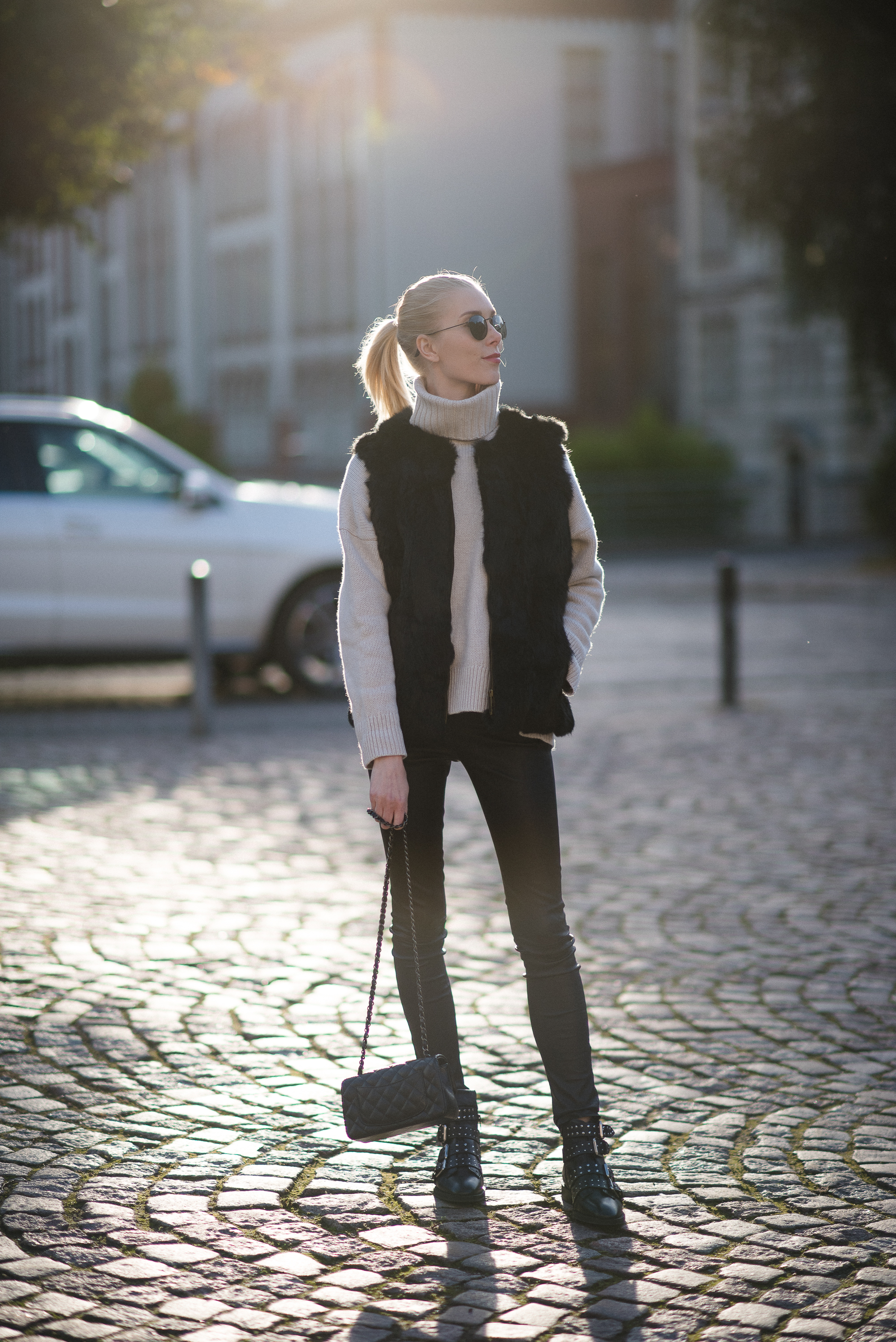 Viimeiset pari päivää ovat olleet niin kylmiä, että on tehnyt ihan mieli kaivaa untuvatakki kaapista. Pureva pohjoistuuli on jotain niin jäätävää ja olin jo unohtanut kuinka kylmältä tuuli voikaan tuntua. Tässä asussa sai väristä auringonkin alla, mutta ensi viikolla ilmat näyttävät taas lämpenevän. Olisi ihan saada sellainen leuto syksy tänne Suomeen niin, että voisi käyttää syysvaatteita, mutta niissä ei tarvitsisi palella. Se olisi täydellistä! Ranskan leudompaa ilmastoa on kyllä ikävä, vaikka ihmeen vähän olen muuten sinne kaivannut. Toki muutamia asioita kaipaa, mutta ei mitään niin paljon, että tekisi mieli muuttaa sinne takaisin. Toisaalta hyvä tässä kesän jälkeen on puhua…katsotaan onko sama ääni kellossa vielä parin kuukauden kuluttua, heh.
Se mistä nautin täysillä juuri nyt on se luonto (edelliseen postaukseen viitaten). Yksi rikkaus tässä maassa ovat selkeät vuodenajat ja se kuinka yhdessä vuodessa pääsemme näkemään luonnon niin eri tiloissa. Tätä huomaan arvostavani nyt paljon enemmän! Etenkin seuraavat viikot tulee olemaan upeat ruskan myötä ja niistä pitää ottaa kaikki ilo irti. Metsälenkit ja ulkoilut siis kehiin!
P.S. Huomasin, että nämä Topshopin bootsit ovat taas saatavilla (olen saanut niistä paljon kyselyitä)!
The last few days have been cold and I've almost wished I could wear my warmest winter coat. Especially the wind is just so icy in the mornings. Luckily next week looks much warmer (almost summery), so perhaps I wear this look again and not feel cold, heh. One thing I really miss in France are the mild winters. I do appreciate four very different seasons we have in Finland, but I would say winter is not my favorite. So let's see if I'll miss France much more in a few months, heh…
P.S. These boots are back in stock!
Photos / Thomas D.
Vest / MJM (similar here*)
Leather pants / Andiata* (similar here*)
Knit / All Saints (similar here*)
Boots / Topshop*
Bag / Chanel
*Commercial links/Gifted.
Save
Save
Save
Save
Save
Save
Save
Save
Save
Save
Save
Save
Save
Save
Save
Save
Save
Save