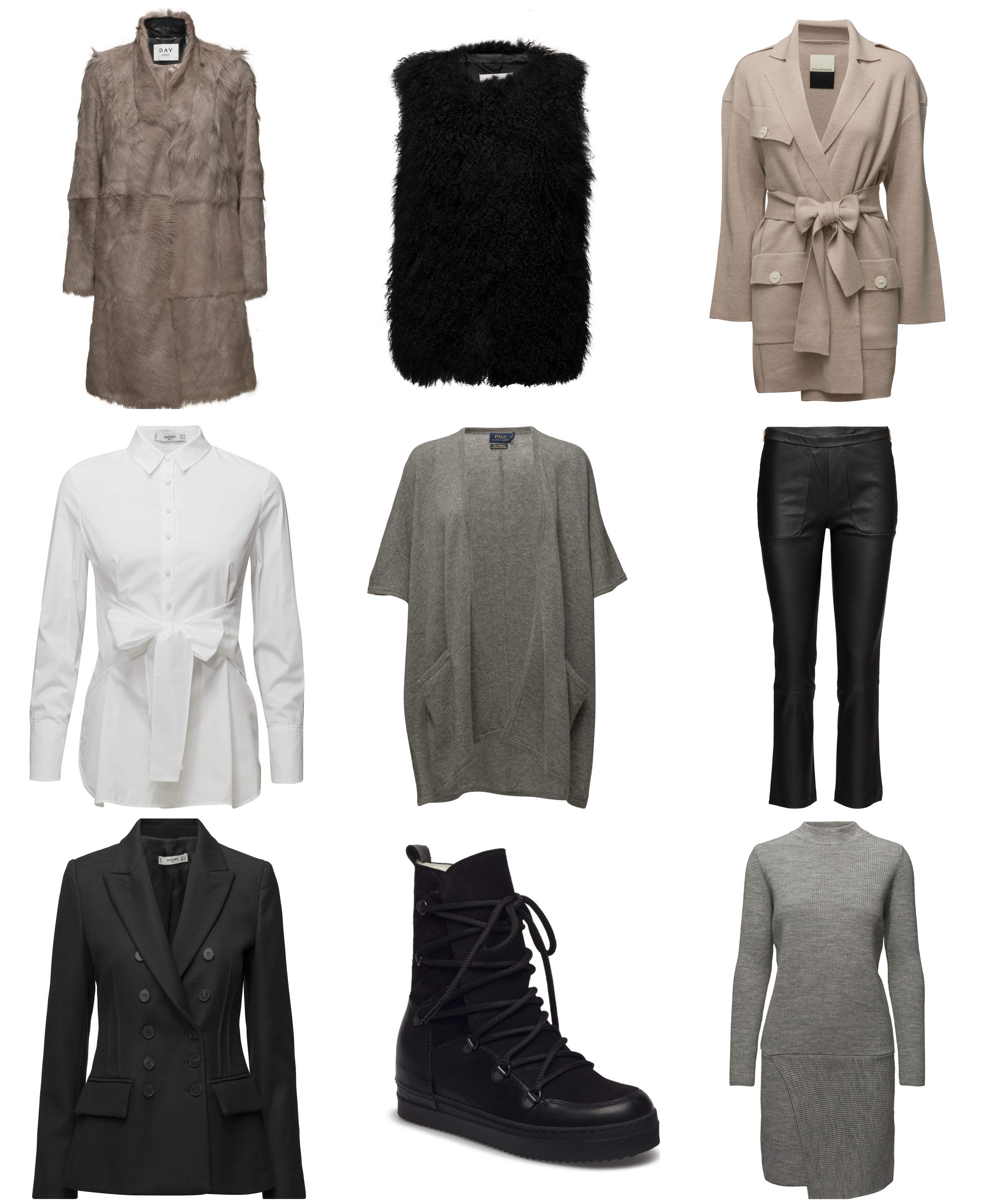 Coat / Day Birger et Mikkelsen   Vest / Back   Cardigan / By Malene Birger
Mango / Shirt   Cashmere cape / Ralph Lauren   Leather trousers / Day Birger et Mikkelsen
Blazer / Mango   Boots / Billi Bi   Dress / Arnie Says
Kukaan ei ole voinut välttyä kuulemasta Black Friday-termiä tänä viikonloppuna ja tämä Jenkeistä lähtöisin oleva ostospäivä on jo rantautunut lähes kokonaan rapakon toiselle puolelle. Mielestäni tämä on hyvä aika tehdä joululahjahankintoja parempaan hintaan, mutta muuten ei kyllä kannata ostaa yhtään mitään vain ostamisen vuoksi (kuten ei milloin muulloinkaan). Itse tilasin H&M:ltä nämä pitkään kuolaamani nahkapöksyt (puoleen hintaan) ja niistä olin todella iloinen. Kun on katsellut jotain tuotetta monta kuukautta, mutta ei ole raaskinut tilata niitä korkean hinnan vuoksi, niin tällä alennuksella ei tarvinnut montaa kertaa enää miettiä. Nyt toivon vain, että koko on oikea lahkeen pituus on tarpeeksi pitkä.
Me vietimme eilisen illan inspiroivien yrittäjänaisten kanssa pikkujoulujen merkeissä ja kerron täällä blogin puolella pian heidän merkistään. Jos sisustusasiat siis kiinnostavat, niin pysykää kuulolla! Ensi viikko on super kiireinen, mutta toivon, että ehdin päivittämään blogia edes jotenkin kiireistä huolimatta. Nyt ajattelimme mennä lyhyelle happihyppelylle ja sen jälkeen takaisin sorvin ääreen. Rauhallista sunnuntaita kaikille!
I guess nobody can escape this strong sales day called Black Friday (more like Black weekend now) and in the last few years it's gotten stronger in Finland as well. It's a good time to make Christmas gift purchases ahead of time, but it's definitely not a good idea to just heedlessly buy stuff because they are on sale. The videos from the States are horrible to watch when people are acting like animals just so they can get their hands on a product. It doesn't make any sense. So my advice is to get something you've been thinking about getting for a long time and forget the rest (just as it's my advice on any sales period).
Have a great Sunday everyone!
*Commercial links/Mainoslinkkejä.