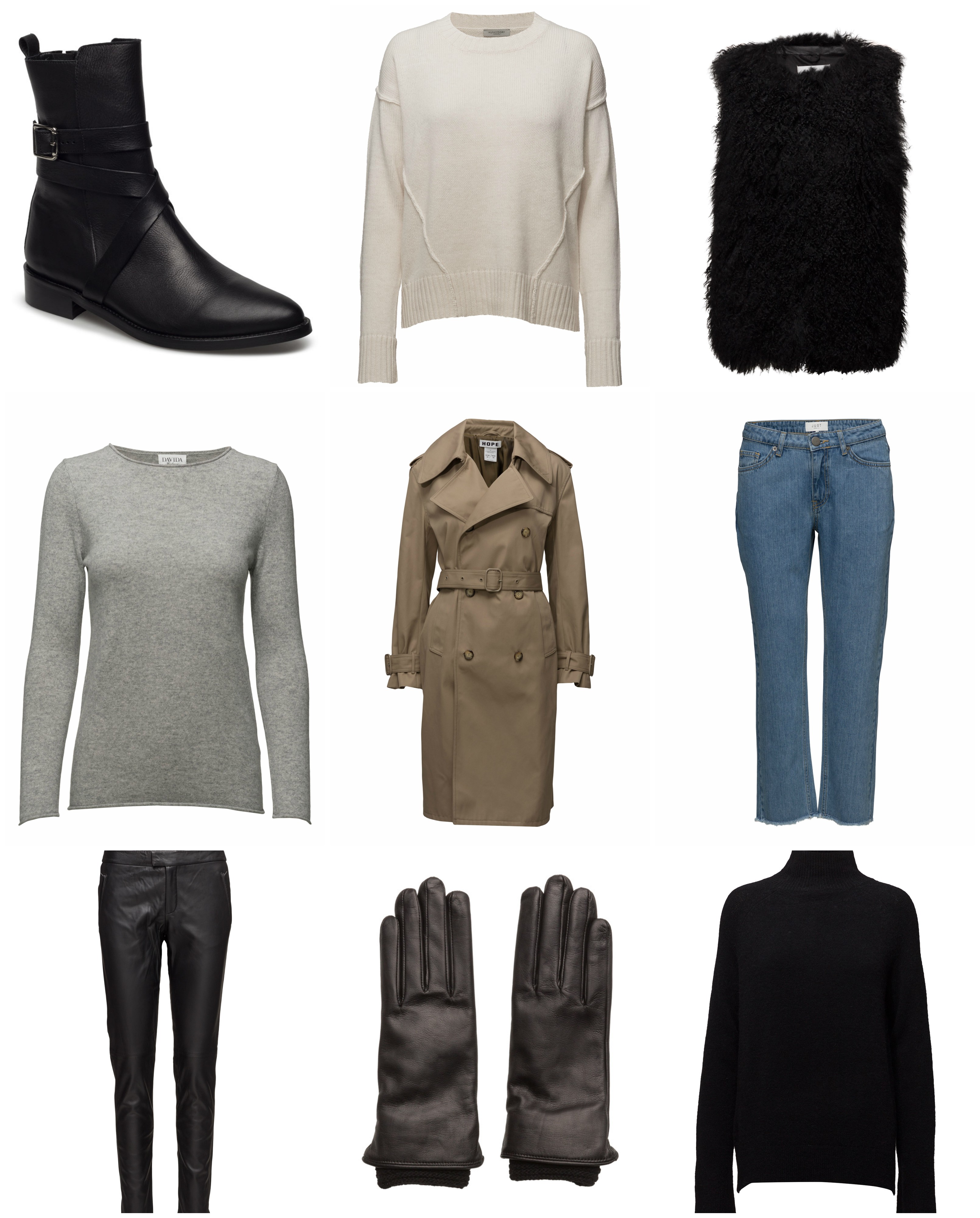 Boots / Gardenia   Knit / Hunkydory   Vest / Stand
Knit / Davida Cashmere   Trench coat / Hope   Jeans / Just Female
Leather trousers / Second Female   Gloves / Royal Republiq   Knit / Hunkydory
Nyt se sitten iski – kuume ja flunssa. Olen koko viikon tuntenut kurkussa pientä karheutta, joten olisi pitänyt arvata, että heti kun voi antaa itselleen luvan levätä, niin se iskee. Kurkku ei ole ikinä ollut näin kipeä ja ensimmäisenä yönä sain hädin tuskin nukuttua, kun aina nieltäessä tuntui kuin joku viiltäisi kurkkua sisältäpäin. Nyt kipu on hieman hellittänyt, joten toivon tämän helpottavan pian!
Viikonlopun suunnitelmat menivät siis täysin uusiksi ja jouduimme perumaan ystävillemme menon. Onneksi nyt syksyllä ja talvella on aikaa vähän höllätä ja keskittyä läheisiin, kun menoja on kesään verrattuna vähemmän. Täytyy siis heti järkätä uudet treffit, kunhan pääsen tolpilleni. Ja jos jotain hyvää, niin onhan tämä sateinen viikonloppu aika täydellinen ajankohta sairastaa, heh. Rentouttavaa sunnuntaita kaikille ja pitäkää itsenne terveinä!
P.S. Booztilla saa vielä tänään -25% alennusta valikoiduista tyyleistä ja tässä suosikkini. Kaikki alennetut tuotteet löydätte täältä!
Now it hit me – the flue and fever that I've seen coming all week. The body is miraculous in the way it keeps going until you give it permission to relax and slow done and that's usually when underlying symptoms surface. So needless to say, my weekend plans changed a bit. The bright side is that the weather has been horrible (rain, rain and more rain), so staying indoors and resting has not been that difficult.  Now the flue season is really starting so stay healthy everyone and have a great Sunday evening!
P.S. Boozt.com has discounted several items and above you can see my favorites. Check out all the sales selection here!
*Commercial links/Mainoslinkkejä.
Save
Save
Save
Save