Yksi niistä hyvistä asioista tässä pimeässä vuodenajassa (hyggeilyn lisäksi tietenkin) on se miten paljon alkaa arvostamaan niinkin yksinkertaista asiaa kuin valo. Eilen oli aivan ihana ilma ja tuntui, että koko kroppa imi sitä energiaa mitä ikkunan läpi puskeva valo sai aikaan. Lounastauolla ihailin sinistä taivasta ja tuli oikeasti nautittua asiasta mihin muihin vuodenaikoihin ei kiinnitä sen enempää huomiota. Jos jotain hyvää siis, niin osaa arvostaa ja nauttia näistä elämän pienistä asioista tähän vuodenaikaan ihan eri tavalla. Olin myös positiivisesti yllättynyt Manskun jouluvaloista enkä muista, että ne olisivat viime vuonna olleet yhtä näyttävät? Kunhan Aleksin joulukatu vielä avataan, niin sitten voi alkaa suunnittelemaan joulua ihan tosissaan. Meillä ei ole kuusta (eikä sitä meille tulekaan – olen meidän perheen kuusivastaava, eli tänäkin vuonna se kunnon kuusi pystytetään vanhemmilleni), mutta olisi kiva ostaa joku miniversio. Siihen vähän valoja, niin kotiinkin saisi ihanan tunnelman. Viime vuonna hankimme Ranskan kotiimme pienen kuusen, joten samanlainen voisi toimia tänäkin vuonna.
Meillä on tänään aikainen herätys, sillä yritämme ehtiä kuvaamaan ennen päivätyöni alkua (haluan näyttää teille muutaman asun), eli ei siis muuta kuin meikit naamaan ja menoksi! Ihanaa torstaita kaikille!
This time of the year I always start appreciating something we all take for granted – light. Yesterday we had a rare November moment, as we got some sun. A real treat for us Northern people. The energy I received of this brief moment before it set again is incredible. If something positive comes from this very dark time of the year, it's that you really start appreciating the smallest rays of light.
This is my favorite outfit combination at the moment. Leather pants, a cashmere knit and this super chic lambs fur coat – something that I could wear daily. Sometimes I want to lay off my favorites, just so they don't break or damage of heavy wear, so even if I wanted to wear this look everyday, I don't. A bit foolish, but that's how my (fashion) brain works!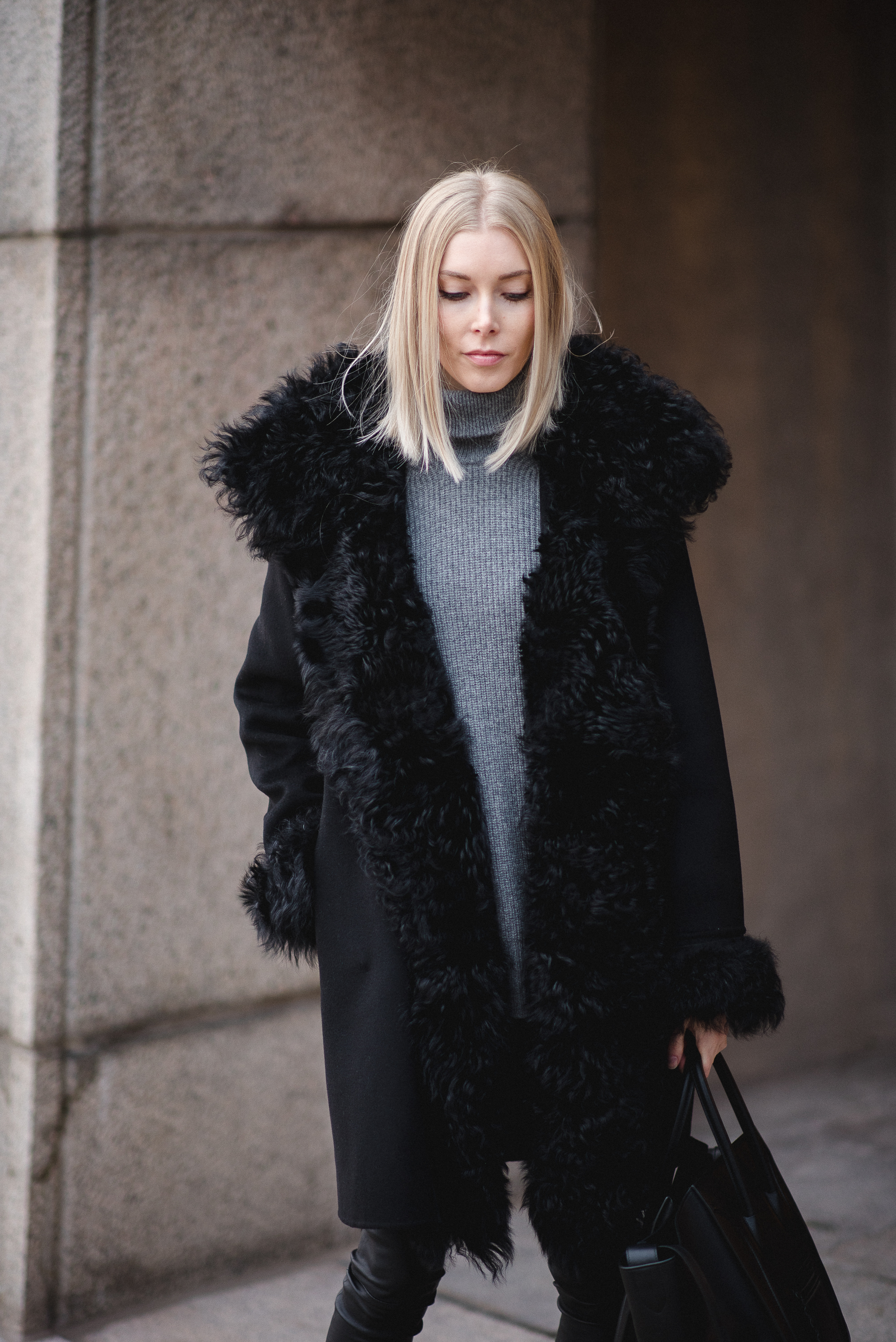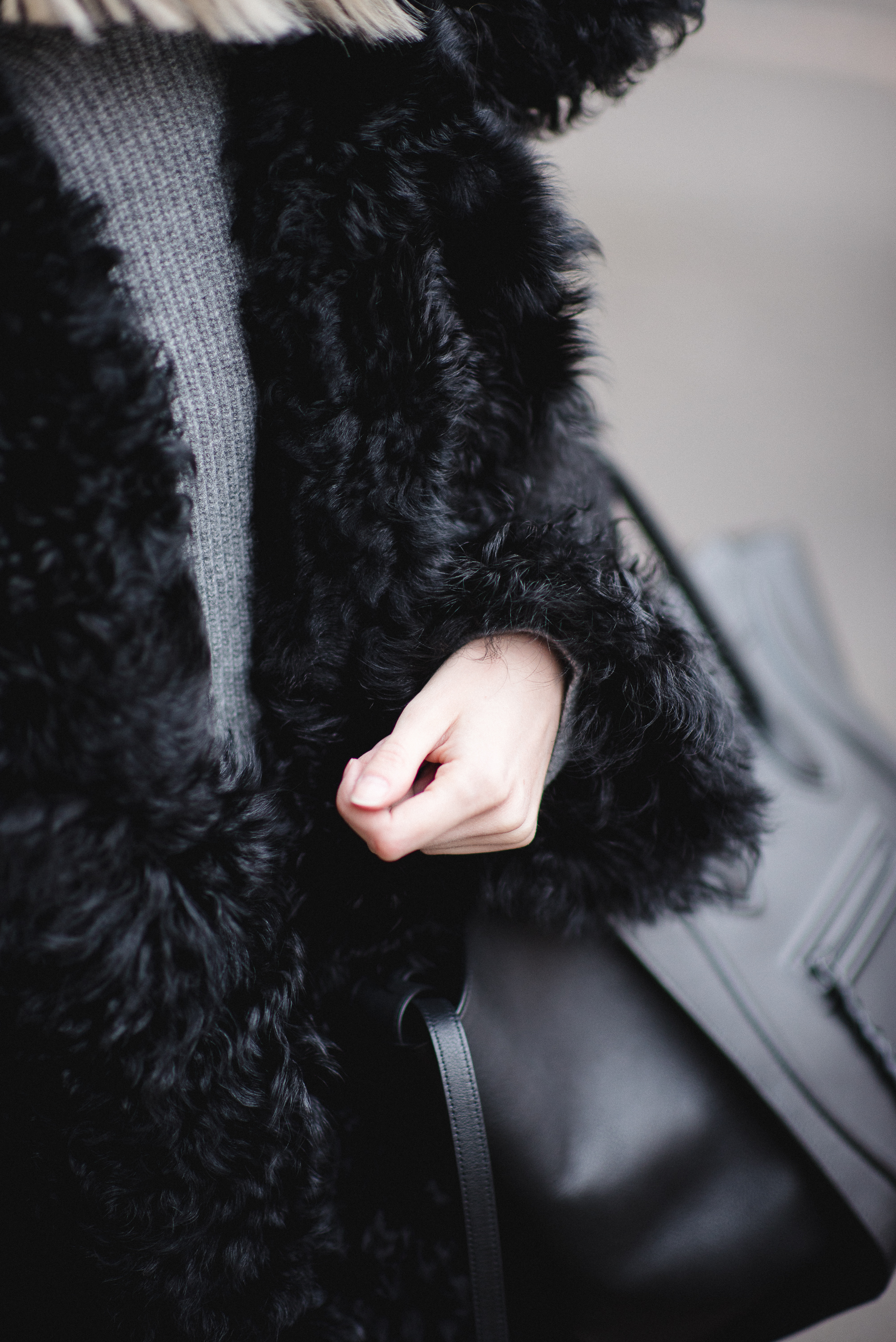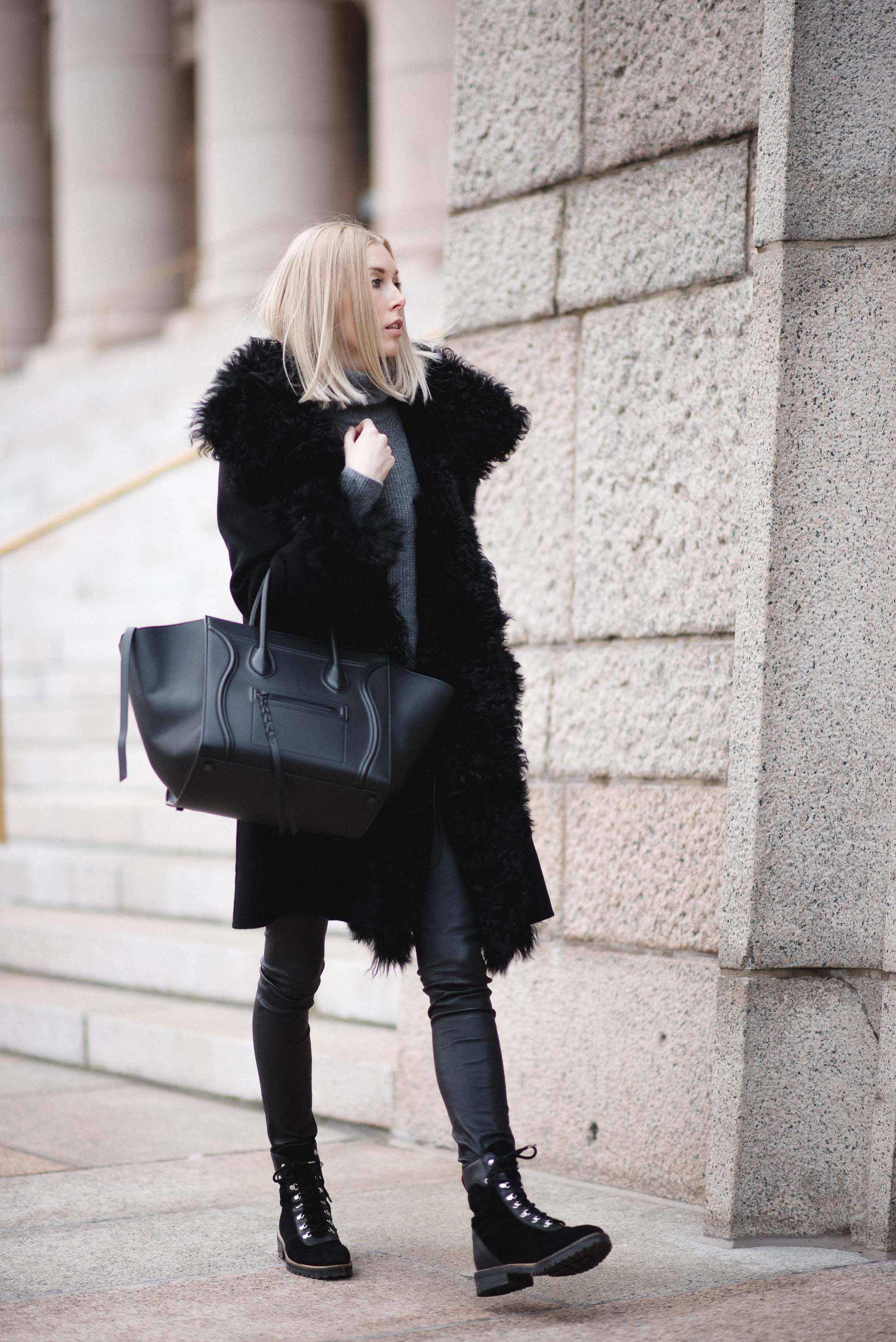 Photos/Thomas D.
Coat / Andiata
Cashmere knit / H&M
Leather trousers / Andiata
Boots / H&M
Bag / Céline
Save
Save
Save
Save
Save
Save
Save
Save