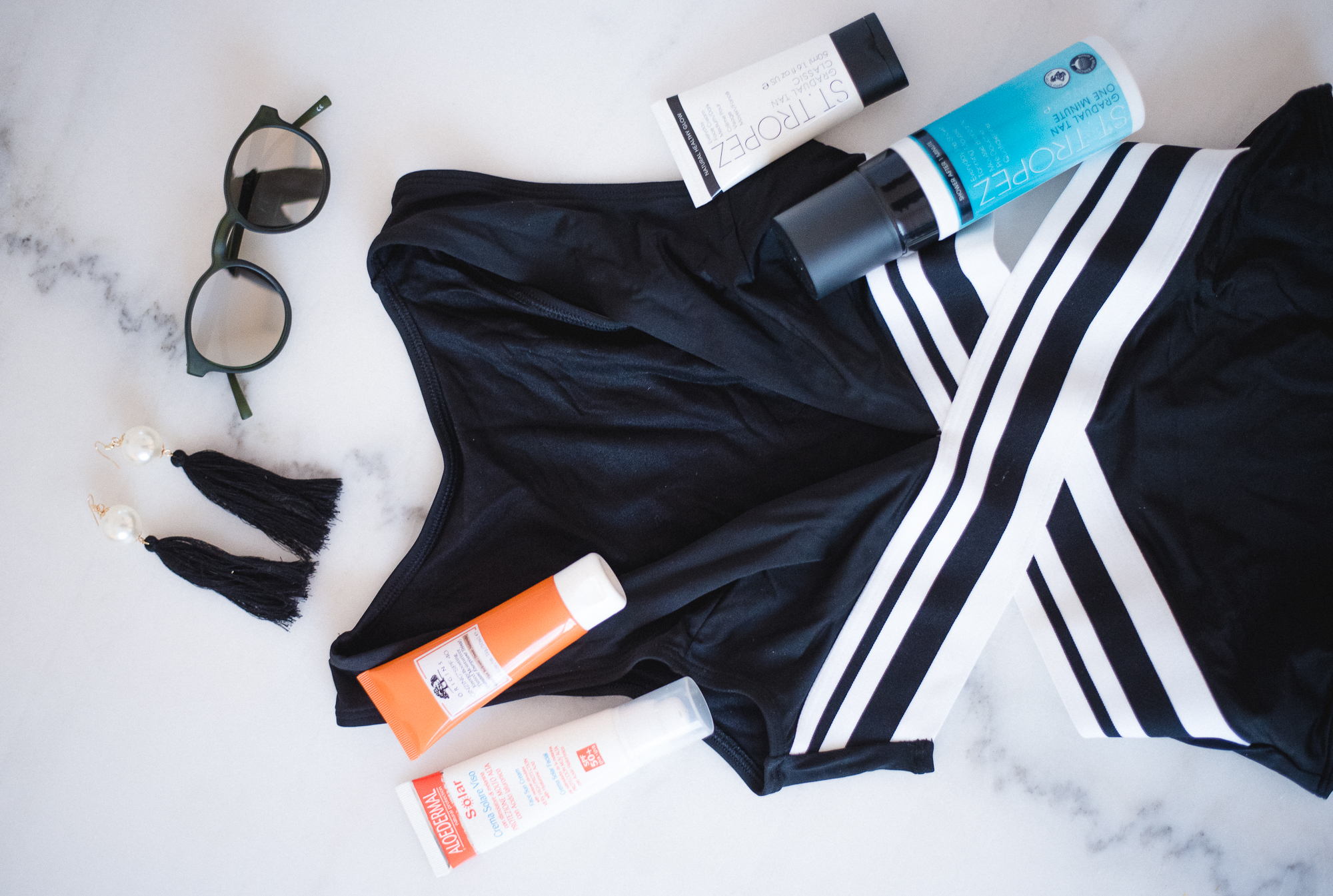 Olen sen verran optimistinen häämöttävästä lomasta (ja sen toteutumisesta), että uskalsin kaivaa uimapuvun sekä muut tärkeimmät loma jutut jo kaapista ulos. Aurinkosuojat ovat kaikista tärkein asia muistaa ottaa mukaan ja onneksi kaapista löytyy jo kasvoille tarkoitettu Aloedermalin voide ja Originsin sävyttävä päivävoide. Tuosta ensimmäisestä olen jo aikaisemmin kirjoitellut täällä, mutta Origins on uudempi tuttavuus johon olen ihastunut palavasti (Originsin tuotteita saa muuten nykyään Booztin valikoimasta*). Tämä voide on niin täydellinen reissuun, sillä se antaa iholle kauniin hehkun, tasoittaa ihon sävyä ja suojaa sitä auringolta (40SPF). Voiteessa on siis ihan kunnon suoja, joten se on mitä mainioin kaupunkikäyttöön. Tykkään myös käyttää tätä esim. viikonloppuisin, kun en jaksa meikata alusta loppuun saakka ja tällä saa jo raikastettua kasvoja yksinään. Ihan loistava tuote ja varmasti kesällä tulen käyttämään tätä päivittäin!
Aurinkosuojien lisäksi kevyt päivetys ei olisi pahitteeksi jo ennen reissua ja onneksi apua saa itseruskettavista. St.Tropezin tuotteet ovat ihan parhaita ja nyt testissä on ollut Gradual Tan One Minute. Tuotetta levitetään kuivalle iholle ennen suihkua ja minuutin/kahden jälkeen se huuhdellaan vedellä pois. Tätä voi siis käyttää ihan päivittäin ja se tuo ihanan hehkun iholle. Jos haluaa kunnon väriä ja oikeasti ruskettuneen hipiän, niin tämä on siihen liian kevyt, mutta mitä täydellisin, jos toivoo lähinnä tervettä hehkua rusketuksen sijaan. Myös tuo saman merkin kasvovoide on ihana ja itse saan sillä ainakin jo yhdestä kerrasta kauniin hehkun. Sitä voi käyttää siis päivittäin, mutta itselleni voide ei ole siihen riittävän täyteläinen. Käytän tätä siis silloin, kun kalpeus tasoni alkaa olla sillä luokalla, että naamaani ei erota seinästä. Siihen tämä tepsii hyvin ja väri on kauniin tasainen, vaikka voiteen levittäisikin kiireessä! Isosuositus siis näille kahdelle.
Aurinkolasit lähtevät myös luonnollisesti mukaan ja nämä Le Specsin vihreäsankaiset ovat kuin tehty Dubaita varten. Korviin vielä Bubbleroomin riippukorvikset, niin voilà. Nyt kun matka vielä toteutuisi, niin kaikki olisi enemmän kuin hyvin, heh!
I am being optimistic, as I already started packing, but I'm quite confident our vacation will happen after all! The most important holiday essentials for me are sunscreens and self-tanners. Without sunscreen I can't go anywhere (obviously) and besides the Aloedermal sunscreen for the face, I've also really liked Origins Energy Boosting Tinted Moisturizer (SPF40). It really is the best tinted moisturizer I have tried and I love wearing it even on the weekends, as it gives a nice glow and evens out the skin tone. I highly recommend you to try it! Besides sunscreen, self-tanners are important for that hint of natural glow. At this moment I am whiter than the walls, so it's nice to have even a little bit of color on my skin. I'm not the one to spend hours with self-tanners, which is why I love St.Tropez's Gradual Tan One Minute. You can use it daily right before taking a shower and it's so easy and fast to use. Just put it on, wait for a minute or two and then shower normally. It's that simple, which is why I love it! It gives a natural healthy glow, which is exactly what I want my self-tanners to do. I also love the classic face cream and I normally use it once per week to give a little boost on those days, when I'm just really starting to look too pale. Works every time!