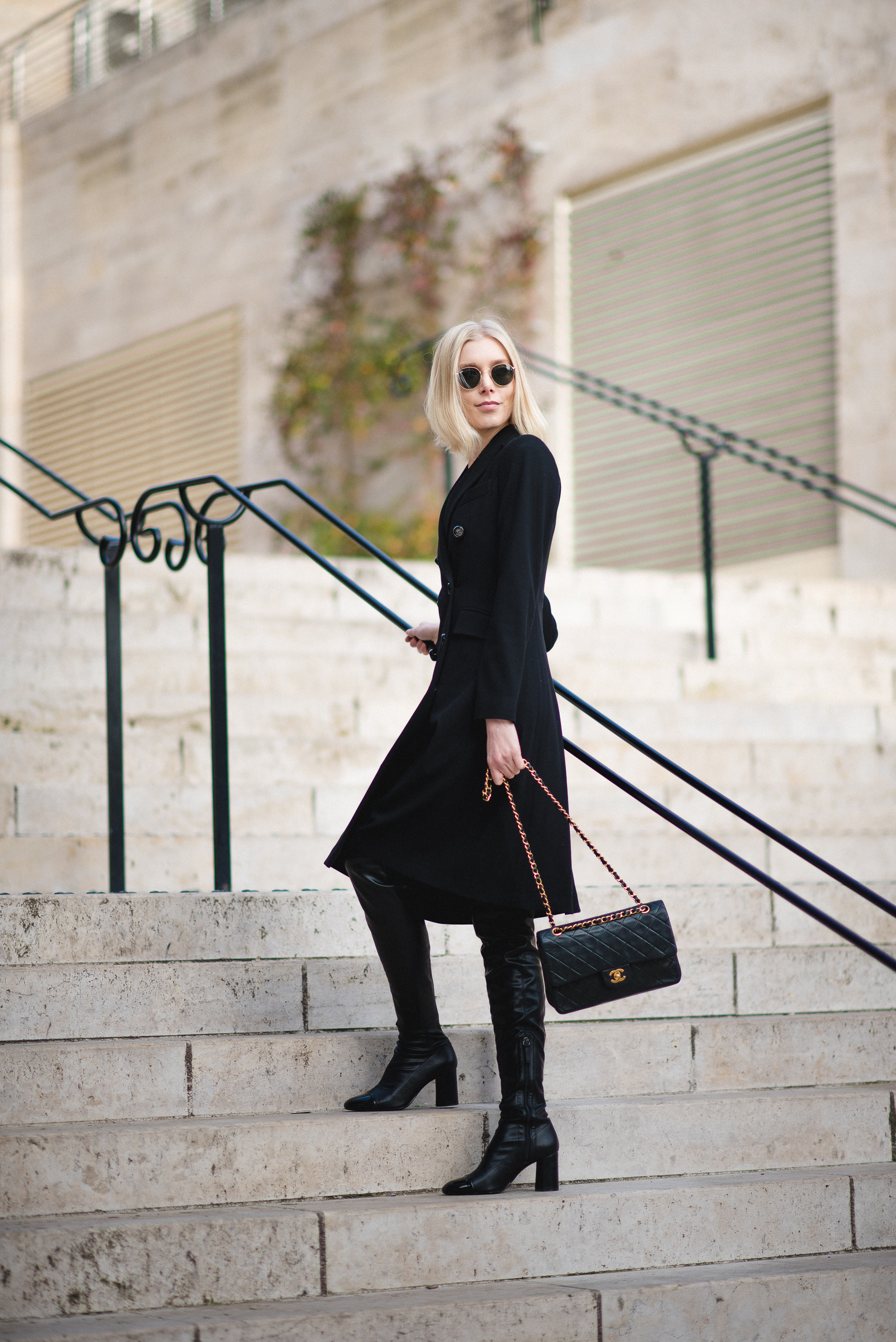 Olen täysin ihastunut tähän mustaan mekkoon, joka näkyi tässä aikaisemmassa postauksessa. Tässä on jotenkin niin skarppi olo ja mekon monikäyttöisyys viehättää. Taidan pukea tämän ihanuuden päälleni myös jouluaattona. Koruja vain hieman lisää ja punaiset huulet, niin joululookini on siinä. Helppoa! Tuntuu muuten hullulta ajatella, että aattoon on enää kaksi viikkoa aikaa. Tuntuu, että joka vuosi aatto yllättää yhtä nopeasti. Ensi viikolla voi jo alkaa miettimään joulukuusen ostoa…sitä aidon kuusen tuoksua ei voita mikään. Se tuoksu yksin luo jo niin paljon joulufiilistä, että lumi on sen jälkeen vain plussaa. Toki valkoinen joulu olisi ihana, mutta pääkaupunkiseudulla se on harvinaisempaa herkkua.
P.S. Kiitos kaikille osallistumisestanne Andiatan Charee neuletakin arvontaan. Teitä oli huikea määrä ja toivoisin, että jokaiselle olisi paketti valmiina. Tällä kertaa arpaonni osui kuitenkin Disaan kommentilla "Aivan ihanan näköinen neule! S-kokoinen laadukas ja lämmin neuletakki auttaisi kaamosajan yli! Onnea – sinuun otetaan yhteyttä sähköpostitse!
I'm completely obsessed with this dress, which you already saw in this previous post. It's so well cut, that my posture straightens every time I wear it and I get a real #girlboss attitude (my boyfriend would probably comment that I don't need this dress to be bossy, heh). I think I'm going to wear this for Christmas as well. I 'll just add more jewellery and red lips. Maybe do something with my hair even (I'm the laziest woman on earth when it comes to my hair). I'm still hoping for a white Christmas in Helsinki, but the weather forecast is not looking so good…Hopefully it will chance and we'll get some snow (us poor southerners – the people in Lapland have it good).
P.S. Thank you everyone for participating in the Andiata cardigan giveaway. So many of you attended and I wish I had a package for all of you! This time the lucky winner was Disa – congrats, you will be contacted by email.
Dress / Andiata*
Boots / Zara
Bag / Chanel
*Gifted.
Save
Save
Save
Save
Save
Save
Save
Save
Save
Save
Save
Save
Save
Save
Save
Save